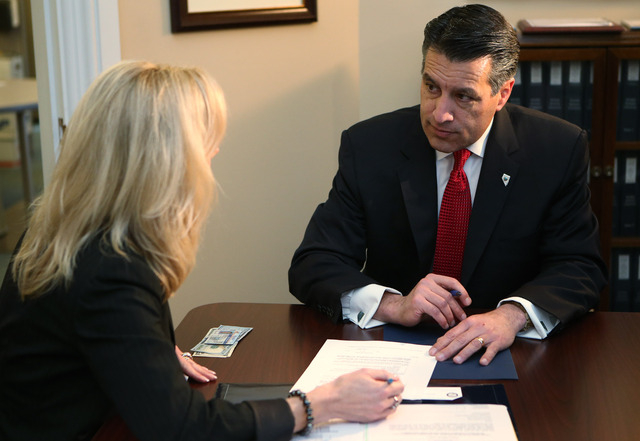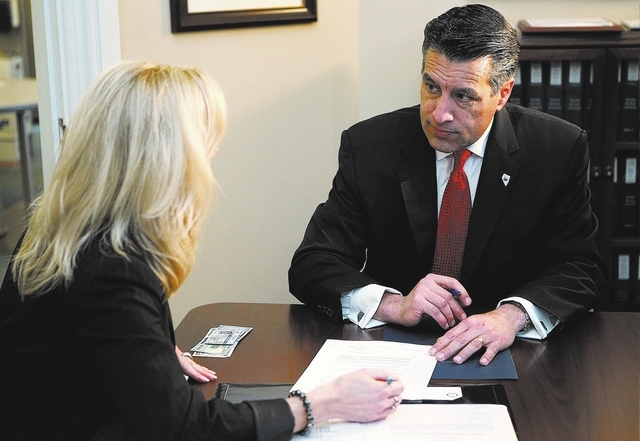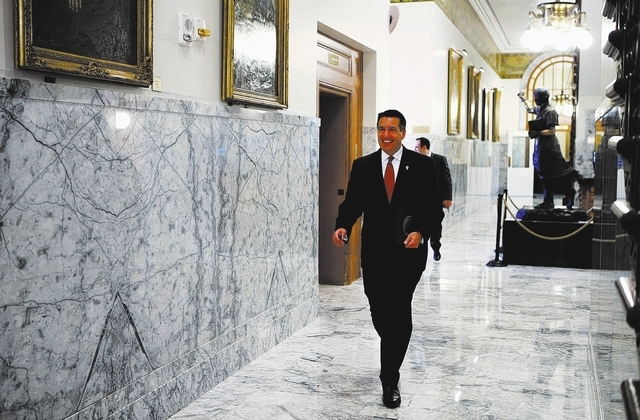 Pointing to a track record of job growth and economic development in his first three-plus years in office, Brian Sandoval filed for a second term as governor Friday.
He filed shortly after 8 a.m., just down the hall from his office in the Capitol, paying the filing fee with three $100 bills.
While a number of other candidates are in the race representing both parties, Nevada Democrats have yet to announce whom they will draft to challenge the popular Reno Republican.
They have until 5 p.m. March 14 to come up with a challenger who would potentially energize voters to turn out in November for other Democratic candidates in down-ballot races.
Those candidates include Assemblywoman Lucy Flores, D-Las Vegas, who filed for lieutenant governor earlier this week.
Sandoval has made economic diversification and job creation two of his major policy objectives during his first term. He also has worked to make reforms to public education. But his agenda has been hampered by the economic realities facing the state, including an improving but still high unemployment rate.
Sandoval said he intends to serve a full four-year term if re-elected.
"There's a lot to do," he said. "We've got to work harder on education. We've got to work harder to get people employed. We have a mental health system that needs improvement. I want to make sure that this Nevada Health Link works perfectly for all Nevadans."
"We've added 60,000 jobs in the state since 2011," he said. "I believe we have had 40 consecutive months of job growth, so those are all good signals but we're nowhere near where we need to be. So I'm going to continue to work hard to keep Nevada working, to get Nevada learning and to get Nevada healthy again."
But Sandoval noted that Nevada's unemployment is still at 8.8 percent, or 49th in the country, which is unacceptable.
"So I'm going to continue to be very aggressive with regard to attracting businesses to the state of Nevada." he said. "And maintaining an environment where businesses can grow in this state."
Sandoval noted that in the past two legislative sessions he, along with lawmakers, have been able to reduce the modified business tax for more than 70 percent of the businesses operating in Nevada. He called the margins tax proposal on the November ballot a terrible idea for the state and said he will continue to speak out against it over the next eight months.
"I think it will hurt our economic development efforts," he said. "Nevada is in a recovery mode. We are doing better, but we are nowhere where we need to be."
Sandoval said he has done his best under the existing financial constraints to increase funding to public education in two sessions of the Legislature, noting that all-day kindergarten has been expanded, class sizes have been reduced in the lower grades and $50 million was provided to school districts to help English language learners in the 2013 session.
While Democrats still are not talking about a party-backed challenger to Sandoval, there is no shortage of candidates. Eight other candidates filed this week.
Republicans include Eddie Hamilton and Thomas Tighe, both from Southern Nevada, and William Tarbell of Sparks.
Democrats include Frederick Conquest, Stephen Frye, John Rutledge and Abdul Shabazz. Conquest, Frye and Shabazz are from Las Vegas. Rutledge is from Carson City.
David VanDerBeek of Pahrump has filed for governor as an Independent American Party candidate.
Democrat Chris Hyepock, a little-known casino worker who has been campaigning hard for governor, also plans to file on March 14.
CLARK COUNTY
In Clark County, County Commissioner Chris Giunchigliani faces Louis "Lou" A. Toomin in the Democratic primary as she seeks re-election in District E.
Toomin is an adviser and spokesman for Las Vegas Township Constable John Bonaventura. He also served a term in the Nevada Legislature in 1993-94.
Toomin said he wants to see the county fix problems in the district and neighborhood that have gone unresolved, including high crime rates and party houses.
He said the More Cops sales tax increase proposal, which the commission rejected, is needed to put more police officers on the streets.
Giunchigliani has voted against the sales tax increase amid concerns about the tax's regressive nature and the availability of $140 million in reserves that the Metropolitan Police Department has.
Giunchigliani said she welcomes campaigning and discussing issues with any opponents who want to run.
She said she has a strong focus on neighborhood issues, with town hall meetings that she hasn't seen Toomin attend.
The commission in March 2013 abolished the constable's office, effective when Bonaventura's term ends in January 2015.
Toomin called getting rid of that office a "terrible injustice" but said it's not his motivation for entering the commission race.
Also this week, Mitchell Tracy, an insurance field claims adjuster, has filed to run on the Republican ticket against County Commissioner Susan Brager in District F. Brager, a Democrat, is running for her third term. Tracy squared off against Brager in 2010, picking up 30 percent of the vote in a three-way race.
Candidate filing for Nevada elective offices will continue next week with Reps. Steven Horsford and Dina Titus, both D-Nev., scheduled to formalize their runs for new terms in the 4th and 1st congressional districts, respectively, on Monday in Las Vegas.
Horsford will face one of two Republican candidates: Assemblyman Cresent Hardy or Niger Innis, both of whom have filed.
Erin Bilbray, a Democratic challenger to Rep. Joe Heck, R-Nev., in the 3rd Congressional District, is expected to file Tuesday. Heck filed last week.
Contact Capital Bureau reporter Sean Whaley at swhaley@reviewjournal.com or 775-687-3900. Follow him on Twitter @seanw801. Contact reporter Ben Botkin at bbotkin@reviewjournal.com or 702-405-9781. Follow him on Twitter @BenBotkin1.