Sandoval: Legal challenge to school choice program 'disappointing'
August 28, 2015 - 4:15 pm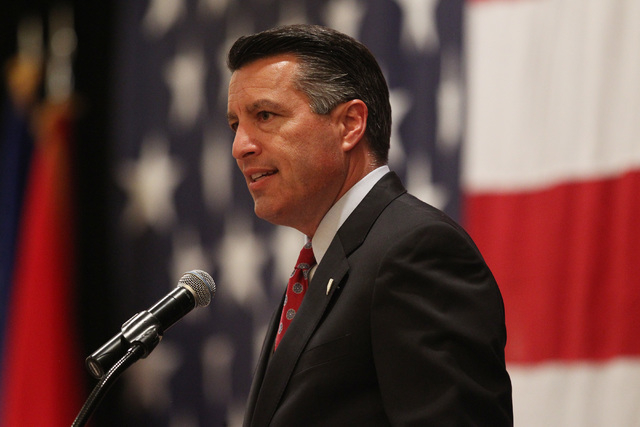 The lawsuit filed this week against the state's sweeping school choice program did not shock Gov. Brian Sandoval.
Both opponents and fans of the education savings accounts, which offer about $5,000 in tax dollars for students to use at private or religious schools, fully expected a legal challenge when the governor signed legislation creating the new program. And school choice advocates from across the country already have vowed to defend Nevada's voucher system — widely considering the most aggressive in the nation — against a lawsuit the American Civil Liberties Union filed on Thursday challenging its constitutionality.
Sandoval, during a tour of a Las Vegas high school on Friday, indicated he looked forward to the courts settling that dispute.
"It's disappointing, but not a surprise," he said of the ACLU's lawsuit.
"We knew that there would be a challenge," Sandoval added. "But I think the important issue is to resolve that question once and for all. I'm a big believer in school choice."
Education savings accounts, or ESAs, grant about $5,000 in per-pupil funding to families who pull students out of a public school and instead funnels the money to a private or parochial campus.
Parents also can spend the money on homeschooling, tutoring and other education services, but the ACLU contends the Nevada constitution strictly prohibits any use of public funds for a sectarian, or religious, purpose.
The national organization, its Nevada chapter and the advocacy group Americans United for Separation of Church and State plan to ask a Clark County District Court judge to temporarily halt the state's implementation of ESAs.
"It does not matter that Catholic parents desire their children taught the Catholic doctrines, or that Protestants desire theirs to be instructed in Protestantism," said Amy Rose, legal director of the ACLU of Nevada, quoting a Nevada Supreme Court decision from 1882.
"The constitution prohibits the use of any of the public funds for such purposes, whether the parents wish it or not," the decision reads.
Rose noted that the ACLU hasn't ruled out filing a separate lawsuit to challenge another new school choice program in Nevada — the so-called opportunity scholarships through which businesses can earn tax credits for making donations for children to attend private schools.
Like the ESAs, Sandoval on Friday also defended the scholarships.
"Those are both two different programs that are going to be very beneficial for students to give them (the) opportunity to go to the school of their choice," he said.
Contact Neal Morton at nmorton@reviewjournal.com or 702-383-0279. Find him on Twitter: @nealtmorton