Santee steps up for Rebels
December 3, 2008 - 3:33 pm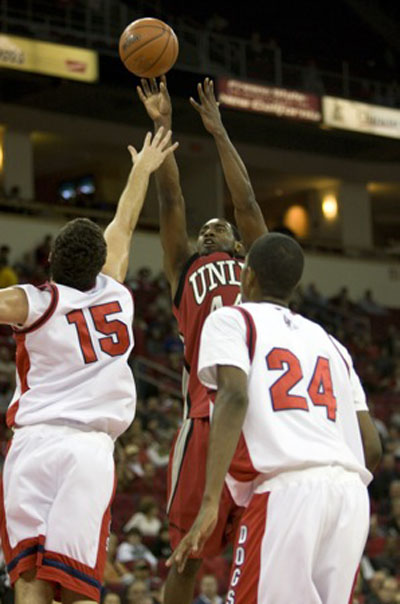 FRESNO, Calif. — Quiet by nature off the court, UNLV forward Darris Santee had been making little noise on it, too. But he ended his silence Wednesday night.
Santee threw his coming-out party and sophomore guard Tre'Von Willis enjoyed his homecoming as the Rebels stopped their two-game losing streak and held off Fresno State 82-76 at the Save Mart Center.
Santee shot 9-for-11 and scored a career-high 21 points, and Willis matched his career high with 18.
"I tried to play strong from the beginning and give my team the inside presence to help us win," said Santee, who had 14 points in the first half.
Willis, who was a high school star in Fresno, shot 7-for-17 and finished what Santee started by pouring in 14 second-half points.
UNLV (6-2) was coming off back-to-back home losses and held a 32-31 halftime lead before Willis and seniors Wink Adams and Rene Rougeau got rolling.
"Our team was a little sluggish and in a little slump, so I felt it was time for me to be aggressive at that point," Willis said.
Adams scored 13 of his 17 points in the second half. His two free throws put the Rebels ahead 72-67 with four minutes remaining.
Rougeau scored inside to give UNLV a 78-74 edge with 1:40 left, and his layup on an assist from Santee extended the lead to six with 48 seconds to go.
Rougeau shot 6-for-9 and finished with 12 points and six rebounds. But it was Santee who did the most impressive inside job.
The 6-foot-8-inch Santee scored in double figures for the first time in his eight-game UNLV career. His previous high was nine points in two games this season.
"It's great to see him step up," Rebels coach Lon Kruger said of Santee, who played the past two seasons at Midland (Texas) College. "We really needed that.
"Darris made a lot of good plays and finished a lot of opportunities. By the way they were playing it defensively on the ball screens allowed him some opportunities to roll down through the lane. They were really loading hard to the ball, which is understandable."
Santee said Kruger emphasized that the Rebels needed to pass up some 3-point shots and pass the ball inside more often.
"By watching film, Coach doesn't want us to shoot as many 3s as we usually shoot, and he's been preaching on getting the ball down low more and the post players being more aggressive," said Santee, who also had five rebounds.
"I think me being aggressive has made my teammates want to get me the ball more."
Santee's two free throws put the Rebels up 66-65 at the 6:31 mark, and they led the rest of the way.
"I don't think we played with as much sense of urgency as we should have played with, and it was an ugly win," Santee said.
UNLV shot 32-for-66 (48.5 percent) from the field and tied a season low with eight turnovers.
Paul George hit 10 of 16 shots and scored a game-high 24 points for the Bulldogs (2-4).
Fresno State senior guard Dwight O'Neil, Willis' half brother, hit all eight of his free throws and had 21 points.
Willis had several family members and friends in the crowd of 9,393, and he desperately wanted to play well.
"I always wanted to play in front of my hometown fans," he said. "But we needed to take care of business.
"We're unsatisfied with our play. We left some tough plays, some hustle plays out there and that's not our identity. We want to be tougher."
Contact reporter Matt Youmans at myoumans@reviewjournal.com or 702-387-2907.