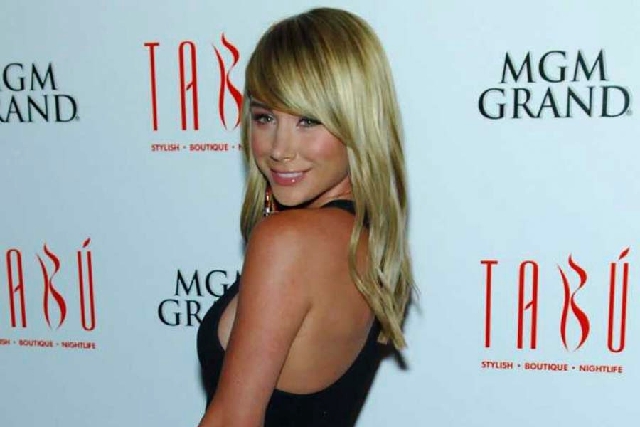 I keep wondering what kind of crazy person jumps off the Stratosphere's 108th floor SkyJump attraction. Well, that kind of person turns out to be Sara Underwood, the G4 TV host and 2007 Playmate of the Year.
She almost peed her pants, so she loved it.
"That was a pretty amazing experience to see Las Vegas at night on top of the Stratosphere, just freefalling down," she says. "It's intense."
She didn't even do this on camera, or for money. Underwood, who loves horror films, did it because she is drawn to a good fright.
"I like being scared. I like the adrenaline rush of it. I'm a weird girl," she says.
OK, so what is the psyche profile of a SkyJump thrill seeker? In Underwood's case, she was raised in Portland, Ore., by parents she loves so much, she tweets photos of them (@saraunderwood).
She started sky diving at age 16, while also snowboarding, wake boarding, horse racing and four-wheeling.
Underwood — who hosts tonight at club Gallery in Planet Hollywood — posed nude in Playboy. Then she filmed a naked-yoga video.
Four years ago, she replaced Olivia Munn on G4's "Attack of the Show!" where she rode a bicycle in the nude during a nudist event, ate toasted ants and fired a flame thrower at a gun range.
"All they wanted to do was go have fun every day for work. I literally couldn't have asked for a better job."
Sadly, "Attack of the Show!" just got canceled after G4 was bought by another company.
Underwood isn't sure what she will do next. But she comes to Vegas a lot, hosting at such clubs as Encore Beach Club and XS.
She would love to follow the footsteps of fellow Playmates Claire Sinclair and Holly Madison by performing in Vegas regularly. And why not? She is spunky.
But though G4 exposed Underwood as the queen of adventure nerds, she doesn't know what would be the best use of her skill set here, to excite her G4 nerd fan base.
"G4 fans are these young, really nice fans. They don't want to be pervy," Underwood says. "They love technology and science, and they're smart. And they're usually a little shy. They're the best."
But she definitely is not down for doing naked yoga on stage.
"That's a very vulnerable thing — doing naked yoga. I mean, things are out there."
Indeed.
'BURT' REVIEWS ARE IN
Movie reviewers and regular film viewers are at odds over Vegas' newest comedy, "The Incredible Burt Wonderstone," co-starring Steve Carell, Steve Buscemi and Jim Carrey as Strip magicians.
According to RottenTomatoes.com, only
39 percent of critics like the flick, but 66 percent of audience voters enjoyed it.
If you see it, look for Vegas-bred child actor Luke Vanek. He portrays a young Buscemi (character name, Anton).
One bonus of Luke's role in "Burt Wonderstone": The sixth-grader now knows two magic tricks.
"I learned the joining-and-separating the rings trick and the cups-and-balls trick," he says.
LIVE FROM LAS VEGAS, IT'S SATURDAY NIGHT
Seth Meyers performs standup at The Mirage tonight instead of helming the news desk of "Saturday Night Live."
He's planning to gamble too.
"I'll go give all the money back. I believe that's the polite thing to do in Vegas," Meyers says.
Meyers is pretty good at cards. He once won Bravo's "Celebrity Poker Showdown."
"But when you win a thing against other celebrities, that's a much lower level of talent" for poker, he says.
But isn't that exactly what a card shark would say to downplay his talents?
Doug Elfman's column appears Mondays, Tuesdays, Thursdays and Saturdays. He also writes for Neon on Fridays. Email him at delfman@reviewjournal.com. He blogs at reviewjournal.com/elfman.