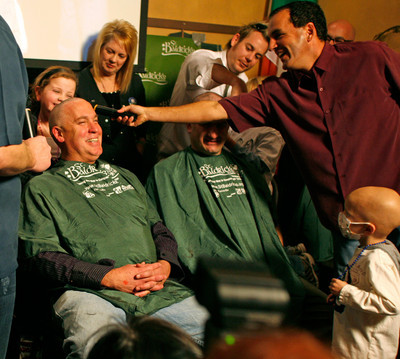 The bruising recession didn't stop the intrepid characters who gathered Saturday for the third annual St. Baldrick's head shave fundraiser to help fight childhood cancer. And I do mean characters.
McMullan's Irish Pub on Tropicana Avenue overflowed with generous locals who came to shave or just donate. This year's event expanded to Quinn's Pub inside the Green Valley Ranch. The doubled effort helped offset the challenges of gathering worthy funds amid a recession. Final figures are still being tallied, but pub proprietor Brian McMullan says he hopes the total raised will exceed last year's $201,000.
My remarkable daughter Amelia, herself a brain cancer survivor, once again did the honors by taking the electric clippers to my noggin. She's getting good at it: Not a drop of blood was spilled, and I departed with both ears still more or less in place.
KVBC's Kevin Janison gave Amelia, 12, high marks for her buzzing skills, and one chair over Dr. Jonathan Bernstein, the noted local oncologist, was treated to a clipping by one of his patients, 4-year-old Ethan Freer.
Ethan weaved through the early evening crowd like a halfback with his father, Ben, in constant pursuit. (Ben serves in the 15th Recon Squadron at Creech Air Force Base.) Dressed in his pajamas, with a medical mask dwarfing his sweet face, Ethan was bald before he came through the door of the childhood cancer fundraiser.
Ethan is undergoing treatment for a neuroblastoma tumor by Dr. Bernstein, who is a hero to many of the families in the room, mine included. Ethan was feeling well enough to participate in the event, especially when he learned he would get to help shave the head of his favorite doctor.
With Ben, mother RyAnn, and sisters Brenna and Natalie looking on, Ethan did an excellent job on Dr. B. The child has already undergone eight rounds of chemotherapy. His family remains hopeful and grateful.
"The pediatric oncology world is small," RyAnn said. "You meet these people, and you get to build friendships and relationships. Any time the community supports any one of us, it's just a blessing. It's wonderful to see awareness being raised for pediatric cancer."
• • •
Across the generations, but sharing a common spirit, Michael Harvey and his wife, Penny, waited in line to sign in for his shaving. It would be Michael's first since he served as a Marine in the Vietnam era.
"I figure if Amelia can shave your head, I can shave mine," Michael said proudly.
Afterward, Penny kept her sense of humor about her husband's new do.
"It looks different," she said, laughing. "I think he looks good. The event was a first for me. I thought it was wonderful."
Michael added, "I love it. I love it. I loved the event. It was great, and everyone seemed to be having a great time."
Raised on ranches in central Nevada, 64-year-old Michael recalled getting a buzz cut when he went to boot camp in 1962.
Something tells me he'll be back next year.
EVIDENCE QUESTIONS: District Judge Doug Smith is known as a mild-mannered fellow. So imagine the surprise of some courthouse observers this week when they learned the judge criticized the Michelin tire company on allegations of destroying evidence in a civil case involving the deaths of father and son Richard and Lonnie Deal.
With the potential to reverberate nationally, this case will be one to watch.
PRETNER RIDE: When avid local cyclist Ryan Pretner was critically injured in an accident on St. Rose Parkway in January, he suffered severe head trauma. The 37-year-old father of two young children has at least partially awakened from a deep coma in recent days, according to his sister.
Pretner's friends and extended family will gather at 8:30 a.m. March 21 at the Valley of Fire exit off Interstate 15 for a fund-raising ride and raffle they're calling "Pedaling for Pret Dog." For more information, go to joemayophoto.com.
'PRINCE' CURTIS: Tony Curtis once said, "All my life I had one dream and that was to be in the movies."
What happened when the dream came true is the subject of his candid memoir, "American Prince."
Curtis is set to sign copies of his book, penned with veteran author Peter Golenbock, from noon to 2 p.m. Saturday at Aurora inside the Luxor.
BET BOOK: Some guys have all the luck. Alan Zaremba actually was paid to write a book titled "The Madness of March: Bonding and Betting with the Boys in Las Vegas." He'll sign copies at 2 p.m. March 18 at Gambler's Book Shop at 630 S. 11th St.
All I ever got for bonding and betting with the boys in Las Vegas was a T-shirt and a hangover.
But Zaremba gives me an idea. I think I'll write a book titled "Bonding and Beer Drinking with the Boys at Local Bars in Las Vegas."
Any takers?
ON THE BOULEVARD: Question: Which civic organization has donated more than $100,000 to the Clark County School District's "Varsity Quiz" program?
If you answered "The Kiwanis Club of Las Vegas," give yourself 5 points.
The Kiwanis do so many charitable acts that it's easy to take them for granted. Now they're at it again with a March 14 fund-raiser at the Sunbelt Auto Collection at 1420 Gragson Ave.
For a $20 ticket, you'll enjoy a mixer and take a tour of the collection of more than 200 classic cars. Proceeds will benefit the Kiwanis' wide swath of charities. For more information, contact Marcia Tinberg at 524-5014.
Have an item for the Bard of the Boulevard? E-mail comments and contributions to Smith@ reviewjournal.com or call (702) 383-0295. He also blogs at lvrj.com/blogs/smith/.