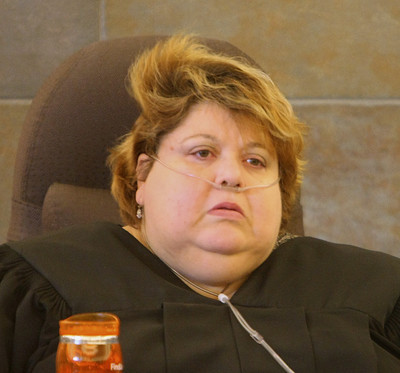 If local attorneys had their way, an embarrassing rash of scandals would cost some Nevada judges their seats on the bench.
The embattled Elizabeth Halverson heads the must-go list by a large margin in this year's Judicial Performance Evaluation.
The freshman District Court judge is accused of mistreating staff, sleeping on the bench and illegally communicating with jurors. She was suspended with pay in July.
Only 8 percent of the 303 attorneys who rated her said she should be retained.
But Halverson has ample company among judges whose alleged improprieties in their personal or professional lives have escalated to high drama since the previous biennial survey.
She is one of three under scrutiny by the Nevada Commission on Judicial Discipline.
Another is Family Court Judge Nicholas Anthony Del Vecchio.
He stands accused of sexually abusing his ex-wife's daughter when she was a minor and sexually harassing her as an adult while she worked as his executive assistant.
Del Vecchio maintains the relationship with the woman, Rebeccah Murray, was consensual.
A fresh wave of that scandal broke in February while the judicial survey was under way. Del Vecchio's retention score took a nose dive, falling 36 percentage points to 41 percent this year.
"You can't separate the fact that he is a Family Court judge" from the graphic nature of the allegations stemming from his home life, said Kenneth Fernandez, assistant political science professor at the University of Nevada, Las Vegas.
"That makes it exponentially problematic."
Attorneys were more forgiving toward another Family Court judge, Steven Jones. He was arrested on a domestic battery charge two years ago after his live-in girlfriend said he threw her down a hall.
She later recanted her story, saying it was fueled by chronic alcoholism.
The incident was the fourth time in as many years that police arrested someone at the judge's home on domestic violence charges.
Some attorneys questioned Jones' choice of company, including his felonious former brother-in-law.
"Needs to get his own personal life together before telling others how to run theirs," one lawyer wrote.
Jones still earned a respectable retention rate of 72 percent. But that is down 13 percentage points from the 2006 survey.
Scandals have plagued other local elected officials, such as the "G-sting" political corruption case that sent four former Clark County commissioners to prison.
But aren't judges held to a higher standard of conduct?
Citing public confidence polls, Fernandez said judges rank higher than attorneys, the president, members of Congress and the media, but lower than doctors, nurses and members of the military.
Del Vecchio, Halverson and rival District Chief Judge Kathy Hardcastle drew some of the harshest condemnation in comments included in the survey. Some partly blamed Hardcastle for the Halverson debacle.
Critics called Hardcastle, who temporarily banned Halverson from Clark County's Regional Justice Center last year, heavy-handed and vendetta-driven.
"Whatever my opinions of Judge Halverson, I did not then nor do I now believe that Judge Hardcastle had the authority to take the actions she did," one lawyer wrote.
Hardcastle's retention score was 54 percent, down from 60 percent in 2006.
Neither Halverson, Hardcastle nor Jones returned calls for comment.
Del Vecchio did. Despite attorney comments to the contrary, he said the sex scandal had little if any bearing on his score.
After the 38-count complaint was filed against him, he said, his office was "inundated with support from lawyers, probably the same lawyers who participated in the poll."
Del Vecchio attributed his poor rating to other factors. He said some cases were reassigned to him when Jones stopped hearing all but child abuse and neglect cases and when "peremptory challenges" were made to other judges.
When a divorce case or civil lawsuit is initially assigned to a judge, either side may request it be reassigned to another judge, without stating a reason. Each side is limited to one such peremptory challenge per case and cannot choose the judge to whom the case is reassigned.
"In the Family Court realm, like it or not, in any given case, one person is completely satisfied and one is unsatisfied," Del Vecchio said.
Nancy Saitta, who at 45 percent received the worst retention score among state Supreme Court justices, was criticized for exaggerating her credentials. She had claimed on her 2006 campaign Web site to have been an associate professor in political science at UNLV.
In fact, she was a part-time instructor.
But that "human error," as Saitta called it, was minor compared with the prominent attention she received in a 2006 Los Angeles Times investigation. The series highlighted examples of influence exerted by friends, attorneys and former clients and business associates who had donated to judges' campaign coffers.
Saitta did not return calls for comment.
District Court Judge Donald M. Mosley also was singled out as a case study by the Los Angeles Times for giving unspent campaign funds to a girlfriend who he said repaid them. His retention score was 56 percent, down 10 percentage points from two years ago.
Other judges linked to controversies also took hits.
George Assad, a Municipal Court judge, got a retention score of 44 percent, down 23 percentage points. Last year, the Judicial Discipline Commission reprimanded him for detaining a woman in 2003 for no legally justifiable reason.
Lee Gates, a District Court judge, saw his rating fall 6 percentage points to 43 percent. Under an agreement adopted by the commission, he must acknowledge making two improper $5,000 campaign donations in 2004.
The agreement cannot be formally executed until it is aired at a public hearing.
Commission hearings are scheduled for both Gates and Halverson next month.
It is unknown when the commission will decide Del Vecchio's case.
He had asked the group to wait until a related civil lawsuit filed in District Court is resolved.
His request was denied Wednesday.
Ironically, lack of judicial ethics and discretion is deeply rooted in Nevada's history and contributed to its push for statehood, Fernandez said.
"We have a long way to go to where we can create a system where we have great faith in our courts."
Contact reporter Margaret Ann Mille at mmille@reviewjournal.com or 702-383-0401.
Complete results including survey methology, summary of retention scores, questionnaire and more
RELATED STORIES
Judging the Judges
Survey ratings often reflect troubles