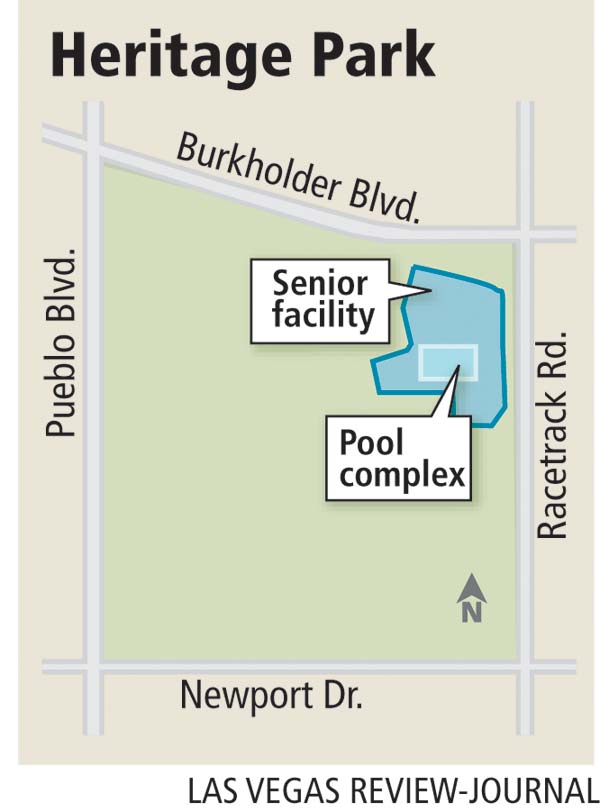 The Clark County School District budget is tighter than a Speedo, but the School Board on Thursday could approve $2 million for a new swimming pool.
District officials said the expense is not a wash because the city of Henderson is paying $14 million of the $16 million needed for the pool. The city will be responsible for the upkeep and staffing of the new Heritage Aquatic Park, set to open this summer.
"It's far less expensive than our getting into the swimming pool business," district Superintendent Walt Rulffes said.
The schools will not have to hire lifeguards or take on new liability.
Because the district's pool funding will come from the 1998 school construction bond program, its general operating fund will not be affected. The bond program will expire in 2010 after the district opens seven new schools for 2009-10 and five schools for 2010-11.
In exchange for the district's $2 million contribution, area high school swim teams would get designated times for the exclusive use of a competitive pool at the Heritage Aquatic Park, on Racetrack Road near Burkholder Boulevard.
In theory, all district schools would have access, but it would be used primarily by southeast area high schools such as Basic, Coronado, Foothill, Green Valley, Liberty and Silverado.
District swim teams already use other municipal pools, such as Desert Breeze Park's competition pool on Spring Mountain Road near Durango Drive in Las Vegas.
The new Heritage Aquatic Park will consist of two indoor pools, a therapy pool with warm water and a 14-lane competitive pool 25 yards long with a water depth of 3.5 feet to 13.5 feet. It is designed to meet athletic standards for swimming races, synchronized swimming and water polo.
"It will be a state-of-the-art pool," said Kim Becker, marketing director of Henderson's recreation department.
Additional amenities include two locker rooms, family dressing rooms, one classroom, spectator seating for 600 and an entry to an adjoining facility for senior citizens.
The new aquatic center in Henderson will replace the Lorin L. Williams pool at 500 N. Palo Verde Drive.
Contact reporter James Haug at jhaug@ reviewjournal.com or 702-374-7917.