Nevada drone officials help set long-distance record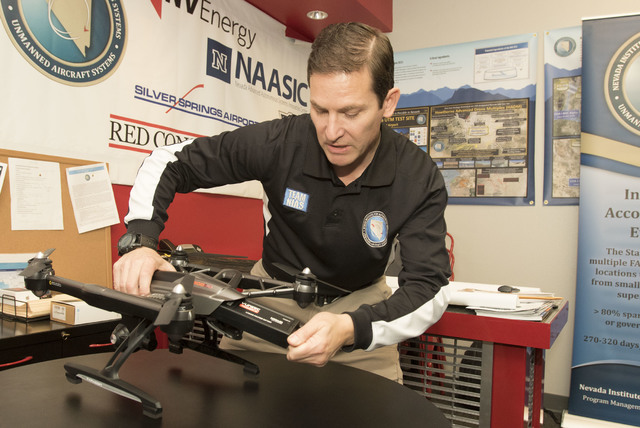 Nevada drone officials helped set a record in long-distance drone package delivery.
The Nevada Institute for Autonomous Systems announced Wednesday that it worked with a team on Friday to fly a fixed-wing drone more than 97 miles in Texas at altitudes ranging between 200 and 400 feet.
"Even if we don't have the Federal Aviation Administration approval for (flying drones) beyond visual line of sight, the technique that we validated last week allows Nevada right now to welcome any company, national or global, that wants to test our their technology for beyond visual line of sight," said Chris Walach, director of the FAA-designated Nevada Unmanned Aerial System Test Site. Nevada is one of seven FAA-designated test sites in the country.
The institute works with the governor's economic development office and acts as a clearinghouse for drone-related business opportunities.
Walach said the fixed-wing drone took off from within the city limits of Austin, Texas, flew about 40 to 50 miles south toward Edna and then flew back to Austin.
"We flew mostly over remote areas, and where we needed to we put visual observers on the ground, so if we flew near a small town as an additional risk mitigation," Walach said.
The drone carried a 4-lb. package with a machine part, Walach said.
Walach said it was the institute's first time relying on cell towers to maintain a connection between a drone in the air and a pilot on the ground, rather than relying on a radio frequency.
"When you put that type of cellular chip on an aircraft, now it can jump from service to service (cell tower to cell tower) without (significantly) interrupting the signal to the actual pilots on the ground," Walach said. "All the major carriers are in the process of either testing or wanting to test their cellular communications."
Telecommunications company Qualcomm published a report May 2 on how cellular systems can serve drones.
Walach said the team, dubbed Team Roadrunner, also used a radio frequency as a backup.
The impact
Steve Hill, director of the Governor's Office of Economic Development, said in a statement that urban drone package delivery is getting closer to reality.
"Creating a safe and thriving drone industry is an incredible challenge, especially when you couple that with drone package delivery. The loss of communications during a long flight is a real concern, but because of this mission, cellular technology can be relied upon to ensure that communication with a drone is not lost over a long-distance delivery," Hill said.
Walach said the Nevada institute was in charge of drone movement as well as the mission's sucess and overall safety.
Team Roadrunner also included Volans-i UAS, Latitude UAS, AUV Flight Services and the ground and mobile visual observer support from Embry-Riddle Aeronautical University.
Contact Nicole Raz at nraz@reviewjournal.com or 702-380-4512. Follow @JournalistNikki on Twitter.