Solar eclipse glasses in high demand as Las Vegas stores sell out
August 17, 2017 - 7:58 pm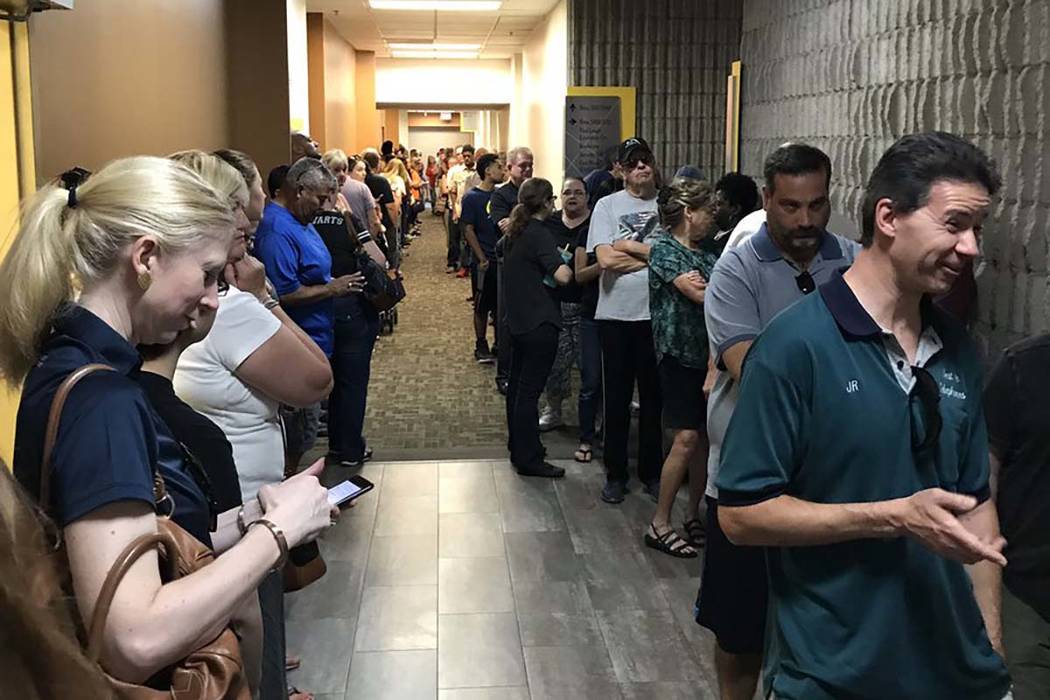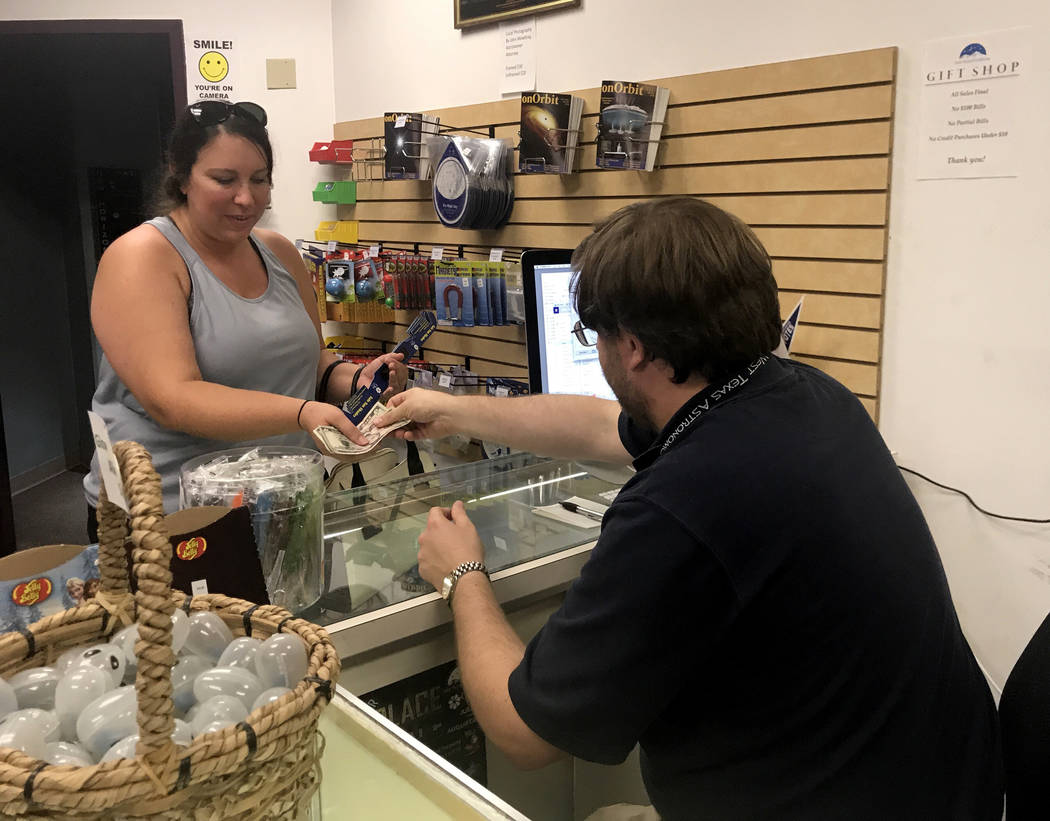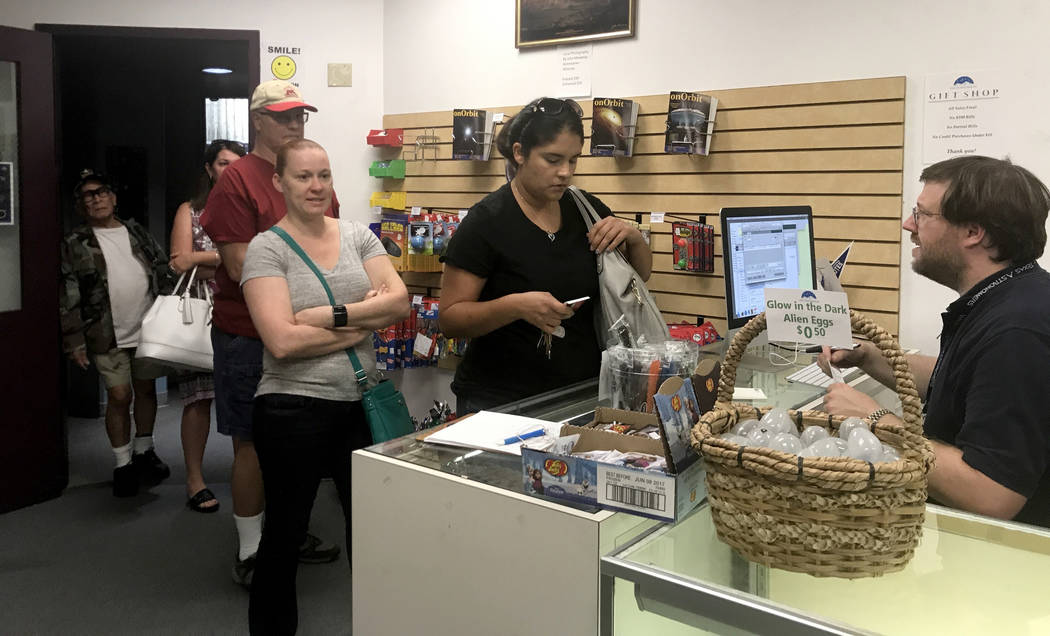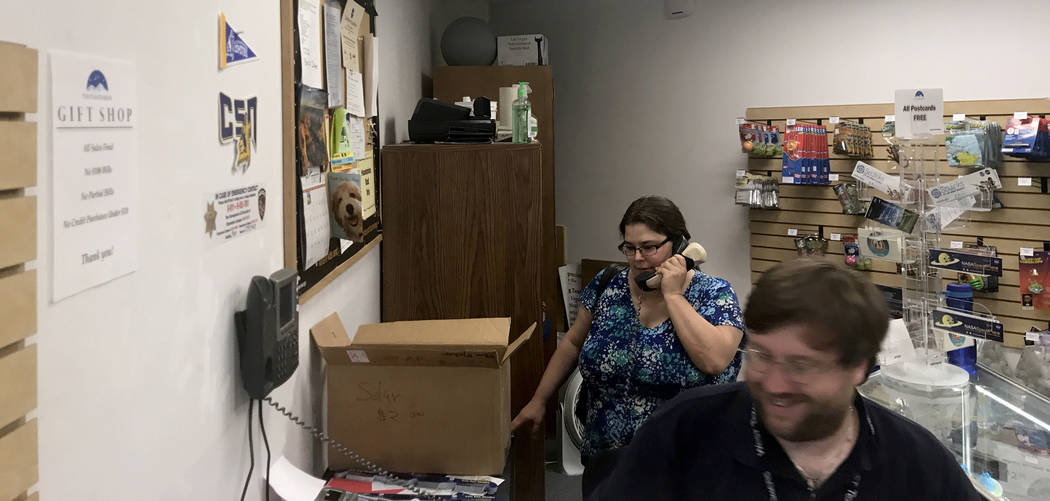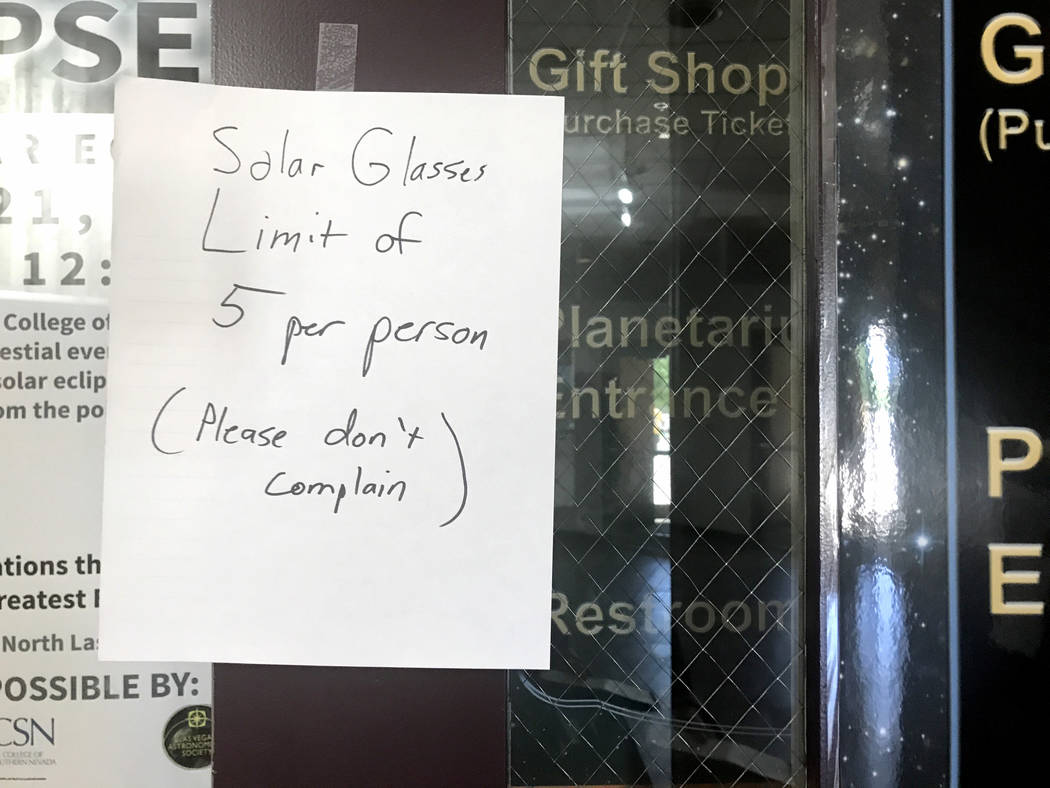 Elliott Koutz wants to be an astronaut when he grows up — though the 4-year-old refuses to land on the moon for fear of falling off.
Thanks to his mother, Stephanie Koutz, space-loving Elliott won't miss out on the moon's starring role Monday morning and will be able to safely watch as it covers about three-quarters of the sun.
That's because his mom made it to the College of Southern Nevada Planetarium minutes before the campus' Astronomy Store sold out of its 1,000 solar eclipse glasses allotted for the day.
"We're science people," Koutz said of her family. "I really want him to see (the eclipse) first hand, for the first time."
As of Thursday afternoon, the store was believed to be one of the last — if not the last — places in Las Vegas that hadn't sold out of the specialized glasses.
"Monday basically everything exploded," planetarium manager Andrew Kerr said. "It just was like a floodgate opened. Everybody sold out immediately, and we had what we had."
Though the planetarium's store sold 1,000 pairs within five hours Thursday, Kerr said the store will have 500 pairs for sale starting about 8 a.m. Friday and 1,500 starting at 9 a.m. Monday for last-minute buyers hoping to catch a glimpse of the eclipse.
The gift shop phone rang nonstop as Las Vegans steadily filed into the store just after noon Thursday.
Francine Scott, 40, admitted she should've purchased her solar spectacles a couple weeks ago, but she didn't anticipate the rush.
"I've called my optometrist. I've called the camera stores, hardware stores, Best Buy," Scott said. "I called (the planetarium) about a half-hour ago and he said they have an hour left until they sell out." So she made a dash for the store.
Laura Gonzalez, on the other hand, was prepared. She ordered a pack of glasses from Amazon back in May.
But when Gonzalez, 39, was alerted to a recall of the potentially hazardous glasses, she made a point of taking took her 12-year-old son, Eziah, to the planetarium to buy glasses that met the ISO 12312-2 international safety standard.
The planetarium ordered 5,000 pairs of glasses last year in anticipation of the solar eclipse. About 2,000 sold between Monday and Wednesday, when the store opened especially for Las Vegans in need of a pair, Kerr said. For the next eclipse, Kerr said he thinks he'll order double that number.
The glasses sell for $2 a pop. The store only takes cash for purchases under $10.
Sales were limited to five glasses per person at the store Thursday, to the dismay of some with big families. Anna Wroble, whose four children go to Somerset Academy on the Lone Mountain campus, wanted to pick up as many as possible at the request of the school's principal, but settled on five: enough for her children and herself.
"It's one of those things that doesn't come around very often, and if we can get our kids to experience and learn more about anything beyond our Earth, I think that's a wonderful experience for them," said Wroble, who plans to volunteer at Somerset Academy to catch her kids' reactions.
"It's one of those things they probably don't study very frequently so they're going to have a lot of questions," she said.
Kerr, however, who holds a Ph.D. in astrophysics, said he wishes science would garner so much excitement from the general public on an average day.
Though he'll have to set up telescopes at the planetarium's viewing party Monday, Kerr said he's going to make sure he slips on a pair of glasses to see the show for himself.
"I stayed here instead of chasing totality," he said. "I'm going to see 72 percent."
Contact Jessie Bekker at jbekker@reviewjournal.com or 702-380-4563. Follow @jessiebekks on Twitter.
What happens when you stare at the sun unprotected?
When a person stares straight into the sun, their eyes attempt to focus the light at the back of the eye, said Adam Rovit, president of the Nevada Academy of Ophthalmology.
In other words, you burn your eyes.
"They are risking both impairing their vision or potential blindness," Rovit said.
Certified solar eclipse glasses can stave off injury. While Las Vegas won't hit totality, residents heading to other parts of the country should keep their glasses on even when the moon completely covers the sun, Rovit said, because it's with the naked eye, it's hard to tell when those few moments of darkness are up.