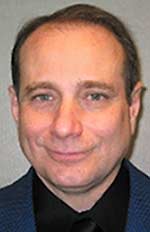 A second doctor connected to the hepatitis C outbreak was temporarily barred from practicing medicine Wednesday after a judge signed a temporary restraining order against him.
The order by District Judge James Bixler prevents Dr. Eladio Carrera, a part-owner of the now-closed Endoscopy Center of Southern Nevada, from practicing pending disciplinary proceedings by the state medical board.
The board lodged formal malpractice complaints Friday against Carrera, 54, and Dr. Dipak Desai, 59, saying each doctor performed procedures on three patients who contracted hepatitis C because of unsafe injection practices.
A different judge on Tuesday issued a temporary restraining order banning Desai from practicing medicine. Desai had previously agreed to stop practicing pending the board's investigation, but it was unclear whether either doctor had been practicing before the judges' orders.
The orders mean Nevadans "will be protected and the State Board of Medical Examiners will be in a strong position to continue to prosecute their disciplinary actions," Attorney General Catherine Cortez Masto said in a statement.
Her office filed the legal actions Monday on behalf of the medical board, saying the doctors posed a "risk of harm to the citizens of the State of Nevada."
A May 12 hearing was scheduled for a preliminary injunction against Carrera. Desai has a May 8 hearing.
A man who answered the phone Wednesday afternoon at Carrera's home hung up when a reporter identified himself, and a lawyer for Carrera did not respond to a phone message.
Public health investigators have said six patients at the endoscopy center contracted acute hepatitis C at the clinic, at 700 Shadow Lane, when nurse anesthetists reused syringes on infected patients and contaminated single-use vials of anesthesia that were used on multiple patients.
The finding prompted the Southern Nevada Health District to notify 40,000 clinic patients of possible exposure to blood-borne diseases and triggered wide-ranging criminal investigations by local, state and federal authorities.
Health officials have since linked a seventh hepatitis C case to the Shadow Lane clinic and an eighth case to an affiliated clinic, the Desert Shadow Endoscopy Center at 4275 Burnham Ave.
Carrera owned 14 percent of the Endoscopy Center of Southern Nevada, according to Las Vegas business records. Desai owned 56 percent, and two other doctors owned smaller shares, the records show.
Carrera earned his medical degree in 1980 from the University of Texas. He performed his medical internship and residency at St. Paul Medical Center in Dallas, followed by a fellowship at Maricopa Medical Center in Phoenix, according to the Nevada medical board.
He had been practicing medicine in Nevada since 1985.
Contact reporter Brian Haynes at bhaynes@reviewjournal.com or 702-383-0281.