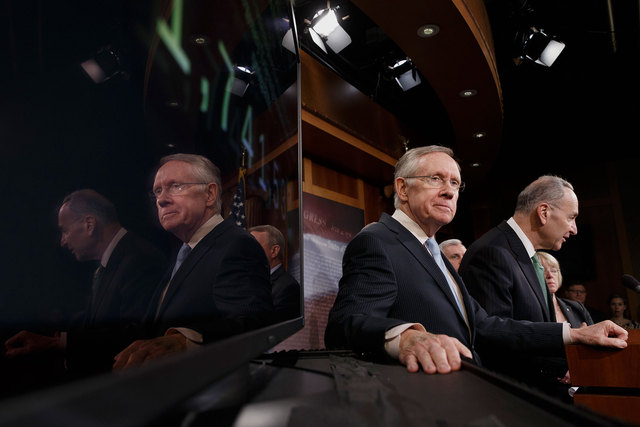 WASHINGTON — The Senate failed again on Thursday to advance a bill to restore payments to the long-term unemployed, creating fresh doubt whether Congress will be able to resolve an issue affecting almost 2 million jobless Americans.
The latest Democratic proposal to extend federal emergency unemployment payments for three months fell short in a 58-40 procedural vote. Sixty votes were needed to move the bill forward.
Senate Majority Leader Harry Reid, D-Nev., said it would not be the final attempt to extend federal benefits that expired at the end of December for 1.3 million people.
That number has jumped to 1.7 million since then, as the basic 26 weeks of state-paid benefits expire each week for some people unable to find new work.
As of Monday, an estimated 21,812 Nevadans have exhausted benefits in a state where the unemployment rate is 8.8 percent, the second highest in the nation.
"We are not going to give up on the unemployed," Reid said.
But possible paths forward were unclear amid signs that partisan positions were becoming even more hardened in a Senate that has clashed over the job security safety net over the past month and as senators prepared for an even tougher debate next month whether to raise the minimum wage.
"We know it's a political game," Sen. Orrin Hatch, R-Utah, said of the unemployment bill. "We know (Democrats) would like to bring it up every three months and bash Republicans with it."
Four Republicans — Dean Heller of Nevada, Lisa Murkowski of Alaska, Kelly Ayotte of New Hampshire and Susan Collins of Maine — voted with Democrats for the bill.
The legislation fell just one vote short of 60, but Reid switched his vote to "no" in a procedural move that allows him as majority leader to call the bill up again in the future.
The bill would have extended federal jobless payments for three months, retroactive to Dec. 28, when the previous government program expired.
The measure's $6 billion cost would have been offset by allowing companies to adjust their retirement contributions in a process called "pension smoothing."
Unemployed workers whose state benefits expired would be eligible for a maximum of 47 additional weeks of aid, depending on the jobless level within their states.
In a bid for GOP support, Democrats threw in a provision by Sen. Tom Coburn, R-Okla., denying unemployment benefits to people whose gross income is $1 million or more.
Reid blamed GOP senators, contended Democrats "have done virtually everything the Republicans asked," but still were unable to draw enough votes.
In a second vote, the Senate failed to advance a Democratic bill that would extend benefits for three months without a cost offset. That vote was 55-43, where 60 votes were needed.
"Any no vote on extending unemployment benefits is a no vote because they don't want to extend unemployment benefits," Reid said. "Republicans simply don't want to extend these benefits."
"Denying this vital lifeline is not only morally indefensible, it's also economically shortsighted," Rep. Dina Titus, D-Nev., said in a statement. "Shame on Republicans for not working with Democrats to pass this much needed assistance."
Rep. Steven Horsford, D-Nev., said senators voting against extended benefits "either do not understand or do not care what it is like to live on the brink."
Even if the Senate acts, the House would have to follow suit, and many Republicans in that body have shown little appetite to authorize more spending in an economy that many believe is recovering, if unevenly.
Sen. Dan Coats, R-Ind., voted last month in favor of an unemployment insurance bill but voted against the one proposed on Thursday.
He said that Reid refused to allow debate and votes on Republican amendments.
"Rather than work with us to find common ground, the majority leader once again chose to reject our ideas and block action on amendments to improve and pay for this legislation," Coats said.
In a statement after the vote, Heller said Republicans "would like the opportunity to discuss reforms in the program and vote on related amendments."
"I am disappointed that the Senate has not yet been able to find a way to extend these benefits," Heller said. "We will keep negotiating with colleagues on both sides of the aisle to reach a compromise."
Some senators demanded that extended benefits be accompanied by reforms in unemployment and job training systems.
"We know that some have been on unemployment for years and as you can see from the health care bill, there is an incentive not to work," Hatch said. "Why work when you can tie into all kinds of transfer payments that give you almost as much money as if you work?
"That's starting to become a norm in this country and that's a very bad norm to have," he said.
Sen. Jack Reed, D-R.I., said it was "somewhat offensive" to label out-of-work people as lazy or uninspired.
"They are out there fighting each day, against difficult odds," said Reed, whose state has the highest jobless rate at 9.1 percent. "There are at least three applicants for every job. It's a tough, tough job market."
Contact Stephens Washington Bureau Chief Steve Tetreault at stetreault@stephensmedia.com or 202-783-1760. Follow him on Twitter @STetreaultDC.
Boehner: Immigration overhaul tough to pass
Speaker John Boehner on Thursday all but ruled out passage of immigration legislation before this fall's elections, saying it would be difficult for the Republican-led House to act on the issue that President Barack Obama has made a top domestic priority.
In his most pessimistic comments, Boehner blamed the stalemate on widespread skepticism that Obama would properly enforce any immigration reforms that Congress approved. The GOP leader didn't mention that his own members have balked at acting on the contentious issue, which could enrage core conservative voters in the midterm election year.
"The American people, including many of our members, don't trust that the reform we're talking about will be implemented as it was intended to be," Boehner told reporters at his weekly news conference. "The president seems to change the health care law on a whim, whenever he likes. Now, he is running around the country telling everyone he's going to keep acting on his own."
– Donna Cassata, Associated Press