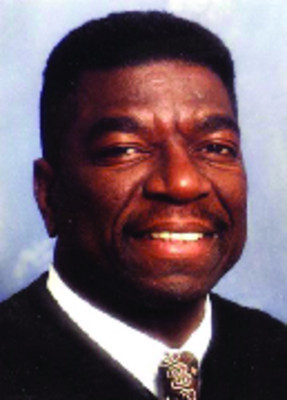 CARSON CITY — A proposal was announced Monday to settle a Judicial Discipline Commission complaint against departing Clark County District Judge Lee Gates for making what have been called improper campaign contributions to two judicial colleagues.
The settlement, proposed by Thomas Pitaro, Gates' attorney, and Dorothy Nash Holmes, special prosecutor for the commission, would require Gates to acknowledge that the two $5,000 donations he made in 2004 from his unspent campaign funds were improper.
The contributions were made to Las Vegas Justice of the Peace Karen Bennett-Haron and Nevada Supreme Court Justice Michael Douglas. The donations used contributions left over from Gates' 2002 re-election, when he was unopposed.
Under the proposed settlement, Gates would be required to attend at his own expense a course on ethical issues in the law offered by the National Judicial College. He would have to accept full responsibility for the violation, issue a public apology, and receive and accept a public censure from the commission.
The commission has to approve the proposed settlement before it can take effect. No date for a vote has been set.
Gates could not be reached for comment. He announced earlier this month that he would not seek re-election to the court this year.
A statement of charges was filed against Gates by Nash Holmes on Nov. 2 alleging that the judge improperly used some of his own leftover campaign funds to contribute to the two re-election campaigns. Using leftover campaign money to contribute to other candidates is not among the approved uses of such funds.
The complaint questioned why Gates did not report the contributions until filing an amended campaign report in 2007, after an investigation into the contributions had started.
Both Bennett-Haron and Douglas reported the contributions on their campaign and expense reports filed with the secretary of state's office.
The initial complaint against Gates alleged he improperly endorsed the two candidates by making the contributions.
But that part of the complaint was dropped when the commission noted the Supreme Court had ruled members of the judiciary are entitled to make campaign contributions and that such donations do not constitute an endorsement of a candidate.
Gates was appointed to the bench in 1991. Before taking the bench, Gates was a deputy public defender, a private attorney and a deputy district attorney. He receives $130,000 annual salary as judge.
Gates is married to former Clark County Commissioner Yvonne Atkinson Gates, who is facing a Las Vegas police investigation into whether she illegally paid relatives campaign funds that were funneled back to her. Gates' stepson, Brian Atkinson Turner, is facing child endangerment and drug charges.
Contact Capital Bureau reporter Sean Whaley at swhaley@reviewjournal.com or (775) 687-3900.