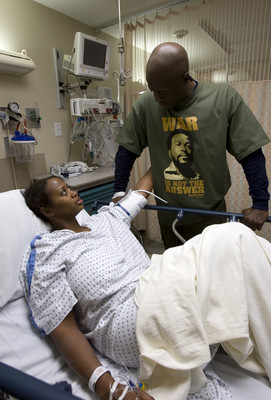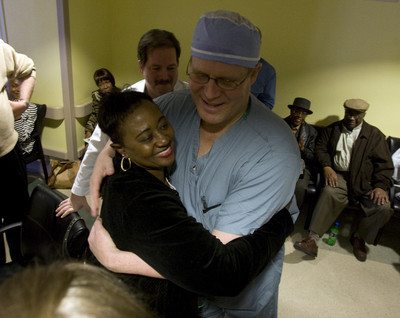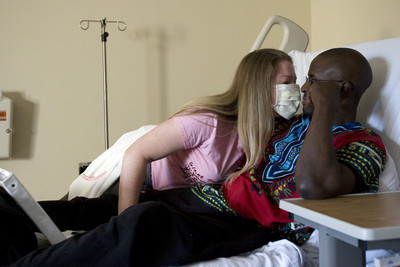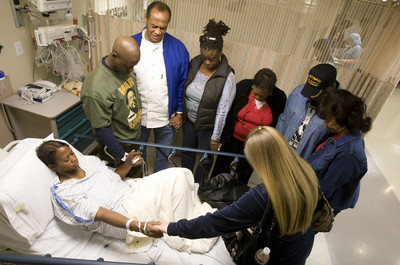 The kidney that can save George McLaurin Jr.'s life sits on a bed of crushed ice like a shrimp cocktail.
About the size of a computer mouse with a deep red coloring, it weighs a tad less than a quarter pounder with cheese.
The preservative solution that Dr. Timothy Gayowski squirts on the organ as he readies it for transplant adds to the antiseptic smell of the University Medical Center operating room.
It's 9:30 a.m. on Jan. 13, and a question from a member of the surgical team handling the transplant — McLaurin's sister is the donor — drowns out the incessant beeps of medical equipment.
"Who do you think will win the Super Bowl this year?"
This kind of relaxed, business-as-usual atmosphere that medical professionals prize in the operating theater was made possible by the seamless 75-minute removal of Valerie McLaurin's left kidney earlier in the morning.
To free the kidney inside the mother of three, Dr. John Sorensen had deftly wielded extraction instruments, much like someone uses chopsticks, through tiny incisions in Valerie McLaurin's abdominal area.
Sorensen, 51, who has done hundreds of these laparo­scopic procedures, finished the organ removal by grabbing it with his left hand through another four-inch incision.
The organ was quickly placed atop a bowl of ice to slow deterioration.
In about an hour, what had been Valerie's for 36 years would be George's.
Whether the kidney will function properly largely depends on the condition of the organ and the skill of Sorensen's team, who will move to a nearby operating room for the transplant.
Program revived
For months, hundreds of Nevadans with kidney failure and their families — George learned he was suffering from kidney failure in 2007 — couldn't help but have doubts about the viability of the transplant program first begun in 1989.
The angst they felt in July when Sunrise Hospital and Medical Center discontinued the procedures for financial reasons only heightened in September. That's when UMC's main transplant surgeon, Dr. Gary Shen, suffered an illness that caused the lone surviving program to shut down.
And then came the news that left the McLaurin family and others waiting on transplants unsure of when, or if, life-saving kidney transplants would ever be revived in the Silver State.
In October, the federal Centers for Medicare and Medicaid Services ruled that its certification for the UMC transplant center would be revoked in December because of administrative deficiencies.
"More people are dying than necessary. … The hospital's death rate is more than 50 percent higher than its expected death rate," a CMS letter to University Medical Center stated.
The state's congressional delegation, responding to concerns from patients and medical officials, worked to get the decertification stayed, arguing that the suicide of one patient had thrown the statistics out of whack.
Even more persuasive to federal officials was UMC's hiring of new administrative staff and a new $1 million contract with four surgeons, including Sorensen and Gayowski, from the renowned University of Utah Transplant Program.
Betty Tolliver, George and Valerie's mother, recalled her relief when she heard transplants at UMC could go forward in January.
"There was just no way that patients and their loved ones could afford to live in another state for weeks or months during the transplant recovery period when follow-up care is so critical," she said.
Transplant coordinator Karen Watnem said there is no question the program will pass muster when it is reviewed again by federal officials in June.
"We have a much larger resource now to provide a service that's needed," she said. "We're not a single surgeon transplant program anymore. With multiple transplant surgeons, two of which are available at any given time, our multidisciplinary team is much stronger."
When the UMC program came back on line, it did so at a time when more and more patients were in need of organs. Meanwhile, the sources — cadavers, altruistic donors and family members — weren't meeting the demand.
In 2008, according to the United Network for Organ Sharing, around 100,000 Americans were on waiting lists for transplant organs, with 80,000 of those, including 300 Nevadans, waiting for kidneys.
Fewer than 20,000 kidney transplants were done last year, with about 40 percent from living donors.
In 2008, 66 transplants were performed in Nevada; 40 at UMC and 26 at Sunrise.
And each year, more than 4,000 Americans die waiting for a kidney — about 12 a day.
'No way to live'
In early January, as George sat in a crowded dialysis center near UMC , the 40-year-old former ironworker noted how fortunate he was that Valerie would be his donor.
"I really am lucky," he said. "Many of these people you see here are going to die. A lot of these people are doing this for five years waiting for a transplant, and their kidneys finally give out entirely."
He gestured to the men and women who, like him, had to be hooked up to a machine three days a week for four hours at a time, artificially having both their waste filtered and excess fluid removed.
"This is no way to live," he said. "You're just existing."
Most of the other patients in the room were lethargic, glumly staring at nothing in particular. Flesh hung from the thinnest of arms. Yawning, not conversation, filled the center.
Unlike those around him, George's energy level remained high. He had always been active, working in construction and practicing martial arts and Bikram yoga, where exercises are done in a room heated to 105 degrees.
At 5 feet 9 inches, 175 pounds, his muscle tone suggests he could jump out of his chair and start teaching yoga and karate again to his 10- and 7-year-old daughters.
When he's not visiting with friends who accompany him to the center, he reads every­thing he can about organ transplantation.
George said he wasn't even feeling ill in 2007 when he learned his kidneys were operating at only 7 percent efficiency.
George found out he was basically on death's doorstep during a physical examination that was part of the process for becoming a yoga instructor.
"Doctors said I could die at any time and yet I felt great," he said.
Doctors speculated that his overall excellent condition helped his body compensate for, and mask the symptoms of, his kidney failure.
Finding the diagnosis difficult to comprehend, George ignored physicians' pleas to immediately start the dialysis they said was necessary to keep him healthy enough for a transplant.
For seven months, he delayed starting dialysis. Finances drove the decision.
"I didn't know how my family was going to make up my $4,000 a month as an ironworker," he said.
As members of his family got tested to see if they were compatible to donate a kidney, George said, he read about how people desperate for a transplant traveled the world in search of an organ.
George said reading led him to a decision: "There was no way I was going to sit around in a dialysis center just waiting to die if no member of my family could donate. I have two daughters to raise."
If he had to, he decided that somehow, some way, he would raise the money to go abroad to get a transplant.
At present, only Iran legally operates a market in body organs, but only for its own citizens. But the World Health Organization estimated that in 2004 about 10 percent of the 61,000 kidney transplants performed around the world, often in less than medically ideal conditions, were the result of organs purchased illegally on the black market.
The 1984 National Organ Transplantation Act in the United States makes it illegal for anyone to sell or acquire an organ for "valuable consideration." Supporters of the law say buying organs goes against American values and could exploit the poor.
"I think it's safe to say when you read about the black market that many wealthy people with kidney failure aren't just waiting to die," George said. "If we made it legal to buy organs in this country, we could put regulations in place to protect donors and treat them with the respect they deserve. It's the only way we're going to end the scarcity of transplant organs and end Americans' participation in a dangerous black market."
Roller coaster
A year ago, George received the good news that ended any notion he had to break the law.
Valerie was a perfect match.
When Valerie excitedly told her the news over her cell phone, Tolliver said she had to pull off the road.
"I started crying," Tolliver recalled. "I was proud that my kids were so close, but sometimes I can't even talk about it."
She also was afraid that she could lose them on the operating table, though she never voiced those fears to George and Valerie.
Originally, the transplant surgery had been scheduled for July 1, 2008, at Sunrise Hospital.
But that turned out to be the date Sunrise picked to merge its transplant services into the existing program at UMC.
With the Sunrise announcement, Tolliver said, her family began riding an emotional roller coaster that only got worse when UMC's transplant surgeon took ill and the federal government threatened to shutter the program. All the testing that her children went through to satisfy UMC's transplant program requirements seemed to be for naught.
"That was unbelievably hard on everybody," she said.
By the new year, however, the program was back on track and the transplant was firmed up by UMC officials.
Two weeks before the procedure George and Valerie, accompanied by her 12-year-old daughter, Ayana Williams, sat in his North Las Vegas home and reflected on what they were about to do.
The siblings held hands.
"I have no doubt whatsoever that everything will work out fine," George said as Ayana looked on, worry etched in her face.
"What if something goes wrong?" Ayana asked.
Valerie responded she had confidence in the professionalism of the transplant team.
She also explained why she had no hesitancy in giving up part of herself for her brother.
"I love him," she said.
Besides, she said, life is never as exhilarating or meaningful as when you're sharing it.
Risk and benefits
Although transplant surgeons note that the vast majority of people can live normal, healthy lives with just one kidney, a living donor transplant is not without risk. Up to 2 percent of donors suffer complications, according to the National Kidney Foundation, with 50 percent of those needing a follow-up corrective procedure. In 2005, the federal government estimated the chance of donor death at 0.03 percent, or three in 1,000.
Though the donor population is far from keeping up with the need, kidney donations have nearly doubled in the past decade, with donations from living donors nearly tripling.
Transplant officials say that the type of laparoscopic procedure that Sorensen performed on Valerie, which reduces recovery time to a few days in the hospital, plays a large role in the willingness of living donors to come forward.
Largely because donors can be tested thoroughly before transplantation, a living donor kidney is the best option for a kidney recipient. Half of living donor kidneys transplanted today will still be functioning in 25 years; half of cadaveric kidneys will fail in the first 10 years.
Research released by the American Transplant Foundation shows that kidney transplant programs are cost effective in both monetary and human terms.
Although the cost for surgery, follow-up visits and immuno­suppressant medication to prevent organ rejection can run about $100,000 for the first year — an expense generally covered by Medicare and private insurance — medication costs drop to between $10,000 and $20,000 a year thereafter for a transplant patient.
In comparison, dialysis, the artificial process of filtering the blood that tethers someone with kidney failure to a machine, and its attendant medical care runs as much as $70,000 a year. And dialysis patients often cannot work and must be placed on government assistance.
"A transplanted individual can be a completely productive member of society again," said Heidi Heltzel, a foundation spokeswoman. "And how do you measure what it means to families?"
'Finally going to happen'
When George walked into UMC shortly before 6 a.m. on Jan. 13, he looked forward to receiving a kidney that "will last me until I'm an old man."
"It's finally going to happen," he said grinning with his wife, Debbie, by his side. "She slept. I couldn't. I was really looking forward to today. I ended up watching cartoons all night."
By the time George finished paperwork for the procedure, other members of his family as well as parishioners from Tolliver's True Love Missionary Baptist Church were in the waiting room. Valerie already had been taken back to pre-op.
The siblings' father, George McLaurin Sr., who had flown in from Mississippi, joked with his son for a while but soon walked around a corner with tears in his eyes. A former infantryman in Vietnam, he is on disability for post traumatic stress disorder.
"This is worse than Vietnam," he said, gritting his teeth. "I still see all those bodies back there, but just the thought of seeing my kids' dead bodies if something goes wrong is too much."
Nurses soon took George back to pre-op. There, he hugged his sister and whispered in her ear. Before George changed into hospital garb and climbed into a bed in a bay next to Valerie, Pastor Willie Jacobs Jr. gathered the family around her bed for a prayer.
"God, please guide their hearts and minds," he said, referring to the surgical team.
Anesthesiologist Hector Rodriguez asked Valerie if there was anything he could do for her before she was wheeled back to the operating room.
"Could you sing me a song?" she asked, a smile spreading across her face as her eyes glistened.
"I don't think you want me to do that," he replied as nurses pushed her toward the surgical theater.
Watnem, the transplant coordinator, whispered in the operating room as she watched Sorensen operate on Valerie: "The reason why people go into this field is to make a difference. I can tell you there is nothing more inspiring than giving someone a new lease on life. We've got a great team now. It's such a valuable service."
Before completion of Valerie's surgery, her brother would be taken to another operating room, where Dr. Ben Cousins, a UMC resident working with Sorensen, would sew the organ into George's right pelvic area.
Sorensen is a lieutenant colonel in the U.S. Army Reserve Medical Corps who has performed surgery on wounded soldiers in Bosnia, Iraq and Afghanistan.
Cousins, 32, first realized as a teen that he might have a talent for sewing when he was complimented on how well he could string tennis rackets.
Sorensen nodded as Cousins, wearing the magnifying lenses that allow him to make the tiny sutures that connect arteries and veins, pain­stakingly sewed the new kidney artery to George's iliac artery and vein, which supply blood to his right leg.
Cousins and Sorensen also attached the ureter of the new kidney directly to George's bladder.
"The kidney is working," a matter-of-fact Sorensen told his team as the organ produced urine.
Not long after George's two-hour surgery, Sorensen went to the waiting room to make an announcement to the McLaurin family.
"Valerie and George are doing well. The kidney is doing well," he said, smiling.
Tolliver embraced him so tightly his eyeglasses were in danger of being broken.
Valerie spent four days in the hospital, George five.
Still convalescing at home last week, Valerie expects to return to work soon as an office clerk.
George, who must get blood work done twice a week to make sure his kidney is operating properly, hopes to end his at-home recuperation in about a month to take an office position with a construction firm. Now on Social Security disability, he walks regularly and said he has "energy to burn."
He noted the transplant was not without a complication.
"My dad wanted to sleep in my room that first night to make sure he could tell the nurses if I had any problems," he said. "But he started snoring so loud I couldn't get any sleep. So I woke him up and told him Valerie wanted him for support in her room. Now poor Valerie tells me she didn't get any sleep."
Contact reporter Paul Harasim at pharasim@reviewjournal.com or 702-387-2908.
Slideshow
WANT TO BE A DONOR?
If you're interested in becoming a living kidney donor, contact the University Medical Center Transplant Center directly at 702-383-2224.
That's the word from Ken Richardson, executive director of the Nevada Donor Network.
And if you to want to be an organ and tissue donor upon your death, Richardson noted that there are several ways to make that happen.
You have the option of putting the donor designation on your driver's license or Nevada ID card. Alternately, Richardson said, you can download the state registry form from the Nevada Donor Network's Web site, www.nvdonor.org, and fax it to 702-796-9600. Completed forms can also be mailed to the donor network at 2085 E. Sahara Ave., Las Vegas, NV 89104.
Richardson said it is important that people make their wishes known to family members.
"Please speak to your family about becoming a donor," Richardson said. "You might save lives one day."
LAS VEGAS REVIEW-JOURNAL