December 18, 2008 - 10:00 pm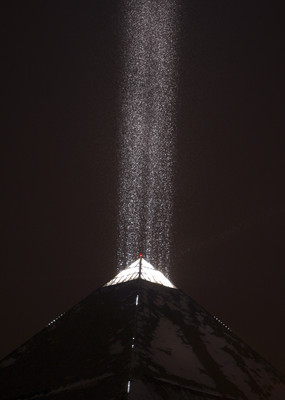 A rare winter storm swept through Southern Nevada Wednesday, dumping the most snow on the valley in nearly three decades, grounding flights at the airport, forcing the closure of major highways and closing schools for today.
"This is the most snow we've had in Las Vegas in almost 30 years," said Chris Stachelski, a meteorologist with the National Weather Service. "It's a significant historical event."
At 9:50 p.m. Wednesday, the weather service measured a record-breaking 3.6 inches of snow at its office location southwest of McCarran International Airport. It was the highest snow accumulation recorded in the month of December in Las Vegas since the start of official records in 1937. The previous record was 2 inches of snow, which fell on Dec. 15, 1967.
The weather service dubbed the storm as "the eighth greatest snowstorm ever in official Las Vegas weather records for any month."
The heaviest snowfall hit the southeast valley, where about 3 inches had accumulated by 7:45 p.m., with unconfirmed reports of as much as 6 inches in Henderson, Stachelski said.
Between 6 to 10 inches could fall in that area by the time the storm tapers off this morning, and the northern and western parts of the valley could receive up to 4 inches of snowfall, he said.
The storm dumped 11 inches of snow on Mount Charleston.
Wednesday's snowfall in the valley also was the most since 1979, when 7.8 inches fell in a 48-hour period, beginning Jan. 30. The record was set in January 1949, with 9.7 inches falling over two days, according to the weather service.
The weather prompted the Clark County School District to close all schools today. A decision was pending Wednesday night on whether athletic events would take place. Bishop Gorman High School and Faith Lutheran Jr./Sr. High School were among the private schools canceling classes.
Parents at charter and private schools should call their school offices for closure information.
Outgoing flights at McCarran were grounded Wednesday afternoon because of the snowfall and poor visibility. Incoming flights were canceled, said Ian Gregor, spokesman for the Federal Aviation Administration.
Gregor said the airport doesn't have snow removal or de-icing equipment, which means there's no way for snow-covered planes to leave safely.
Airport officials said normal flight operations would resume as conditions improved.
As flights were canceled, erstwhile passengers lined up in the ticketing area in search of other flights.
A long line snaked back and forth in front of the Southwest Airlines windows, but several people waiting there said they had experienced longer waits on other days.
It was a similar story outside, where stranded travelers waited up to 30 minutes for taxis to take them back to the Strip for one more night. Contrary to rumors of three-hour cab lines, airport officials said the waits were not much longer than they might be on any busy evening.
Among the stranded were Sam and Dawn Wills and their two children, daughter Talia, 3, and son Brady, 9 months.
They staked out a patch of carpet in a second-floor hallway, near some restrooms and drinking fountains, where Dawn spooned orange baby food into Brady's mouth.
They hadn't quite decided, but they were leaning toward spending the night there. To catch the next flight to Stockton, Calif., they had to be back in line by 4 a.m. today.
The kids were handling the situation pretty well, but Sam wasn't sure how much longer that would last.
"We're about 45 minutes from bedtime for him," he said of Brady. "It's a countdown right now."
Added Dawn with a tired smile, "We'd like to be somewhere besides the floor."
The snow also foiled travel for drivers on several of Southern Nevada's busy highways. Interstate 15 was closed at Primm, U.S. Highway 95 was closed from Railroad Pass to the California border, and state Route 160 was closed between Las Vegas and Pahrump.
State routes 163, 164 and 165 were also closed.
All of the closures were expected to continue through the night, the Nevada Department of Transportation said.
For roads at Mountain Springs and Mount Charleston, chains, snow tires or four-wheel drive were required for passage. Authorities reported a smattering of minor, weather-related crashes but no serious accidents.
Transportation department crews were expected to spend the night using a liquid de-icer on part of the valley's freeway system, spokesman Bob McKenzie said. The liquid was to be spread over bridges, viaducts and areas most likely to freeze on I-15 and U.S. 95, he said.
Las Vegas public works crews were expected to be out early this morning and would clear and sand any roads as needed, said spokeswoman Debbie Ackerman said.
Clark County public works spokesman Bobby Shelton said the county's snow-clearing equipment, which consists of two snowplows, two snowblowers and two graders, were all on the outskirts of Southern Nevada, at Mount Charleston, Cold Creek and Columbia Pass. None of the equipment would be available for clearing valley roads this morning, Shelton said.
He advised folks to stay home if possible until weather and road conditions improved.
Forecasts called for a 40 percent chance of rain and snow today, followed by partly sunny skies Friday.
Review-Journal reporters Henry Brean, Francis McCabe, Antonio Planas and Benjamin Spillman contributed to this report. Contact reporter Brian Haynes at bhaynes@reviewjournal.com or 702-383-0281.
Slideshow Video Nathan Tannenbaum on snow, forecast RELATED STORYWHAT ARE THE ODDS?: Schools closed today; up to 10 inches of snow could fall on valley ROAD AND WEATHER INFORMATION Nevada Department of TransportationPhone: 877-687-6237 or 511www.nevadadot.com Regional Transportation CommissionFor valley traffic conditionswww.rtcsouthern nevada.comFor public transit: 228-7433California Department of TransportationPhone: 1-800-427-7623www.dot.ca.gov Arizona Department of TransportationPhone: 602-712-6591www.az511.com National Weather Service, Las Vegas office Phone: 263-9744 www.wrh.noaa.gov/vef