Soccer and politics mix as Nevada politicians go for latino votes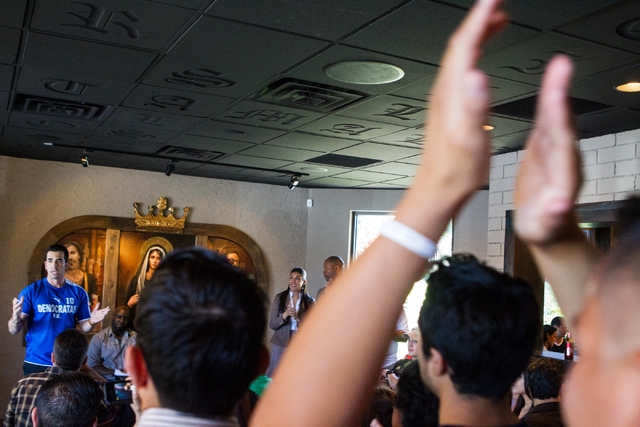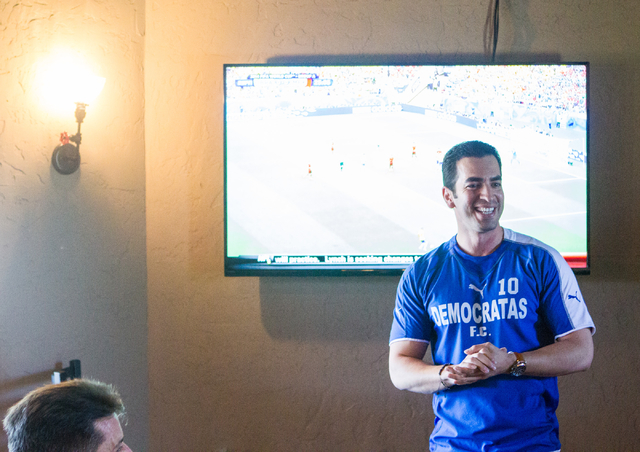 The tacos were spicy. The beer was cold. And the World Cup soccer match between Mexico and Brazil was a dead heat.
At halftime, state Sen. Ruben Kihuen, D-Las Vegas, rallied the mostly Latino sports fans, who were gathered around big-screen TVs inside the Tacos &Beer restaurant, a new eatery on Paradise Road near the Strip.
Amid the color-splashed, standing-room-only crowd of about 150, people wore Mexico's red shirts or Brazil's yellow and green. A few had painted faces. Some draped national flags around their shoulders.
This was not your usual political event, but Kihuen was looking to boost Hispanic interest in the 2014 election as Democrats count more and more on the growing Latino vote to gain a winning edge over their Republican opponents.
"Soccer is the most popular sport in the Latino community," Kihuen said, calling the World Cup "the biggest sporting event on the planet."
"We wanted to bring sports and politics together. It's a different way to engage the Hispanic community."
With that in mind, Kihuen introduced Assemblywoman Lucy Flores, D-Las Vegas, who is running for lieutenant governor in one of the most competitive and closely watched races on the Nov. 4 ballot. She's going up against state Sen. Mark Hutchison, R-Las Vegas, who is GOP Gov. Brian Sandoval's pick for the job.
"Lucy and I went to the same high school (Rancho) together, so I have some stories to tell," Kihuen joked.
Secretary of State Ross Miller arrived in time for the second half, trading his suit jacket for a red Mexico shirt before working the crowd.
Miller, the son of former Gov. Bob Miller, is running for attorney general against Republican Adam Laxalt, the grandson of former Nevada Gov. and U.S. Sen. Paul Laxalt, who is close to Sandoval. Miller, a two-term secretary of state, is better known than Laxalt and is considered the favorite, but he will need high Democratic and Latino voter turnout to win.
In a brief interview, Miller called the Hispanic vote "invaluable" to his campaign. He also noted that Kihuen has been courted by presidential candidates in the past because he has strong ties in the Latino community and can help sway voters. Kihuen also is the Democratic National Committeeman in Nevada.
"This is a growing demographic and important in any election," Miller said of Hispanics.
In his youth, Miller spent time in Mexico, where he attended the Monterrey Technological Institute. In 1994, he played guard at Monterrey, and his team won the Collegiate Mexican National Basketball championship.
Miller is hosting another World Cup watch party at 3 p.m. today at Ferraro's restaurant for the match between the United States and Portugal. Kihuen is listed as his "special guest," and the event will be a low-key fundraiser for Miller's campaign as well. He's asking $20 from supporters, $50 for VIP seats and $100 for hosts.
"Ross and I are teaming up," Kihuen said. "A lot of these people are my friends. I play soccer with them, and they won't even come to my political events. But they'll come to watch the World Cup."
IMMIGRATION REFORM AN ISSUE
In Nevada, the Hispanic vote, which leans heavily Democratic, has grown in importance over the past decade, nearly doubling since the 2004 election when 10 percent of the electorate was Latino. That compares to 15 percent of the electorate in 2008 and 18 percent in 2012, according to the Pew Hispanic Center.
Flores is an example of the growing political power of Hispanics as one of six Latinos elected to the Nevada Assembly in 2010. The Nevada Hispanic Legislative Caucus now has nine members, she said, including two non-Latinos.
The lieutenant governor's race will be Flores' first statewide campaign, but she said she's "doing what I've always done" by getting out in the community to listen to Nevadans' concerns and urge them to vote.
"I don't take a single vote for granted," Flores said.
Flores noted that Hispanic candidates in Nevada have won districts that aren't heavily Latino, including several of her Assembly colleagues. At the same time, Hispanic voter turnout has exceeded expectations in recent elections.
"Whether they vote for Democrats or Republicans, their vote is their voice and it's a powerful one," Flores said.
Hutchison, her Republican opponent, also is running in his first statewide campaign after election to the Nevada Senate in 2012. He likely will get a boost in the Hispanic community because of Sandoval's support. The popular governor won 33 percent of the Latino vote in 2010 when he was first elected despite supporting a controversial Arizona law that allowed police to ask immigrants suspected of being in the country illegally for documentation if they were stopped for any reason.
As governor, however, Sandoval has approved $50 million for English language learners in schools and signed into law a bill that offers immigrants driver's authorization cards.
Hutchison supported the governor on both issues that were important to Hispanics during the 2013 Legislature and he voted in favor of a resolution urging Congress to enact comprehensive immigration reform.
"The Hutchison campaign is actively engaging with all voters across the state," said Mari St. Martin, a spokeswoman for Hutchison's campaign. "We do not plan on ceding any ground to our opponent. When it comes to issues that have a specific impact on the Hispanic community, Mark has a strong personal and legislative record."
Despite the Democratic advantage among Hispanics, Nevada GOP candidates and national Republicans are battling for a bigger slice of the Latino vote, emphasizing shared values and support for immigration reform, which is stalled in Congress.
In the race for the 3rd Congressional District in Southern Nevada, for example, U.S. Rep. Joe Heck, R-Nev., has expressed frustration with the House GOP leadership for not bringing immigration reform to the floor for a vote. His Democratic opponent, Erin Bilbray, is using the issue as a club, hitting Heck for not doing more to fix a broken immigration system.
"I see these families," Bilbray said the day after the June 10 Nevada primary. "I have relationships with these families, and they are suffering. … The fact (Congress) is not going to act on this is just unconscionable, I believe."
In the attorney general's race, Laxalt notes he has been endorsed by both Sandoval, Nevada's first Hispanic governor, and New Mexico Gov. Susana Martinez, the nation's first Latina governor. Laxalt also favors reforming the immigration system, though he hasn't offered details.
"We are working diligently in this campaign to reach every voting demographic, including Hispanic voters," said John Findlay, Laxalt's campaign manager. "Watching a soccer game may be fun for the secretary of state and it may represent his approach to Hispanic outreach, but in reality, it does little to reunite families through an improved legal immigration process, address high unemployment rates in our Hispanic community or help our brave and honorable Hispanic veterans gain the legal services and care they deserve."
GOP CAN EARN VOTES
The Republican Party has been struggling for decades to win more Hispanic support. In fact, Laxalt's grandfather, who is of Basque heritage, pushed GOP outreach to Latinos throughout the 1970s and 1980s.
In a video from 1984, Paul Laxalt says: "Hispanics essentially have the values and philosophies that our party has. They're family-oriented. They believe strongly in the work ethic. They take great pride in the country. They're strong on national defense. And it's always been one of the great mysteries to me as to why we don't enjoy more Hispanic support. And I think probably the biggest single reason is because the Republican Party historically has been too WASPish."
(You can see the YouTube clip here: https://www.youtube.com/watch?v=mgxsjrrGei)
This year, GOP Hispanic outreach is being stepped up as the Hispanic population in the United States grows. In Nevada, Latinos account for more than 27 percent of the population and about 40 percent of students in schools.
Earlier this month, Sandoval helped the Republican National Committee announce an expansion of the RNC's "effort to strengthen the Republican Party's relationships in Hispanic communities across the country."
The RNC added six new Latino outreach directors and field workers in four states, including Nevada, Arizona, Colorado and New Mexico. The GOP now has Hispanic political programs in 19 states.
"Long-term face-to-face contact between voters and volunteers from the same community is the best way to inform and motivate Hispanic voters to get to the polls," Sandoval said. "The RNC's effort is extremely important and a step in the right direction to helping Republican candidates make gains in our communities."
Will Batista started as Nevada director for the RNC's Hispanic Initiatives in February. He was the regional field representative for the RNC in Reno during the 2012 presidential campaign.
"Our new playbook ensures we have a real and permanent year-round Hispanic engagement effort throughout the country, built to outlast any one candidate or election cycle," Batista said. "This means engaging and sharing our conservative message with Hispanic voters at community events, businesses and places of worship."
The RNC Hispanic push also is laying the groundwork for the 2016 presidential election. Recent history shows that a Republican can't win the presidency unless the GOP candidate gets at least a third of the Hispanic vote nationwide, as former President George W. Bush did in 2000 and in 2004.
On Tuesday, the Mexico vs Brazil World Cup match ended in a 0-0 tie, a victory of sorts for underdog Mexico.
Before the game began, Otto Merida, president of the Latin Chamber of Commerce, reflected on the growing power of Latinos. A registered Republican, Merida said he has voted for both GOP and Democratic candidates. Although he's a friend of Flores, he said he's leaning toward Hutchison because he wants "to give Sandoval a team he can count on to continue what he's doing with economic development and international trade."
"I think it's great the people are fighting for our vote," Merida said smiling. "I say to Republicans, 'You can have our vote, but you have to earn it.' "
Contact Laura Myers at lmyers@reviewjournal.com or 702-387-2919. Find her on Twitter: @lmyerslvrj.