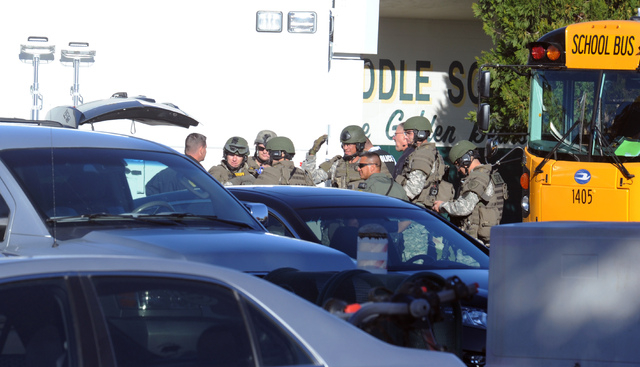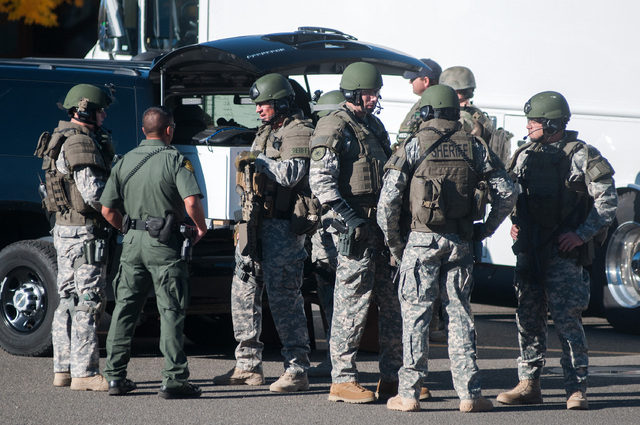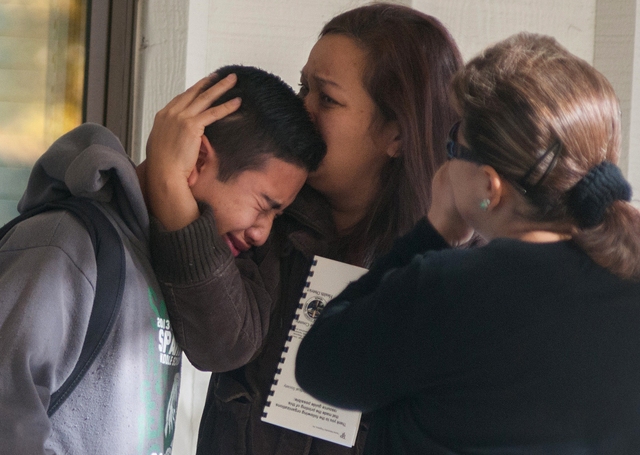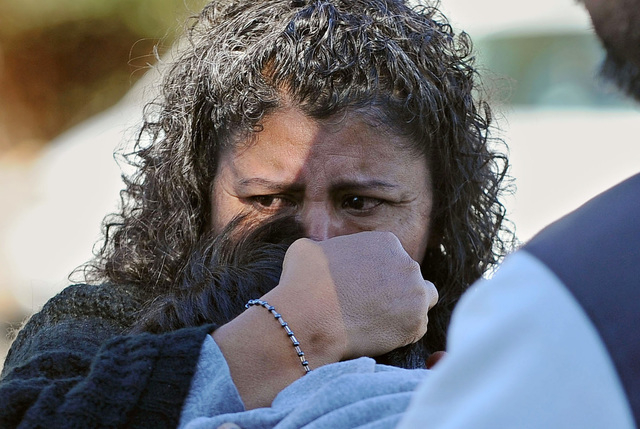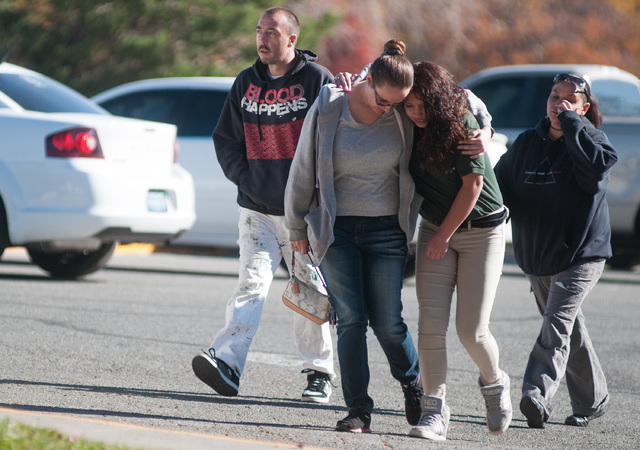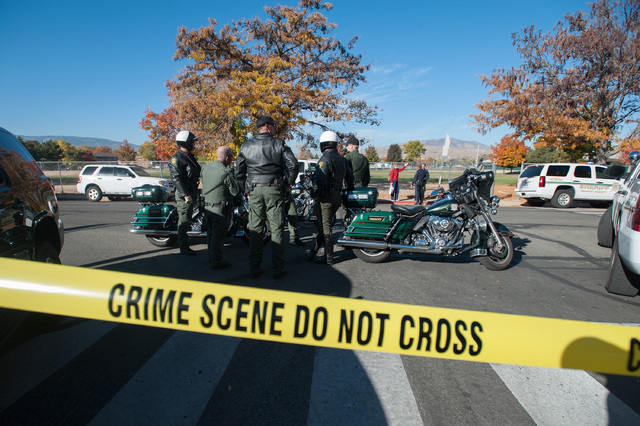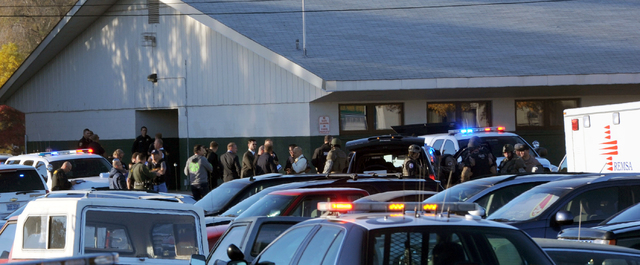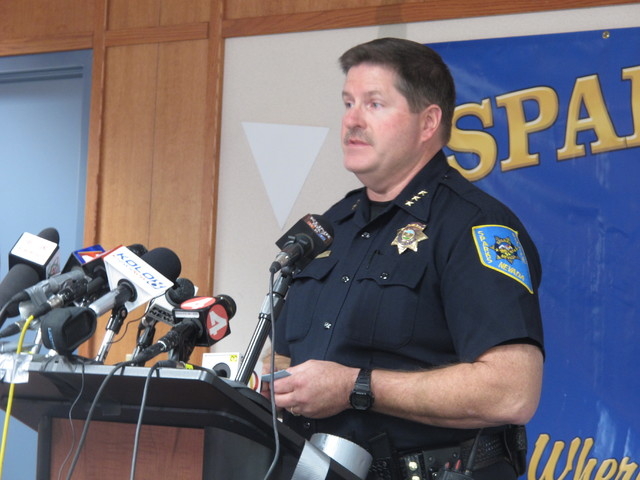 SPARKS — Police are still trying to find out why a 12-year-old boy took a handgun to Sparks Middle School Monday morning, shot two boys, killed math teacher Michael Landsberry and then shot himself to death.
"Everybody wants to know why. That's the big question. The answer is, we don't know right now. But we are proactively trying to determine why," said Sparks Deputy Police Chief Tom Miller.
He said the potential exists for the seventh-grader's parents to be charged in the case. He didn't specify what those charges might be, but the gun is believed to have come from the family home.
However, one 13-year-old student attending a memorial for the teacher at the school Tuesday afternoon suggested that the shooter was bullied.
"He was one of the nicest kids I know," said Margielle Stewart about the shooter. "He put a smile on your face. People took advantage of him. He was bullied. One time we were walking in the hallway and some kid tripped him. I told the kid to stop."
The shooter's identity couldn't be verified Tuesday. Miller said his agency had the name but "never" would release it, noting his respect for the parents, who are cooperating with the investigation.
Neither he nor school district officials would release the names of the two 12-year-old victims, either. Both were in stable condition and recovering from their wounds in the hospital.
Classes were called off for the week at the middle school in this city of 90,000 just east of Reno, but students wandered up in small groups to the memorial all day Tuesday.
Stewart and Desiree Cepeda, 13, went there to pay their respects to Landsberry. Students had placed about 20 candles, two teddy bears, one with a Marine cap on its head, and lots of notes expressing their love for the teacher at the memorial near the school entrance. He had been a teacher since 2001 and served at the school since 2006. He also coached girls and boys basketball and soccer teams.
Students affectionately called Landsberry "Batman" or "Raspberry."
"He was the perfect teacher," said Cepeda, who wrote a note and placed a big card she made on the memorial. "If you had problems he always tried to make you laugh. He was one of my teachers last year. My goal to him is to try to improve my math grade."
"He was pretty nice," said student Nathan Diaz, 13. "He tried to make school fun. A lot of time school is boring and we don't like it, but not with him."
Landsberry 's heroic actions during the shooting likely prevented more deaths and injuries, law enforcement officials said Tuesday.
His last moments about 7:16 a.m. Monday were described in more detail during a news conference at the Sparks Police Station.
Landsberry, 45, calmly approached the boy who had just shot a student in the shoulder on the basketball court. He held up his hands in an effort to get him to give up his 9 mm Ruger semi-automatic handgun.
Instead, the student shot Landsberry in the chest, killing him. Then he shot himself in the head.
Washoe County School District Chief of Police Mike Mieras said Landsberry's actions ensured that other students on the playground could escape safely. It also ensured the shooter could not enter the school building where he might have caused further harm.
After shooting Landsberry the suspect shot another student in the abdomen and then killed himself. All the shooting occurred outside the school, although police said the suspect initially had tried to get inside the school . The bell allowing students in the school rings at 7:20 a.m.
"Mr. Landsberry's heroic actions by stepping toward the shooter allowed time for other students on the playground area to flee the area," Mieras said.
Washoe County School District Superintendent Pedro Martinez said Landsberry "truly is a hero."
"He was a beloved teacher," he said. "He was a beloved father. My condolences to his wife, to his mother, to his children, to his siblings. He will not be forgotten."
Sparks Mayor Geno Martini said to the schoolchildren: "Sometimes bad things happen. And it is up to all of us to be strong and push forward and know that goodness and love will trump these terrible events."
Landsberry had served in the Marines and was also a member of the Nevada Air National Guard, which honored his memory at an event Tuesday.
Batman was "almost his idol," said Senior Master Sgt. Robert Garrett, one of Landsberry's superiors at Guard headquarters in Reno. He had a Batman phone and loved to watch Batman and science fiction movies.
And like Batman, Landsberry "would jump in the middle of things to stop bullets to save some kids' lives," Garrett said.
Guard members do not receive training on how to try to disarm or talk a shooter down, added Chief James Ross.
"He acted when his instincts kicked in," Ross said. "He loved his 'kids,' kids being the entire school. That is how he was.'"
Ross remembered him as a "math whiz" who taught his own stepchildren math.
Landsberry joined the Air National Guard in 1994 and did tours in Afghanistan in 2011 and Kuwait in 2006.
His life was his kids, including two stepchildren and the students, and his wife, Sharon.
"If I could tell her anything, I would tell her I miss him, too," said Garrett, his eyes misting.
Garrett said Landsberry talked a lot about being a Marine, and that led to razzing by his fellow Guard members.
"He still had a lot of Marine in him," Garrett said.
Col. Jeffrey Burkett, the wing commander of the air Guard, said Landsberry's widow will be eligible for survivors' benefits. She is suffering badly from what is a "very difficult time," he added.
He noted that Landsberry's passing comes just a little over two years from when three National Guard members were killed by a mentally ill shooter, Eduardo Senscion, at the IHOP in Carson City. Senscion committed suicide after killing the Guard members and an older Lake Tahoe woman while they were eating breakfast.
"Mike is a hero to the community, to the Marines to the National Guard," Burkett said.
He said he has no doubt that Landsberry's actions gave other students a chance to run away and saved many lives.
"It is a tragedy when anybody dies on American soil," added Burkett, noting some of the Guard members killed in Carson City also served tours in combat zones only to come home like Landsberry and be murdered.
Contact Capital Bureau Chief Ed Vogel at evogel@reviewjournal.com, or at 775-687-3901. Contact Capital Bureau reporter Sean Whaley at swhaley@reviewjournal.com or 775-687-3900. Follow him on Twitter @seanw801.