Spending plan: Reid votes for budget, Heller against
December 18, 2013 - 6:20 pm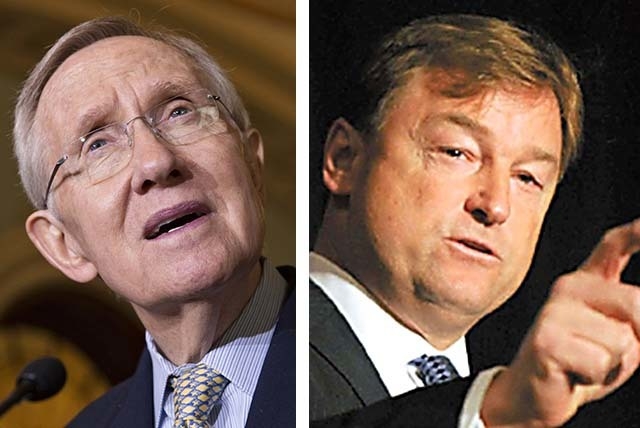 WASHINGTON — There were no sudden last-minute changes of heart when Nevada's senators voted Wednesday on final passage of a new two-year federal budget blueprint.
The bill passed 64-36. Keeping with form, Sen. Harry Reid, D-Nev., voted for the bill while Sen. Dean Heller, R-Nev., voted against it. Each had signaled his position last week.
Reid, the Senate majority leader who played a role in forming the agreement, said the compromise was "an important step to averting another dangerous and costly government shutdown."
An agreement written largely by Democratic and Republican budget leaders in the House and Senate, it sets a target of $1.012 trillion for federal department spending in 2014 and $1.014 trillion for 2015. It aims to avert gridlock over spending that caused the 16-day shutdown in October.
In setting new budget targets, the agreement restores $63 billion in automatic spending cuts that were authorized under the previous "sequester" law, and offsets that with $85 billion in cuts elsewhere and new revenues.
"It is time for Congress to show the American people that Democrats and Republicans can compromise rather than lurching from crisis to crisis," Reid said.
Nine Republicans joined the entire Democratic caucus in voting for the bill.
The bill was advertised as only a modest step forward, as it failed to include tax reforms or significant changes to entitlement programs such as Social Security and Medicare.
For that reason, Heller predicted it will fail to make a dent in the nation's debt problems.
"Congress has yet again decided to pass another short-term deal that blatantly avoids tackling our long-term debt," he said in a statement after the vote. "This fiscal path that we are on is simply unsustainable, which is why Congress needs to act now to craft a long-term solution and make a determined effort to bring fiscal sanity to our great nation."
Heller also voted in protest of cuts in the budget to cost-of-living increases for military retirees under the age of 62.
"It is a shame that Congress has decided to try to balance the budget on the backs of our nation's wounded warriors and their fellow comrades," he said.
Contact Stephens Washington Bureau Chief Steve Tetreault at stetreault@stephensmedia.com or 202-783-1760. Follow him on Twitter @STetreaultDC.