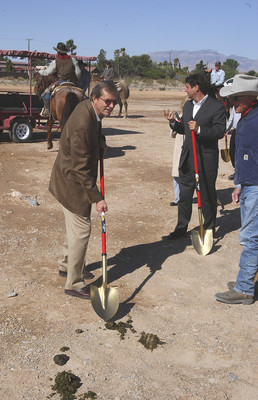 If state officials thought this year's budget cuts hurt, they got an inkling Wednesday they ain't seen nothing yet.
Gov. Jim Gibbons told heads of state agencies to come up with ways to cut as much as 14 percent from anticipated budget levels for 2009-2011, cuts that officials said might make layoffs and program shutdowns unavoidable.
Budget Director Andrew Clinger said agencies will have until July 1 to craft budgets for the state's upcoming two-year spending plan using $600 million a year less than they had expected to receive.
Once the bare-bones budget is assembled, Gibbons and lawmakers can begin to build on that, adding back any projected tax revenue growth to pay for more students, Medicaid recipients or inmates, Clinger said.
The new budget will begin July 1, 2009.
Clinger said he expects the state ultimately will have about $7 billion to spend on the next budget, depending on revenue projections set by the Economic Forum on Dec. 1. That's up from about $6.8 billion originally approved for the current budget, or a 3 percent increase.
State spending normally increases 15 percent to 20 percent from one budget cycle to the next to keep pace with demands for services in a rapidly growing state. Growth continues, but the planning is needed in case the revenue isn't there to pay for expanded services.
Assembly Speaker Barbara Buckley, D-Las Vegas, said budget cuts of the size proposed by Gibbons are impossible to implement.
"If we were to cut across the board 14 percent, then medication clinics for the mentally ill would close," she said. "School districts would probably have to reduce teacher pay and increase class sizes or eliminate arts or sports."
MONDAY
Nevada still No. 1
in preforeclosures
Nevada remained the No. 1 state in the nation for preforeclosures in April, with 3.15 percent of households in preforeclosure, followed by Arizona (2.87 percent) and Florida (2.56 percent), Foreclosures.com reported.
Nevada was seventh with 23,264 total preforeclosure filings through the first four months of the year.
"The sky isn't falling, and the bottom of the housing market is in sight," Foreclosures.com President Alexis McGee said.
TUESDAY
Marathon owner slow to pay up
The owner of the Las Vegas Marathon owes hundreds of thousands of dollars to local businesses and organizations, which could lead to trouble getting the 2008 event to the starting line.
Devine Racing is in arrears to at least a dozen vendors for the 2007 race, and the company still has not made good on commitments to several vendors from 2006.
If Devine cannot meet the commitments, the failure could affect the company's ability to get permits for the 2008 race, set for Dec. 7.
WEDNESDAY
Sunrise gives up kidney transplants
Starting July 1, Sunrise Hospital and Medical Center no longer will offer kidney transplants, and its program will fold into University Medical Center's, officials from both hospitals said.
The increase in transplants at UMC is expected to improve the hospital's program, said Kathy Silver, UMC's chief executive officer.
THURSDAY
Toll demonstration project approved
A proposal to allow for privatized toll lanes in Las Vegas as a way to help reduce a huge funding shortfall for Nevada highway projects was endorsed by the Nevada Transportation Board.
The Associated Press reported that Gov. Jim Gibbons, the board chairman, joined with other panel members at the meeting to back the 19-mile demonstration project.
Gibbons opposes higher taxes, but a spokesman said after the meeting that the voluntary freeway toll doesn't clash with his anti-tax philosophy.
FRIDAY
Woodbury, others face term limits
The secretary of state's office could move to yank some of Southern Nevada's longest-serving politicians off the upcoming ballot because of term limits.
The candidacies of several local elected leaders, including Clark County Commissioner Bruce Woodbury, are under review by the state's top elections official, who ruled this week that three Northern Nevada school trustees were ineligible to run because of the 1996 voter-approved law that limits terms to 12 years.
Matt Griffin, the secretary of state's chief election officer, said he was gathering information on Woodbury and others before decisions were made on challenging their candidacies.
COMPILED BY MICHAEL SQUIRES READ THE FULL STORIES ONLINE AT www.reviewjournal.com/wir
Week In ReviewMore Information