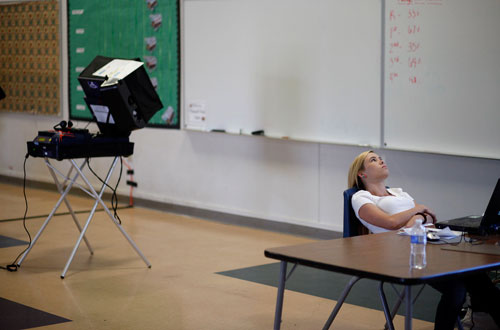 Nevada Secretary of State Ross Miller began election morning with a polite Twitter message encouraging voters to show up at the polls.
His next tweet was more urgent: "If turnout doesn't improve I'm worried my constituents might banish me to Fresno & I have a family to feed … please vote."
He joked in a later tweet that "there were more people waiting in line for root canals than waiting to vote today."
Miller said he wrote the messages to fend off boredom.
"At a lot of poll locations, there were more poll workers than people actually voting at the polls," he said late Tuesday during a telephone interview from his Reno office.
Miller had predicted that 15 percent to 20 percent of active registered voters would participate in the election, and the actual turnout was 18.87 percent.
"It's right on target for what we predicted," he said.
One bright spot: The turnout topped the 2008 primary, which Miller described as "the lowest in recent memory," when 17.97 percent of registered voters participated.
Another bright spot: Officials compiled the results earlier than expected.
"It's only 10:20 at night, and we're close to having all the results in," Miller said.
The secretary of state began the day in Las Vegas and flew to Reno about 5 p.m.
At 10:43 p.m. he tweeted the final turnout results and added, "goodnight Nevada…tune in 146 days from now for the exciting conclusion."
In Clark County, 16.22 percent of registered voters participated in the election.
A few days earlier, Clark County Registrar of Voters Larry Lomax projected turnout would reach 18 percent. Either way, it beat the county's historic low of 14.76 percent for the primary in 2008.
The first voters trickled in to cast their primary ballots as polls opened at 7 a.m. Tuesday across the Las Vegas Valley, proving as Lomax expected that turnout would be low.
By 10:30 a.m., the voter tally for Tuesday was 9,389 at the more than 200 polling sites. That translates to about 1.4 percent of Clark County's 691,575 active registered voters. By 3 p.m. the tally more than doubled to 22,910, or 3.3 percent of the county's active voters.
Polling places across the valley appeared to have opened smoothly without major incidents.
"As far as I can tell everything is going fine," Lomax said.
Polls closed at 7 p.m. Tuesday.
In early voting that ended Friday, 11 percent, or 116,913 of the state's 1,058,808 active registered voters, cast ballots or sent in absentee votes.
In Clark County, the turnout was less – 10.2 percent voted, 70,798 of the county's 691,575 active registered voters. Republican turnout was higher than Democratic.
At the polling place at the Durango Hills Community Center and YMCA, a few of the 53 who cast ballots by 10:30 a.m. offered their insights on the hotly contested Republican primary race for 4th Congressional District. The race featured nine candidates, including six with prior military service, who were vying for a chance to face the lone Democrat, departing state Senate Majority Leader Steven Horsford, and Floyd Fitzgibbons of the Independent American Party in the Nov. 6 general election.
The first Durango Hills voter, Doug Gapp, 49, said he voted for Barbara Cegavske, a state senator running for the 4th Congressional District seat.
"I like what she's been saying. She's conservative," Gapp said, adding that he selected her over the military veterans even though he said he has a "lot of military" in his family.
"I just vote on the issues, and spending is the big one," he said.
Contact reporter Keith Rogers at krogers@reviewjournal.com or 702-383-0308.
2012 PRIMARY ELECTION
• Nevada primary voting results
• More election news