Stiles tells judge punishment too harsh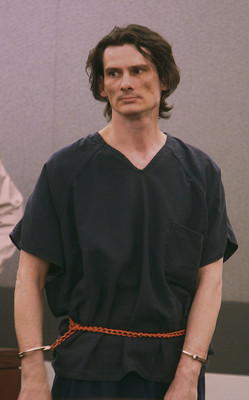 Shortly before he was sentenced for videotaping himself sexually assaulting a 2-year-old, convicted child molester Chester Stiles launched into a diatribe against Nevada's justice system.
His hands shackled to his sides, Stiles said his punishment doesn't fit his crime. The victim he videotaped has no memory of the assault and he claimed that he never physically harmed her.
"The child didn't remember a thing. Yet I'm to die in prison," he said. "So legislation dictates that a child's virtue is more important than life itself."
Stiles' words didn't sway District Judge Jennifer Togliatti to give him leniency. She sentenced Stiles to 21 life sentences.
The 38-year-old will be eligible for parole in 140 years.
Togliatti said Stiles showed no remorse and hadn't taken responsibility for his crimes.
"It's clear to me that there's a reason why a child's virtue is more important than your client's freedom," Togliatti told Stiles' attorneys. "I say 'absolutely' and 'thank goodness.' "
The sentencing capped Stiles' case, which began in 2007 after a videotape surfaced in Pahrump showing him assaulting the little girl.
That victim, now 8, was found safe and healthy living in Las Vegas.
In March, a jury convicted Stiles of 22 counts of sexual assault, lewdness with a minor and attempted sexual assault. Besides the videotaped incident, the jury also convicted Stiles of sexually assaulting a 6-year-old girl in Las Vegas.
During Friday's hearing, a stone-faced Stiles questioned whether it was fair to sentence him to spend the rest of his life behind bars when people convicted of second-degree murder are sometimes eligible for release after 10 years.
The former Siegfried & Roy trainer also downplayed his assaults on the victim.
"Twenty-one life sentences for a 12-minute video. A 12-minute video that shows no use of force, no drugs, no violence or brutality," he said. "There were no tears. No blood."
Stiles told the judge that he had been molested and raped as a child. He said those traumas influenced who he is now and essentially turned him into a pedophile.
The mother of the videotaped victim sat in the courtroom while Stiles spoke. She wept occasionally during the hearing and provided the court a statement, which was read by county prosecutor Mary Kay Holthus.
"I worry every day that she (her daughter) will remember what happened and how it will affect her in everyday life," she wrote.
At the time of the sexual assault, the mother was at work and had left her daughter with a caregiver.
Authorities said Stiles gained access to the girls through his friendship with a woman who was acquainted with both victims' families.
Stiles' case drew national attention because of the shocking nature of the videotape and because he was on the run for about a month. Police arrested Stiles during a routine traffic stop in Henderson.
He is still facing a federal charge of producing child pornography.
Stiles' attorneys said they are appealing his case.
"Punishing him like a serial killer is not appropriate," said Deputy Public Defender Stacey Roundtree.
But Holthus maintained that Stiles deserved the harshest sentence.
She called him the worst of the worst, a con man and master manipulator. His offenses, she said, hurt the two girls, their families and even the trial jurors forced to watch the tape. Even the man who found the tape in the desert, Darrin Tuck, was hurt by Stiles because he was initially arrested and charged with possessing child porn. Tuck eventually pleaded to conspiracy to obstruct a public officer and avoided jail time.
"His crime has touched so many," Holthus said.
Contact reporter David Kihara at dkihara@reviewjournal.com or 702-380-1039.