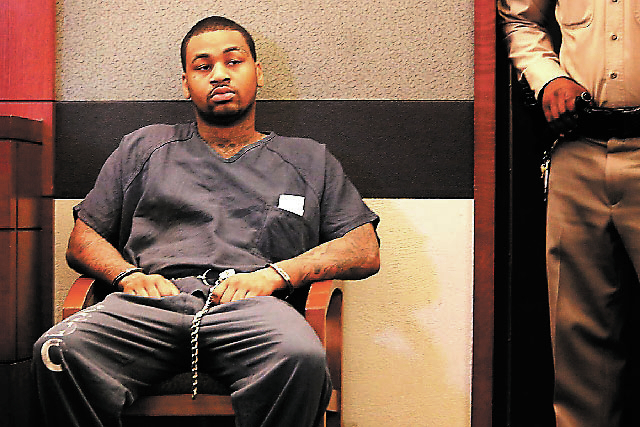 A district judge on Monday allowed the Special Public Defender's office to withdraw from representing Ammar Harris, a self-proclaimed pimp charged in a Strip shooting that left three people dead.
And Judge Kathleen Delaney planned on delaying Harris' Dec. 2 death penalty trial when she appoints new defense lawyers to represent the defendant Wednesday. Harris continued to demand a speedy trial in the case.
Special Public Defender David Schieck said in a motion filed earlier this month that it would violate Harris' constitutional rights to force him to go to trial with "an attorney with whom he has become embroiled in irreconcilable conflict."
Harris plans on suing the Special Public Defender's Office for violating his civil rights while representing him, Schieck said in a supplemental motion.
Schieck has not detailed what sparked the breakdown, citing attorney-client privilege. But Schieck has said there was a "breakdown of communication, lack of cooperation and lack of trust" between his office and Harris, court documents show.
Last month, Harris was found guilty of raping and robbing a woman in June 2010. He was represented by the Special Public Defender's Office in that case.
The verdict was significant for prosecutors, who planned to use the convictions as aggravating factors when seeking the death penalty against the defendant.
The strategy to try the rape case first was a surprise to prosecutors, who expected delaying tactics from Harris' lawyers as they have seen in most other capital murder cases.
Instead, Harris invoked his right to a speedy trial in both cases.
Harris, 27, has seemingly been at odds with Schieck since the defendant's arraignment in May.
At the time, Harris said he wanted to plead guilty for the Strip shooting.
Schieck said the defendant's plan was against the advice of counsel and he needed "to be evaluated by a mental health expert."
After Delaney gave the two some time to chat, Harris changed his tune and pleaded not guilty to all of the charges.
The Special Public Defender's Office was appointed to represent Harris because he said he couldn't afford a lawyer despite flaunting an opulent lifestyle on social media.
The Special Public Defender's Office represents indigent defendants charged with serious crimes who cannot be represented by the Public Defender's Office because of a conflict. Schieck's office handles mostly murder cases.
Delaney will next appoint two private attorneys, specially qualified to handle capital murder cases, to represent Harris. Taxpayers will pick up the bill.
Harris is charged in the fatal shooting of reputed pimp Kenneth "Kenny" Clutch Cherry Jr. The two were driving separate vehicles on the Strip early in the morning of Feb. 21 when Cherry was shot, causing him to crash his car into a taxi.
The cab then burst into flames, killing the driver, Michael Boldon, and his passenger, Sandra Sutton-Wasmund of Maple Valley, Wash.
Harris faces nearly a dozen charges stemming from the shooting, including three counts of first-degree murder, two counts of discharging a firearm into a vehicle, five counts of discharging a firearm out of a vehicle and attempted murder.
Harris could the death penalty if convicted.
In the rape and robbery case, a jury deliberated for about an hour before finding Harris guilty of three counts of sexual assault and one count of robbery. A sentencing hearing is set for Nov. 20.
Harris is jailed at the Clark County Detention Center without bail.
Contact reporter Francis McCabe at fmccabe@reviewjournal.com or 702-380-1039.