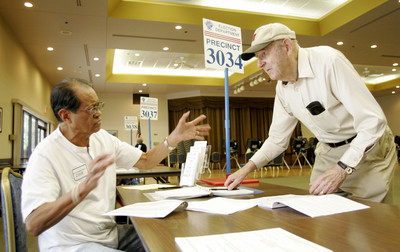 Long lines on Election Day in Sun City?
Only for those early risers.
By noon at the Mountain Shadows Community Center in Sun City Summerlin, only a couple of golf carts, Cadillacs and Lincolns were in the parking lot. Inside the polling place, there was no wait.
"Most retired people are up at dawn, they like going early," said 77-year-old William Pitts, who voted for Democratic presidential candidate Barack Obama.
"Nobody waits. Me, I ask, 'What's your hurry? You retired? Then what the hell are you in a hurry for?'"
No more than a handful of voting machines were being used at a time.
"I'm shocked," said David Steinman, the vice president of Sun City's board of directors.
He said he voted on Friday, and he believed most of the 13,000 seniors in Sun City voted early. But he still expected far more people at the polls on Tuesday.
"I think a lot of them are early voters," he said. "That's just the nature of Sun City."
Election volunteer Vivian Thomas said most of the action came during the first 30 minutes on Tuesday after the polls opened.
"All the machines were full and the line was long," she said.
Phyllis Eggenweiler, 77, who said she voted for Republican presidential candidate John McCain, said most of her friends had cast their ballots during early voting, when the lines were longer.
"The long lines — I've never seen anything like it" since John F. Kennedy ran for president in 1960, she said.
Contact reporter Lawrence Mower at lmower@reviewjournal.com or 702-383-0440.