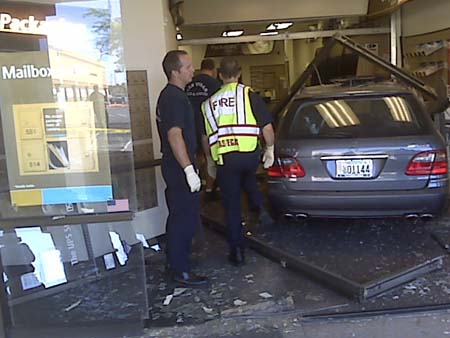 Supreme Court Justice Kris Pickering drove her Mercedes sedan into the front of a UPS Store near Rancho Drive and Charleston Boulevard about 9 a.m. today, the store's owner said.
Justice Pickering told store owner Dane Halovich she was pulling into a parking space in front of the store when her accelerator stuck, causing her to smash into the store and narrowly missing a customer who had just exited.
No one was injured, he said.
"The whole front just exploded inward," Halovich said. "All the wood and glass flew in like shrapnel and everything shot right by me. Miraculously, it just missed me." Halovich said the air bags in the car did not deploy and Pickering was able to get out with her two dogs.
"I knew who she was, and she apologized," the owner said.
It is still unknown whether Pickering was cited for the incident.
Halovich said the store, located near a Smith's grocery store, will likely reopen tomorrow.