SUV, guard rail tangle in strange scene off U.S. 95, Jones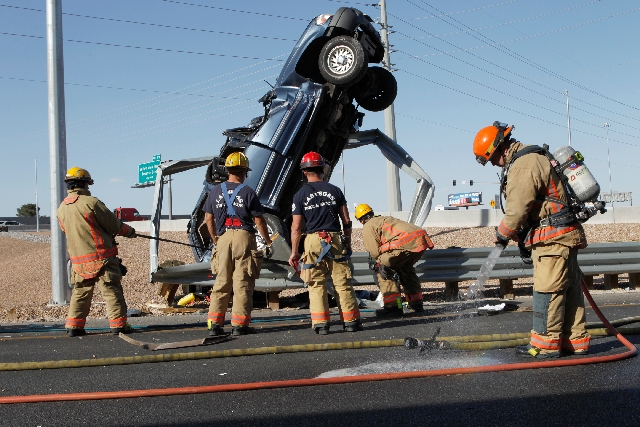 A single-vehicle accident left an Ford Explorer standing on end on southbound U.S. Highway 95 at the Jones off-ramp just after 4 p.m. on Wednesday afternoon.
A Las Vegas Fire Department engine was nearby when the crash occurred. Crew members said they saw the dust from the crash right after it happened and rushed to see what happened.
According to Nevada Highway Patrol Trooper Loy Hixson, the driver was traveling at an excessive rate of speed down the off-ramp, causing him to lose control and strike the guardrail.
Traffic backed up as crews worked to separate the vehicle from parts of the rail. The driver was taken to the hospital with minor, non-life threatening injuries, Hixson said.
Contact reporter Colton Lochhead at clochhead@reviewjournal.com or 702-383-0264.
NOTE: Location is an approximation. The crash occurred on the ramp exiting southbound U.S. 95 at Jones Boulevard.