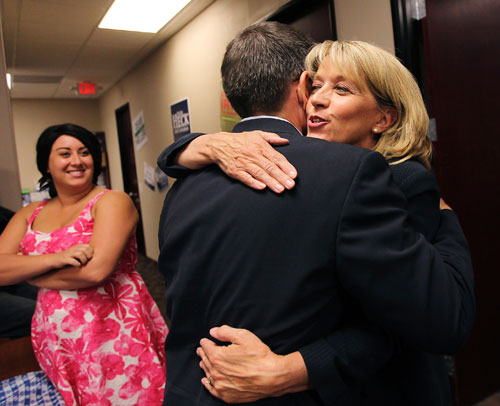 In Tuesday's hottest primary race, Danny Tarkanian won a nail-biter victory over state Sen. Barbara Cegavske in a crowded Republican contest for Nevada's new congressional seat.
"We felt going in we were going to win, but quite frankly, it was a lot closer than we expected," a subdued Tarkanian said after celebrating with his exuberant supporters.
Tarkanian predicted it would be a close race against departing Nevada Senate Majority Leader Steven Horsford, the Democrat who faced no primary opponent and is favored to win in November.
Tarkanian said he would try to capitalize on the support he got in rural counties, which made the difference in his GOP victory, and reach out to conservative Democrats and independents in the fall. His campaign also will target Latino and black voters in Clark County.
"I think we'll take a chunk of the African-American community from Horsford," said Tarkanian, targeting the base of support for Horsford, the state's first black Senate majority leader.
The GOP front-runner from the start, Tarkanian benefited from three previous failed campaigns and from high name recognition as the son of legendary University of Nevada, Las Vegas basketball coach Jerry Tarkanian and Las Vegas City Councilwoman Lois Tarkanian.
Yet Cegavske nearly scored an upset by running a sophisticated campaign that targeted conservatives who liked her record of voting against every major tax hike while in the Legislature.
"It's going to be close," Tarkanian said as early returns initially gave Cegavske the lead from early voting totals released after polls closed at 7 p.m., including from Clark County where she won.
"Oh no!" one supporter cried out at a Tarkanian election party at a sports bar called Born and Raised when the early returns first came in.
Tarkanian overtook Cegavske as the night wore on, however, giving him a slim lead as returns came in from half a dozen rural counties inside the vast 4th Congressional District, including from Lyon, Mineral, Esmeralda, Lincoln, White Pine and Nye.
Tarkanian led with almost 32 percent of the vote to Cegavske's nearly 28 percent. He won with 7,603 votes, beating Cegavske by 930 votes.
Gulf War veteran Kenneth Wegner finished third with 21 percent of the vote, followed by international businessman Dan Schwartz at 11 percent in a field of nine Republicans.
Horsford wasted no time attacking his opponent, even before the GOP primary was over.
At a new Democratic Party headquarters in Henderson, Horsford said his party stands for the middle class while Republicans support for big business and the rich.
"All of my opponents represent an extreme tea party position," Horsford said, dismissing the lot.
After it was clear Tarkanian had won, Horsford slammed him in a statement.
"Now that the Republican primary is over, the choice couldn't be more clear.
"While my opponent will stand by wealthy Wall Street executives during these difficult times, I'll always stand by Nevada," Horsford said.
Secretary of State Ross Miller said statewide voter turnout was 18.87 percent, a poor showing reflecting few marquee contests and no White House race on the primary ballot.
In other primary night races, U.S. Sen. Dean Heller, R-Nev., and U.S. Rep. Shelley Berkley, D-Nev., each easily won their party Senate primaries and will face one another in November.
U.S. Rep. Joe Heck, R-Nev., will face Democratic challenger John Oceguera, the departing Nevada Assembly speaker, in the 3rd Congressional District in Southern Nevada.
In the 1st Congressional District in urban Las Vegas, former U.S. Rep. Dina Titus, D-Nev., will face Chris Edwards, who easily won the GOP primary in the district that leans heavily Democratic.
In the 2nd Congressional District in Northern Nevada, U.S. Rep. Mark Amodei, R-Nev., will face Democrat Samuel Koepnick, a little known contender in the GOP-heavy district.
All eyes Tuesday, however, were on the unpredictable GOP primary for the 4th Congressional District, which covers nearly half the state and includes an urban-rural mix of communities.
Tarkanian and Cegavske changed leads several times during the dramatic election night.
At Tarkanian's election office, campaign staffers glued their eyes to a collection of computer screens and pored over the see-sawing results from Clark County and the Nevada secretary of state.
Tarkanian, who had ditched his suit jacket, whisked in, eager for a report.
"How much did I win White Pine by?" Tarkanian asked.
"Two-oh-five – 205 votes," a staffer replied.
"Can't I win parts of Clark somewhere?" he asked to nobody in particular.
Tarkanian started the congressional campaign saying it would be his last if he didn't win it. He decided to take a chance after conducting a poll, showing him far ahead of any potential competitors.
But once the crowded field grew to nine, his support began to drop and he was hurt by television ads run by Schwartz, a newcomer to Nevada politics with his own money to spend.
Tarkanian's campaign also hit a bump during the two-week early voting period when he and his family were hit on May 30 with a $17 million judgment in a failed real estate loan deal.
He acknowledged Tuesday that the news did him damage, especially when Schwartz used the judgment in TV ads raising questions about Tarkanian's business acumen as a real estate investor.
"Obviously that hurt," Tarkanian said.
The topic is sure to come up again during the general election campaign, which is expected to be a rough and tumble affair with each side questioning the other's ethics.
Horsford, too, has had financial troubles in the past and has gained bad headlines for accepting a trip to the Bahamas from an online poker company seeking changes in Nevada law.
A Tarkanian win "is bad news for Republicans because their whole campaign is going to be ethics against Horsford," said David Damore, a political sciences professor at UNLV. "Now the Republicans have got a candidate with some baggage, too."
The rest of the GOP field included Diana Anderson, Mike Delarosa, Kiran Hill, Robert X. Leeds and Sid Zeller, all little known candidates who barely made a dent with primary voters.
Libertarian Party candidate Joseph Silvestri and Floyd Fitzgibbons of the Independent American Party also will be on the November ballot.
Review-Journal reporter Brian Haynes contributed to this report.
4th Congressional District vote percentages
• Danny Tarkanian – 31.5%
• Barbara K. Cegavske – 27.7%
• Kenneth A. Wegner – 21%
• Dan Schwartz – 11.3%
2012 PRIMARY ELECTION
• Nevada primary voting results
• More election news