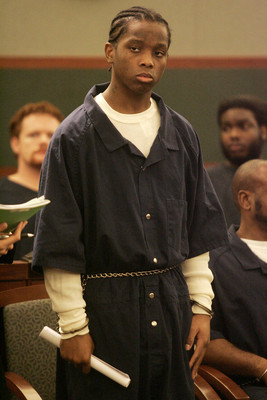 The teenager who pleaded guilty to shooting four high school students and two adults at a bus stop in December showed no remorse and had nothing kind to say Thursday prior to his sentencing.
Despite his attorney's attempt to stifle his offensive comments, Nicco Tatum launched into an expletive-filled rant against law enforcement and the legal system.
"(Expletive) the detectives, you know what I mean? (Expletive) the police, you know what I mean? (Expletive) the judge, you know what I'm saying?" Tatum said while addressing District Judge Michael Villani.
Villani did not respond to Tatum, other than to say the teen did not appear to take responsibility for the crimes even though he entered a guilty plea.
Tatum was sentenced to a minimum of nearly six years in prison and a maximum of 26 years. But his sentence will be tacked on to a prison term levied earlier by District Judge David Wall for a separate crime that occurred a week before the bus stop shooting.
Tatum was given a 15- to 35-year sentence for shooting Tracy Beavers after the Las Vegas woman confronted Tatum about taunting her dog. Beavers is confined to a wheelchair for the rest of her life, according to prosecutors.
The shooting occurred only a few blocks from the bus stop, which is at Walnut and Alexander roads.
In both cases, Tatum pleaded guilty to attempted murder with a deadly weapon. No one at the bus stop shooting suffered life-threatening injuries.
The bus stop shooting stemmed from an earlier altercation with Mohave High School student David Macias. According to prosecutors, Macias bumped into Tatum and apologized. Tatum then slugged Macias.
After the shooting, Tatum boarded a bus to Denver, Colo., where he was met by authorities.
Tatum initially said he was not the gunman, but later told Metropolitan Police Department investigators that he shot the six victims.
On Thursday, Tatum's public defender, Rochelle Nguyen, said her client was not the shooter. She told Villani that Tatum was then an 18-year-old who did not consider the consequences of the crimes.
"He didn't have the greatest upbringing," Nguyen told the judge. "The decisions you make when you're 18 years old, you don't have a concept of how they will affect you."
Members of the victims' families did not show up or speak at Tatum's sentencing.
Dresden Williams, 18, and Franklin Jackson, 17, were also charged with attempted murder in the shooting. Both are awaiting trial.
Contact reporter Adrienne Packer at apacker@reviewjournal.com or 702-384-8710.