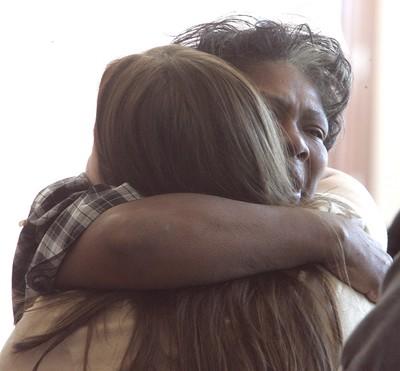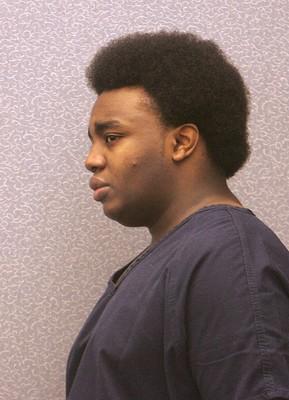 At 250 pounds, Markell Jones is the strong and silent type.
But at 17, he wasn't strong enough to avoid hanging out with the wrong crowd, his lawyer, John Parris, said.
Jones now will live for more than a decade with criminals. He was sentenced to 12 to 30 years in prison Wednesday for his role in the robbery and attempted murder of a good Samaritan.
Like his accomplices, 20-year-old Deandre Hudson and 15-year-old LaMarcus Gamble, Jones pleaded guilty to robbery with use of a deadly weapon and conspiracy to commit robbery for the June 27 incident.
On that evening, then-20-year-old Sierra Miller opened the door to her family's home in the 3800 block of Eblick Wash Drive, near Pecos and Alexander roads, as Gamble pleaded for help, saying someone was chasing him and his friends.
Miller offered them her phone, and when they asked for a ride, she allowed them to pile into her Volkswagen Beetle.
They directed her to several locations before Gamble pulled out a gun and gave it to Hudson and the trio forced Miller to drive to a deserted area.
"She's in the car, sitting in the driver's seat when Mr. Jones is throwing punches from the back seat" as the other two also beat her, prosecutor Danae Adams said.
Miller managed to get out of the car, but Hudson shot her. He and his buddies then drove off in Miller's car. Later, they torched it.
Miller told the court surgeons patched up her liver and diaphragm, but she still has a bad back because of the gunshot wound, and it might keep her from the good living she had expected to make as an auto mechanic.
Even worse, she said, the injuries have left her unable to help her wheelchair-bound mother, she said.
Miller confronted Jones in court and reminded him that he never told her two smaller attackers "no" or "stop." "Not one time," she said.
"You kept going, and it's too late to say stop," Miller told Jones.
In a mumbled statement to the court, Jones — whose juvenile record includes a 2004 charge of habitual truancy, a 2004 charge of robbery with use of a deadly weapon charge and a 2005 charge of obtaining money under false pretenses — said he did not do everything he was accused of.
Parris said Gamble and Hudson brought Jones along because of his size, possibly to intimidate the victim. According to court records, Jones is 5 feet, 7 inches tall but weighs twice as much as Gamble, who is 5 feet, 5 inches tall. Hudson is 5 feet and 10 inches tall and weighs 140 pounds.
Despite being the biggest member of the trio, Jones "simply was not strong enough to say, 'I am getting out of this car,'" Parris said.
At Hudson's sentencing, Miller had asked Hudson to apologize to his family for the pain he caused them. When she put a similar request to Jones, he looked away.
After the sentencing, his family said he has apologized to them.
Jones' grandmother, Josie Jones, hugged Miller and gave her cell phone number to her.
"Love you guys, God bless your hearts," Josie Jones called out to Miller's family as they left the courtroom.
"He was a child of God," Jones' grandmother said. "He just got caught up."
She and Jones' mother, Gail Burns, said they blamed Satan.
"Markell is a good child, respectful. He's humble, very humble," Burns said.
Miller and her family declined to speak to the Review-Journal.
Hudson, who also pleaded guilty to an additional charge of battery with use of a deadly weapon resulting in substantial bodily harm, was sentenced to 12 to 30 years in prison. Gamble is to be sentenced June 6.
The trio must pay a combined restitution of about $14,500 to Miller.