Teen who died in stabbing intended to join Army, sister says
October 9, 2008 - 6:30 pm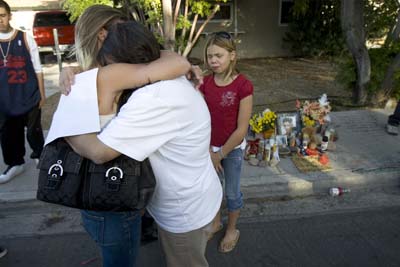 Tanya Martinez said her brother Richard couldn't wait for his 18th birthday because he was going to make a big change in his life.
"He was going to enlist in the Army," she said today while standing in front of a curbside memorial dedicated to her brother. "He was excited about that."
Richard Martinez never made it to see that day, which was to be Dec. 13. Las Vegas police said he was stabbed around 2:30 p.m. Wednesday by a 16-year-old assailant at Dinning Avenue and Hinkle Street, near Jones Avenue and U.S. Highway 95.
The stabbing took place only a half block from Martinez's home. Tanya Martinez said her brother was walking home from a friend's house when he was confronted by a someone he knew and stabbed twice in the chest. He later died from his injuries at University Medical Center several hours later.
As of this afternoon, police had not made an arrest on the case and were not releasing the identity of the suspect because he's a minor.
Metropolitan Police Department homicide Lt. Lew Roberts said Martinez might have been stabbed because of an altercation over graffiti. He said the suspect and Martinez might have been friends.
While family and friends agreed with police that the friend was responsible for the slaying, they disputed investigators' claim that a fight over graffiti had anything to do with the incident.
"I don't want to see his death become the slogan to stop graffiti," said 21-year-old Henry Snyder.
While standing near the memorial that included pictures, candles, a teddy bear and flowers, Snyder said he and Martinez had just begun working on hip-hop music together.
"He wanted to make his mark in the world and he wanted to do it through music," Snyder said, holding back tears. "Regardless, he's going to be remembered."
Snyder worked with Martinez at Circus Circus, where Martinez worked at the Fright Dome.
About two dozen family members and friends gathered near the memorial this afternoon. Many more mourned at a candlelight vigil there tonight.
Tanya Martinez described her brother as a guy with a big heart who was always willing to help anybody. She said he dropped out of school but recently began working toward a high school equivalency degree.
The latest information on Richard Martinez from Clark County School District records shows that he attended Brinley Middle School in February 2007.
Tanya Martinez said she'll miss her brother's upbeat nature.
"He was a goofball who made everybody laugh," she said.
Contact reporter Antonio Planas at aplanas@reviewjournal.com or 702-383-4638.
ON THE WEB View the slideshow