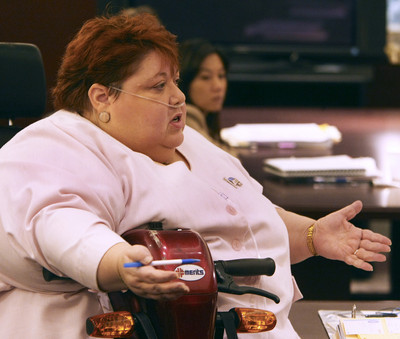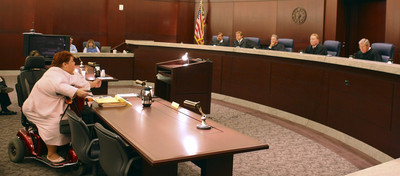 Embattled District Judge Elizabeth Halverson argued before the Nevada Supreme Court on Friday that she should be allowed to skip the upcoming election and run again in 2012.
Halverson won a two-year seat to the bench in 2006 and is up for re-election this year. But she now says it's unconstitutional to limit her term to two years since district judges typically serve for six years.
Her case could affect several judges who were also elected to two-year terms in 2006, including District Judges James Bixler and Susan Johnson.
In her case before the Supreme Court, Halverson is asking the justices to order Secretary of State Ross Miller and Clark County Registrar of Voters Larry Lomax to remove her, Bixler, Johnson and Family Court Judge William Potter from the ballot and from any election material.
She argues that the 2005 state law creating the seats is constitutional but that limiting their terms to two years isn't.
Clark County Counsel Mary-Anne Miller, who is representing Lomax and the registrar of voters, argued that Halverson waited too long to file her complaint. The primary is scheduled for Aug. 12, and the general election is scheduled for Nov. 4.
Halverson has been suspended from the bench since the summer. The 50-year-old judge is facing a Nevada Judicial Discipline Commission complaint accusing her of mistreating court staff, sleeping through trials and having improper communications with jurors. The commission is scheduled to hold hearings on the complaint Aug. 4-8.
Halverson, who uses a motorized scooter for transportation, remained in the scooter while arguing before the justices. She said it was her first time arguing before the Supreme Court and, although she felt "butterflies," she said she wasn't nervous.
Besides attorneys arguing before the court and spectators interested in the case, Halverson's hearing attracted Ileen Spoor, who formerly worked for Halverson. Spoor is suing Halverson in District Court, claiming that the judge defamed her when Halverson accused her of illegally fixing tickets.
Halverson said the state Legislature overstepped its authority when it created a seat for two years since the Nevada Constitution mandates that judges serve six years. The two-year term was created in part to get the new judges on the same election cycle as other judges.
"If you allow the Legislature to set terms, why not allow them to set longer terms?" she asked. "It's (Legislature) not free to pass a statute that defies the rule of 'shall be six years.' That's a mandatory term."
Halverson at times sparred with several of the justices. Justice James Hardesty said the Legislature created her seat for only two years, at which point Halverson responded that it wasn't constitutional.
"So why shouldn't we strike your office?" he asked.
"Because there's no constitutional authority to change the office," she said, while raising her arms up and down.
Miller said Halverson should have filed her complaint earlier.
She said the county now must begin preparing for the upcoming primary and urged the court to make a decision soon. If the county doesn't have time to print ballots, troops serving abroad might not get the chance to vote, she said.
Halverson said she filed the complaint within the statute of limitations.
After the hearing, Halverson said the arguments went much faster than expected. She wouldn't comment when asked if she got a fair hearing before the Supreme Court.
"I prefer to not answer that question," she said after a long pause.
Contact reporter David Kihara at dkihara@reviewjournal.com or 702-380-1039.