Testosterone study may explain a lot
October 21, 2007 - 9:00 pm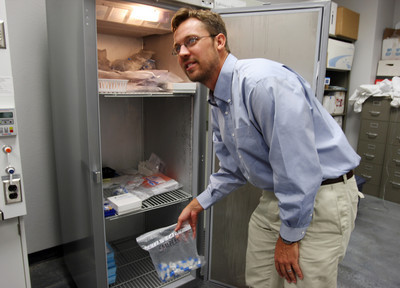 Peter Gray's wife and two young girls are out of town this week.
"What makes me not want to go out to the Strip and party 'til dawn while they're away?" asked the 34-year-old UNLV anthropologist.
Gray might have answered that question with his research on testosterone, the hormone tied to aggression and libido, both seen in excess on the Strip.
Gray's research has added to growing evidence that testosterone levels in men plummet once they get married or have children.
Such a drop could be responsible for keeping Gray working diligently at home this week instead of engaging in lascivious acts on the Strip.
Women undergo immense physical changes and hormone fluctuations during and after childbirth, sometimes leading to conditions such as postpartum depression.
But men?
The idea that fatherhood could also bring with it biological changes could explain a host of mysteries. Among them are why married men live longer than single men (testosterone can have damaging effects on the body) and why, according to a study last year, new fathers are twice as likely to suffer from depression than men who have no children (a drop in testosterone could be the cause).
The phenomenon — the hormone drops about 30 percent in fathers and men in long-term relationships — appears to affect all men, not just those in North America.
Gray has published two studies this year, the first of their kind outside the United States and Canada, revealing data from men in unusual relationships.
Among the Ariaal of northern Kenya — where several tribes are nomadic and the practice of polygyny, or having multiple wives, is common — Gray found men still experienced pronounced drops in testosterone.
The findings were surprising given the nature of domestic relationships among the Ariaal, Gray said. Men played a distant role in the lives of their children and wives. Of the 203 men studied, only three said they relied on their wives for emotional support. Yet the men still saw drops in testosterone.
Contrary to what Gray had expected, among men with multiple wives, testosterone levels were no higher, and usually lower, than levels in men who had only one wife. Gray had thought the polygynous men, because they were still seeking mates, would have higher testosterone.
His findings in Jamaica yielded similarly unusual results.
Men who lived apart from their female partner and youngest child had lower testosterone levels than men who lived with their family. The reason remains a mystery, although Gray suspects it had something to do with the visiting fathers reporting less stress and better sleep schedules than full-time fathers. They don't have to deal with the stresses of fatherhood that might raise testosterone levels.
With age comes a gradual reduction in testosterone production in men, but the effect isn't nearly as drastic as getting married or having children.
Studies by Harvard researcher Peter Ellison have shown that diet could be a larger factor in age-related hormone decreases in American men than in men who live where food isn't as plentiful.
"If you are not eating buffets," Gray said, "you may not have the nutritional wherewithal to actually build the muscle … or have the energetic excess to support higher testosterone levels."
None of this is news to ornithologists, who have observed similar patterns in birds. Like humans, birds have a strong tendency toward child-rearing and finding long-term mates.
An Indiana University, Bloomington study earlier this year found that males of one bird species, when injected with testosterone, became neglectful of their young, experienced shorter life spans and had a greater focus on finding a mate.
Gray's findings raise other questions, such as: What is the effect on fathers who take testosterone supplements?
Chris Benoit, the professional wrestler who police said strangled his wife and child before killing himself earlier this year, was found to have about 10 times the normal amount of testosterone in his body.
But many fathers also see changes in their world view when they marry or have children. Gray noticed, for example, that after he became a father he began to pay attention to the activities of his own children and other children.
"I enjoy looking at these things," he said, gesturing to several kids' drawings of amoebalike shapes hanging in his office. "I certainly didn't enjoy these kinds of things before. Suddenly, when you have kids, your social vision shifts."
The 30 percent decrease in testosterone shouldn't be a concern for men, Gray says.
"Your doctor's not going to say, 'Give up. You've fallen off the cliff.'"
But his findings won't do anything to end the teasing men often endure upon surrendering some of their freedom to marriage and fatherhood.
On the Web site, insidefatherhood.com, a support site for fathers, Gray's research prompted sarcasm among a few readers, one who remarked, "Fantastic! Between the sleep I'll be losing and the drop in testosterone, I'll be crying and falling asleep in front of Oprah in no time."
Another wrote: "Wow … I guess it's time I join a book club."
Contact reporter Lawrence Mower at lmower@reviewjournal.com or (702) 383-0440.