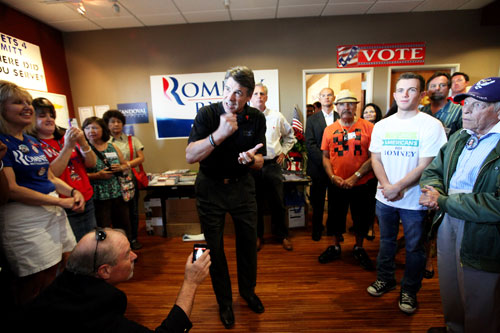 Two days before the election, Texas Gov. Rick Perry on Sunday campaigned across Nevada for GOP presidential contender Mitt Romney, telling Las Vegas supporters the Silver State could make the difference.
Perry said President Barack Obama has failed to turn the economy around and has only increased the nation's debt to a record $16 trillion in four years.
"The people of Nevada are looking for a change," Perry said, arguing college graduates who supported Obama four years ago can't find jobs. "Young people are saying we bought your hope and change message and you failed."
Perry campaigned Sunday in Elko, Las Vegas and Henderson, including an afternoon stop at a Team Nevada campaign office near Summerlin. Last week, he toured rural Nevada to help get out the vote for Romney, making stops in Fernley, Fallon, Carson City, Gardnerville and Yerington.
"Nevada may make the difference in the election. That's how close it is," Perry told more than 100 volunteers at the Las Vegas office. "I have not seen this much excitement since 2000."
Perry made a few phone calls to voters, ringing a bell three times when he confirmed the person on the line would vote for Romney.
"We're gonna count on you as a definite vote for Mitt Romney on Tuesday," he told one man.
Romney beat Perry in the GOP primary, but the governor said any hard feelings have been set aside.
"I'm on the Romney team all the way," he told reporters.
While Perry promoted Romney in Southern and rural Nevada, Gov. Brian Sandoval appeared Sunday in Reno at a rally with former Secretary of State Condoleezza Rice. Sandoval had endorsed Perry during the primary but backed Romney as the GOP nominee and recently vouched for him in a TV ad.
Sandoval was scheduled to campaign again today in Reno with GOP vice presidential contender Rep. Paul Ryan, R-Wis., as Romney and his running mate hit swing states the GOP ticket needs to overtake Obama.
Also today , Romney's son, Craig, is scheduled to campaign in Las Vegas and Henderson along with former Small Business Administration chief Hector Barreto and former U.S. Treasurer Rosario Marin.
Craig Romney, who speaks Spanish, has been leading the campaign's Latino outreach effort in Nevada, where 26 percent of the population is Hispanic and about 15 percent of the electorate. Polls show Obama is winning Hispanics by as much as 50 percentage points over Romney, who has been trying to bolster his support within the key community.
The final push for Romney in Nevada is designed to boost GOP turnout on Tuesday to overcome a Democratic Party lead of about 48,000 registered voters in early balloting. Democrats cast 44 percent of the early votes and absentee ballots compared with 37 percent for Republicans, according to final tallies released after early voting ended Friday. The rest of the ballots were non partisan or third parties.
Given the Democrats' lead in early voting and Obama's edge in the polls, the president is the favorite to win Nevada a second time unless Romney can close the ballot gap on Election Day and carry the vast majority of independent swing voters who could decide the race. Public polls show Romney leading Obama among independents in Nevada, but mostly by single digits.
Over the weekend, the Obama campaign put out a memo that said Romney would have to win 58 percent of the Election Day vote in Nevada to win the Silver State. The memo also listed Obama's early vote advantage in other key battleground states.
Asked whether Obama was declaring victory in Nevada and elsewhere, his campaign said he was on a strong path to re-election.
"We feel very good about where we are in Nevada and other states," Jim Messina, Obama's campaign manager, said Saturday. "Our job isn't to declare things won. Our job is to turn out our vote and persuade the undecided."
Nevada's six Electoral College votes could be decisive if Obama and Romney split a dozen other key battleground states as they each try to get the 270 electoral votes to win.
The presidential race also could affect the outcome of other top races, especially the close U.S. Senate contest between Sen. Dean Heller, R-Nev., and Rep. Shelley Berkley, D-Nev.
Heller campaigned Sunday with Sandoval and Rice in Reno. He planned to be at today's rally in Reno with Ryan and the popular Nevada governor as well.
Heller is working to bolster voter turnout in swing Washoe County where he is well known after representing the area in Congress for three terms before he was appointed to the U.S. Senate last year.
If Heller can run up votes in Washoe and across GOP-leaning rural Nevada, he can overcome Berkley's advantage in Democratic-leaning Clark County, where 70 percent of voters live and where Obama could drag Democrats to victory. Berkley has represented the Las Vegas area in Congress for seven terms. But her hopes have been clouded by a House Ethics Committee probe into whether her advocacy on kidney issues benefitted her physician husband.
Pre-election public polls show Heller consistently leading Berkley by several points on average. But Berkley's pollster said recently that internal surveys show her leading Heller.
U.S. Sen. Harry Reid, D-Nev., who won re-election in 2010 against the public polling odds, has predicted a close Berkley victory, which would help him hang onto Democratic control of the Senate. Veterans of Reid's campaign are helping run Berkley's campaign.
In Nevada, polls open at 7 a.m. Tuesday and close at 7 p.m.
Contact reporter Laura Myers at lmyers @reviewjournal.com or 702-387-2919. Follow her on Twitter @lmyerslvrj.