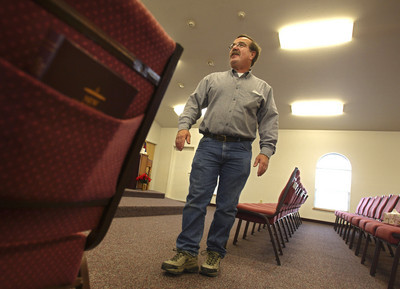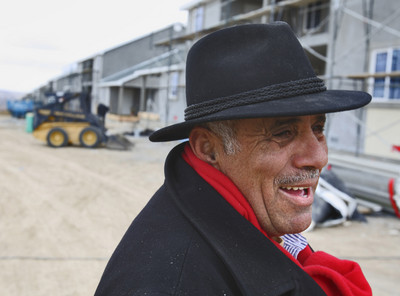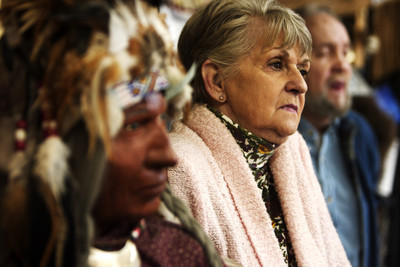 In December, the Review-Journal spent six days on the road — following U.S. Highway 95 from the southern tip of the state to the Oregon border — to speak with Nevadans about the issues as the Democratic and Republican caucuses approached and the Silver State prepared to play an unprecedented role in electing the next president.
Now, with the caucuses a fading memory and the general election looming, the Review-Journal got back in touch with some of the Nevadans who shared their thoughts 11 months ago about who they wanted as the next president. What they said then, and now, is as varied and unexpected as the terrain crossed by Nevada's longest highway.
NAME: Dan Fitch
RESIDENCE: Fallon
WHO HE SUPPORTED THEN: Mike Huckabee
WHY: Fitch, a pastor in this town of 8,500 that is about a six-hour drive north from Las Vegas, said he thought it was "great we have a Baptist minister like Huckabee running for president." Before the caucuses, Fitch, who counts military personnel from the Fallon Naval Air Station as congregants, said the war in Iraq was the most serious problem America faced.
WHO HE SUPPORTS NOW: John McCain
WHY: Today, Fitch says the war "has taken a back seat to the economy" and the country is in real trouble, because "there hasn't been anything from either side on how the economy will be fixed."
"I listen to them on TV and read what they have to say in the newspapers, and you come away thinking neither one is able to fix the economic mess we're in. We had a Chevrolet dealer close up recently in Fallon that's been here forever, and the building my daughter has her coffee shop in is being foreclosed upon. And what do you hear from the candidates? Talk, talk, talk that means nothing." Fitch said he supports McCain because he is against abortion and passionate about drilling for oil to help lower gasoline prices at the pump.
"Unfortunately, from a religious point of view, I think the stage is being set for a one world economy and one world government and then an anti-Christ will take control."
• • •
NAME: John Moddrell
RESIDENCE: McDermitt
WHO HE SUPPORTED THEN: Rudy Giuliani
WHY: Moddrell lives in this isolated town of about 300 that straddles the Oregon border and where the economy relies on mining. As bad as the economy was, Moddrell worried more about another terrorist attack on the United States.
"That's why I'm supporting Giuliani for president," he said. "He did a good job in a crisis before."
WHO HE SUPPORTS NOW: Barack Obama
WHY: Moddrell now worries less about another terrorist attack than another Great Depression.
"I've already voted for him. With McCain, you have to worry about Bushonomics and the mess we're in. Obama seems to have a pretty good vision of what he'd like to see done. With McCain, you also have to wonder about his selection of a running mate. I'm sure Sarah Palin is a great person, but she doesn't have enough time in government to be the No. 2 person."
Another thing that the principal appreciates about Obama is his ability to communicate in a coherent fashion.
"Obama is articulate. That's much different than George W. That in itself could be a real help to the country."
NAME: Eva-Marie Bugarin
RESIDENCE: Las Vegas
WHO SHE SUPPORTED THEN: Hillary Clinton
WHY: Bugarin, a cashier-hostess at Sunset Station, was trying to stave off foreclosure in January. Like many others in recent years, the Bugarins bought their $330,000 home with an adjustable-rate, no money down, interest-only mortgage. Over three years, the monthly payments jumped from $1,500 to $3,500 a month. The prospect of being forced onto the street with their two children and bedridden mother scared them, but Clinton's campaign promise to help families got her hopes up: "She's a mother, and maybe she'll find a better way to help families keep their homes."
WHO SHE SUPPORTS NOW: Barack Obama
WHY: The family's home was foreclosed upon, and the mortgage lender sold it for $158,129 less than the Bugarins paid for it. The Bugarins are now being sued for the difference by the lender. The family was able to find a three bedroom apartment for $1,145 a month.
Eva Bugarin was laid off from her cashier-hostess job, but was allowed to come back as a part-timer with no benefits. Diagnosed with skin cancer on her nose, she does not have insurance to pay for the operation and says a doctor has warned her that the cancer is going to eat through the bone.
"I think Obama is going to be a good thing for this country. He lost his mother to cancer, so he knows how severe it is for a family not to have insurance. I'm just worried that nothing will be done in time to help families like ours and the stress will really take a toll on my mother."
NAME: Hilmi Mohammad
RESIDENCE: Winnemucca
WHO HE SUPPORTED THEN: No one
WHY: Mohammad, a clothing retailer and apartment developer, immigrated to the United States in the 1970s from the Israeli-occupied West Bank with $241 in his pocket.
"As long as you don't put your brain in the refrigerator, there is so much opportunity here," he said. Unfortunately, he added, the chances of others attaining the American Dream are eroding.
"The Republicans and Democrats are like geese who go to the lake and then it freezes," he said. "Their wings flap and they go, 'Quack, quack, quack,' but they're not getting anywhere."
WHO HE SUPPORTS NOW: No one
WHY: For the first time since he became a citizen in 1970, Mohammad said he will not vote.
"Neither of these parties can pull the country out of the misery we are in. The Democrats and Republicans are getting millions of dollars for this election, so nothing can really change. The corporations expect something in return, and it's not what the regular guy wants. If the media let the people know what was really going on, we'd have a civil war in this country.
"We are like a house with termites. All of a sudden the house falls down because it has been eaten from within. And then people say, 'How did this happen?' This has been the best country on Earth, but we are letting politicians and their lobbyist friends abuse this country."
NAME: Audi Chambers
RESIDENCE: Cal-Nev-Ari
WHO SHE SUPPORTED THEN: John Edwards
WHY: Chambers, a cashier born in Germany, supported Edwards because he was a strong union supporter and he wanted to stop the war in Iraq. The Vietnam and Iraq wars, she said, weren't fought to help people, but for power and oil and to enrich the wealthy. "I was a little girl when the Allied forces bombed Nuremberg. Everything was on fire, and I thought I was going to die. When you start wars, that's what can happen to you."
WHO SHE SUPPORTS NOW: Barack Obama
WHY: A former union president at a nearby Laughlin resort, Chambers said she could never vote for McCain, because "you can't teach an old dog new tricks. He doesn't know how to change."
She likes Obama's support for increasing taxes on those who make more than $250,000 but worries that "there will always be loopholes for the rich." Chambers says she has studied Obama closely and "he does back up the unions, their right to organize." There is no question, she said, that Obama will try to end the war in Iraq, but she wonders if the nation's rich and powerful will allow him to do so quickly.
NAME: Andree Benton
RESIDENCE: Indian Springs
WHO SHE SUPPORTED THEN: No one
WHY: Benton, who with John Avery co-owns the Auntie Moe's Trading Post store about 40 miles northwest of Las Vegas, didn't participate in the caucuses because she said she wasn't very trusting of government at that particular time. Both she and Avery, she noted, were former employees at the Nevada Test Site and were suffering from medical conditions they believed may have been the result of radiation fallout from nuclear tests.
WHO SHE SUPPORTS NOW: John McCain
WHY: Though still not trusting of government, Benton said she and Avery decided to back McCain, regardless of his support of Yucca Mountain.
"We think McCain's tough. He wouldn't put up with any bull with any country that messes with us. And hopefully he can get a Cabinet of people who can help with the economy. Things are going terrible for us with the store, but we're hanging in there. A lot bigger places than ours have gone under."
Benton said she is not averse to voting for a Democrat but worries about "these people he (Obama) has hung around with," a reference to Weather Underground bomber Bill Ayers and pastor Jeremiah Wright.
NAME: Pat Polk
RESIDENCE: Las Vegas
WHO SHE SUPPORTED THEN: Barack Obama
WHY: In 2005, Polk moved to Las Vegas from Flint, Mich., where she said people were bitter after General Motors closed plants. Although the current economic decline in Nevada somewhat reminded her of what happened in Flint, the retired librarian believed Las Vegas could come back because the gaming industry would be here to stay. She decided to campaign for Obama when she heard him talk about jobs.
WHO SHE SUPPORTS NOW: Barack Obama
WHY: The more Polk hears Obama talk about rebuilding the middle class, the more excited she becomes. "We're thinking along the same lines. Coming from a GM town, you don't want to see plants going overseas and then selling their products over here at a lower price than we can make them. That makes no sense to Americans. And when he talks about rebuilding the middle class, you know that's the right thing to do. When I read the books he's written, heard him and his wife talk here in Las Vegas, I could tell he was sincere about this."
Polk's big fear now is that even if he wins, Obama may not be able to govern.
"This campaign has gotten so ugly. I think everybody is forgetting that they have to be able to work together to solve our problems."
NAME: Bob Perchetti
RESIDENCE: Tonopah
WHO HE SUPPORTED THEN: John McCain
WHY: Perchetti, a motel owner in this town of 2,500 people, wished a constitutional amendment could have been passed to allow President Bush to run for a third term.
"His surge has almost got the war won now. But since I can't caucus for him, I'll be caucusing for John McCain. He's got the military background to get the war over."
WHO HE SUPPORTS NOW: John McCain
WHY: Perchetti says he and many of his hunting friends are concerned that Obama doesn't really believe in the right to bear arms.
"A lot of people are buying guns and ammunition now," he said. "They feel he'll try to eliminate the right to bear arms and that he'll really tax guns and ammunition in the meantime."
To Perchetti, the fact that McCain survived as a prisoner of war shows the character of a man suitable to be president.
"He's tough enough, and I believe Sarah Palin is, too," he said. "She did a good job as governor of Alaska and as a mayor and small-business owner. Sure it would be a learning process for her, but we wouldn't be any better off with Obama or the Democrats."
NAME: R. J. Gillum
RESIDENCE: Goldfield
WHO HE SUPPORTED THEN: No one
WHY: Gillum, an Esmeralda County commissioner and owner of High Desert Automotive Service and Storage, lives in arguably Nevada's best example of a boom-and-bust mining town. Goldfield once had a population of 20,000 in the 1900s; now 400 people live among scores of abandoned buildings.
"As far as I'm concerned, none of the candidates really care about rural America, so I probably won't caucus," he said. "You don't see any of them showing up here. We're really struggling. The big politicians forget us. You think any of them, he asks, will get the toilets hooked up in the town's rest area?
WHO HE SUPPORTS NOW: Sarah Palin
WHY: Gillum believes Palin would be much like Vice President Dick Cheney was in the current administration, "the individual who actually ran the country."
Gillum said McCain has less energy than Palin and he won't be able to slow her down as she starts working on issues — particularly oil-related ones — that are of interest to her. "I just don't think he'll be able to shut her up, and I don't think Americans would stand for that."
Once Palin is in office, Gillum believes the bureaucracies that oversee grants will become better-oiled machines.
"She's from a rural area and we won't be ignored," he said. "I think we'll be able to get our toilets hooked up in the next year."
NAME: Rozita Lee
RESIDENCE: Las Vegas
WHO SHE SUPPORTED THEN: Hillary Clinton
WHY: Lee, a Hawaii native who was living on the islands when Pearl Harbor was bombed, wants recognition of Filipino soldiers who fought for the United States during World War II.
The creative director of the "Drums of the Islands" Polynesian revue at the Imperial Palace, Lee said she couldn't believe Filipino soldiers whose bravery gave U.S. forces time to prepare for the allied counterattack on Japan still aren't eligible for full benefits other veterans receive.
"I am caucusing for Hillary Clinton because she is working to correct this injustice," Lee said.
WHO SHE SUPPORTS NOW: Barack Obama
WHY: Lee says she was one of the many Clinton supporters who was devastated when Obama won the Democratic nomination for president.
"I was grieving for almost two weeks when a friend called and told me to get over it."
Lee said she and other Asian Americans and Pacific Islanders in Las Vegas have been actively campaigning for Obama.
Assured by the Obama campaign that the candidate will work to help Filipino veterans, Lee said she believes "Obama has a more stable solution than McCain to what is happening now to the economy in our country. And between the two of them, I believe Obama is the one that can pull the country together."
Contact reporter Paul Harasim at pharasim @reviewjournal.com or 702-387-2908.