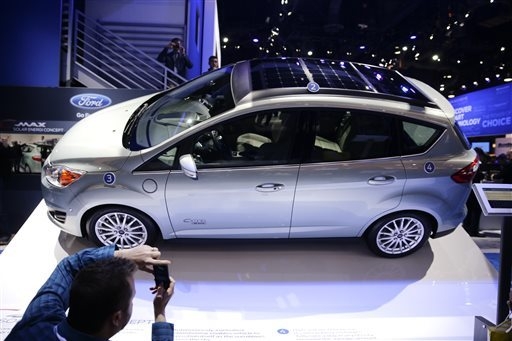 Man, those airplane pilots have the life. Sure, they have to takeoff and land, but in between is a lot of sweet relaxation time while a computer takes over and the plane pretty much flies itself.
Compared to that, driving a car is a constantly nerve-wracking experience. But it doesn't have to be, as new technologies for autonomous driving lanes, adaptive cruise control and cars that basically chauffeur you to your destination were all on display at CES this week.
"These technologies exist now and the carmakers assure us they're ready to go," Jim Travers, associate editor of autos for Consumer Reports magazine told the Associated Press.
While we have the technology that would let us kick back with a book, watch a movie or even take a nap on our next interstate road trip, one big speed bump has yet to be overcome — regulation. Laws governing the safety and reliability, not to mention the insurance implications, of driverless cars are still a long way off.
Closer to hitting the streets are cars that take advantage of alternative energy.
Ford has unveiled a prototype solar hybrid car that can run 21 miles after charging on 7 hours of sunlight.
Toyota's hydrogen fuel cell powered FCV can go up to 300 miles while only emitting water and water vapor. It will be available in the U.S. as soon as next year.
Other CES developments:
-Sticking with our car theme, if you grew up playing with Hot Wheels or Matchbox cars, you're probably not ready for Anki Drive. The high-tech racing game allows players to use an iPhone to control cars like a video game — but the cars are real. Ok, they're toys, but they're real toy cars, not just images on a screen.
–Wearable tech has been a hot topic at CES, but no one seems to know where consumers will draw the line with it.
-If you're finally willing to ditch your Blackberry for an iPhone, but afraid you'll miss the keyboard, Typo may have just the case for you. But get it fast, lawyers are already involved.
-Smart phones and watches are one thing, but are you ready for a smart toothbrush? Inventor Thomas Serval says his Kolibree toothbrush is "like having a dentist actually watch your brushing on a day-to-day basis."
-CES isn't always just about the latest tech. A week after AT&T offered T-Mobile customers $200 to switch to their service, T-Mobile CEO John Legere used the gadget show to announce a new policy of paying termination fees for any cell phone users who make the switch to T-Mobile. The company will cover early termination fees up to $300 for anyone willing to make the move. Legere put a personal touch on the wireless wars by crashing an AT&T party on Monday night, where he was ejected by security.