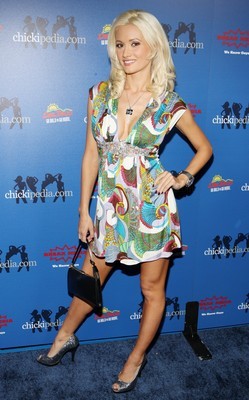 The magic is gone. Holly Madison and Criss Angel are history after a four-month relationship.
The Playboy Playmate and the Luxor illusionist split sometime after Valentine's Day, according to E! News.
Madison, a former Hooters Girl who ended up in the Playboy Mansion as Hugh Hefner's No. 1 girl, recently moved back in with her family, according to E!
Madison and Angel, the star of "Believe," were seen on a romantic date on Valentine's Day and vacationed together last month in Cabo San Lucas.
They met in Hollywood when Angel was taping the NBC show "Phenomenon" in Los Angeles in the fall of 2007. Madison and her "Girls Next Door" gal pals, Kendra and Bridget, served as assistants.
In an interview with CNN's Larry King late last year, Madison said she and Angel continued talking while she was staying at the Mansion and began dating when she moved out.
"It was a conflict of schedules," a source told E! News. "She felt she couldn't devote 100 percent of her time in Vegas and his career at the expense of her career and her goals."
Las Vegas-based publicist Steve Flynn, who repped both, confirmed they "are no longer a couple. They remain very close friends and wish each other the very best."
THE SCENE AND HEARD
The producers shooting "Housewives of Las Vegas" have begun contacting potential audition candidates. …
Shelley Bruner, main anchor at KVVU-TV, Channel 5, is leaving the station. Her last day is Friday. Bruner, who joined the station in 2001 after starting her career in Phoenix, notified the station last summer that she would not be staying beyond her contract, news director Adam Bradshaw told Vegas Confidential on Wednesday. She has been a co-anchor for five years. …
About 40 former cast members of "Enter the Night," including "Showgirl for the 21st Century" Akke Levin, are reuniting — and performing — tonight at Bahama Breeze, 375 Hughes Center Drive. Among those committed to attending: singers Tony Davich, Marva Scott and Jennifer Page. "Enter the Night" was a hit for years at the Stardust. …
Fast company: Some of Kurt Busch's running mates are supporting his inaugural Race for the Kids tonight at Pole Position Raceway. Drivers competing in the race will be brother Kyle Busch, Denny Hamlin, Greg Biffle, Sam Hornish Jr., David Stremme and Jamie McMurray. Proceeds benefit the Kurt Busch Foundation. …
The 11th Annual Legends of Bartending World Championship are being held March 1-3 at LAX nightclub at Luxor, with an international lineup of competitors. The qualifying rounds on Monday are open to the public at no charge. Tuesday's competition will have a cover charge. …
Kyra White, a 14-year-old at Liberty High School, has won the "Speedway Superstar" competition, which qualifies her to sing the national anthem for the Sam's Town 300 race Saturday at the Las Vegas Motor Speedway. She bested 170 contestants who auditioned for the honor. KVVU and Sam's Town sponsored the contest.
SIGHTINGS
At Pure nightclub (Caesars Palace) on Tuesday: NASCAR drivers Stremme, Hamlin and Hornish and comedian Kevin Hart. … Mirage headliner Terry Fator, introducing fellow ventriloquist Ronn Lucas on Tuesday during Fator's new show. Fator told the crowd he became interested in ventriloquism at an early age after seeing Lucas perform. After his show, Fator and friends dined in a private room at Kokomo's (Mirage). … Pittsburgh Steelers quarterback Ben Roethlisberger, playing blackjack Tuesday at the Playboy Club (Palms), site of the Miss Playboy Club February competition hosted by Kendra Wilkinson of the "Girls Next Door." The winner: Meghan Beck. Also there: rapper Too Short and Kendra's Playmate pals and a film crew. … At Bobby Slayton's farewell lunch at Dan Marino's restaurant at Hooters Hotel on Wednesday: Carrot Top, Penn Jillette, Amazing Johnathan, Jimmie Walker, David Brenner, Kevin Burke, Anthony Cools, porn legend Randy West and George Wallace. Slayton is leaving Hooters on March 8 after a two-year run.
THE PUNCH LINE
"The speech was televised on all the networks. Fox had to move 'American Idol' tonight to accommodate it, which is why it was smart that (President Barack) Obama opened the speech by singing 'Living on a Prayer.'" — Jimmy Kimmel
Norm Clarke can be reached at (702) 383-0244 or norm@reviewjournal.com. Find additional sightings and more online at www.normclarke.com.