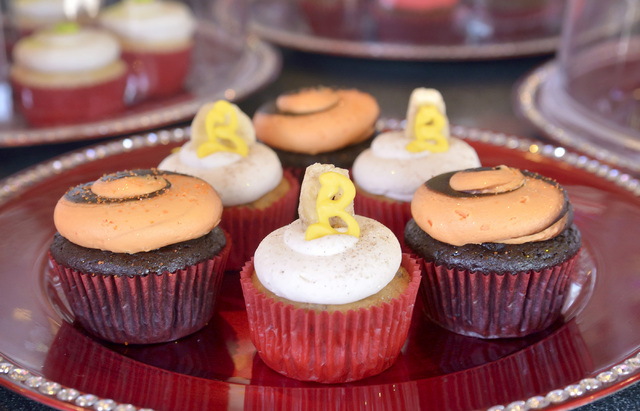 Along with the smell of freshly baked goods, customers are greeted with the sounds of show tunes as they enter Showboy BakeShop in Henderson.
Passing a row of playbills from Broadway productions on the wall, patrons step up to the counter to order a show-inspired creation.
"Instead of a red velvet (cupcake), it's the red carpet," said owner Stephen Lowry. "It's not a lemon cupcake with blueberry frosting. It's the Bluebell. All our cupcakes follow the theme. Now our customers know them by name."
Lowry and his business partner Jared Sullivan have added one more show-centered sign to their collection — a sign that says "As Seen on TV," honoring their Sept. 28 appearance on the Food Network's "Cupcake Wars."
Showboy BakeShop, 2591 Anthem Village Drive, was inspired by Lowry and Sullivan's careers in show business.
Lowry, originally from London, was a performer who followed his career to the Strip.
Sullivan, born and raised in Las Vegas, worked backstage on musicals and productions and was the entertainment manager at the Rio.
Going to cast parties or events, Lowry would always volunteer to make desserts.
"I could never do anything simple," he said. "I would have to do something fancy."
Lowry said his friends and co-workers fell in love with his creations.
"People wanted to place orders with me," he said.
In 2012, after months of being swarmed with orders from friends, Lowry and Sullivan began talking about opening a bakery. They would pass by a coffee shop on Anthem Village Drive and would fantasize about owning something in the area.
"We loved this neighborhood," Sullivan said. "We live up in this area."
When the space became available after the coffee shop closed in October 2012, they looked into getting the space.
Showboy BakeShop opened in March.
"We took our time opening it," Lowry said. "We didn't want to rush the interior design. We had a certain vision in our head."
Having been in theater, both knew they wanted to take their passion for show business and merge it into the store.
"We wanted it to be very theatrical," Lowry said.
He added that some of the cupcakes are named for and designed after certain actors and Broadway stars.
In the six months of business, Lowry said business has been great.
They have created about 20 cupcake flavors.
"I don't even know how many we make in a day," Lowry said. "We have still been learning how many to make through trial and error. Some days we get to 3 p.m. and realize we need to fire up the oven again. It seems no matter how many chocolate or coconut (cupcakes) we make, they always run out."
A good day is when they sell out.
"If we have leftovers, there aren't many," Lowry said. "What we have left over, we will run over to the fire house."
Along with cupcakes, the shop serves cookies and custom-made cakes.
"We make them for weddings, birthdays or special events," he said. "We've made them for the baby's first 100 days celebration. It seems like people just want a reason to get a cake, which is great."
One of the shop's customers — they aren't sure who — wrote an email to "Cupcake Wars," talking up the shop.
"We then got an email through our personal accounts, our business account and a phone call from them," Lowry said. "We figured they really wanted to talk to us."
They met with the producers and sent in a demo video.
"And then they let us know we were chosen to be on the show," Sullivan said.
The episode, which aired Sept. 28, featured the duo competing to design cupcakes for the anniversary of "The Wizard of Oz."
The shop is expected to feature what they designed on the show.
"We will have it as long as customers want it," Sullivan said.
Looking toward the future, the owners are open to having another shop in another area of town.
"We just don't want a corporate feel," Sullivan said.
Lowry added that he always loved bakeries where owners know their customers on a first-name basis and are able to personalize orders.
Regardless what future business plans the two have, they plan to put out the best product possible.
"We test every flavor we create," Lowry said. "I don't think we will ever lose our sweet tooth."
Showboy BakeShop is open from 10 a.m. to 6 p.m. Monday through Thursday, 10 a.m. to 8 p.m. Friday and Saturday and closed Sunday.
For more information, call 702-359-0200 or visit showboybakeshop.com.
Contact Henderson/Anthem View reporter Michael Lyle at mlyle@viewnews.com or 702-387-5201.