October 26, 2008 - 9:00 pm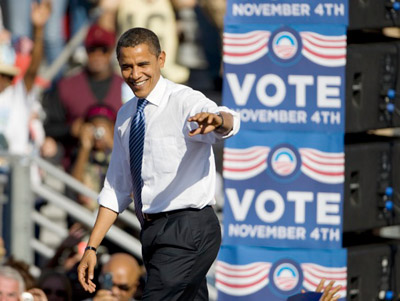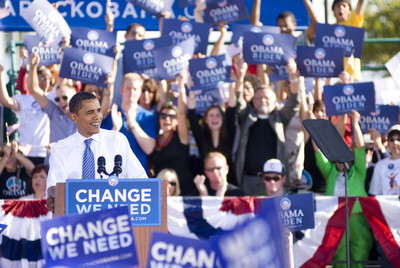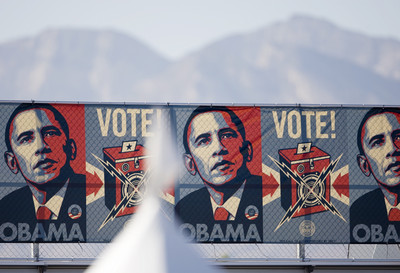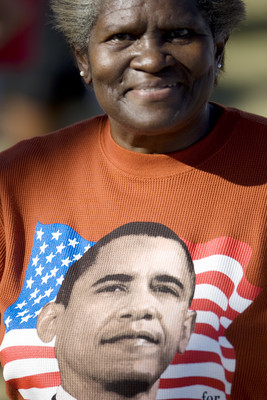 With the finish line of a long and hard-fought presidential campaign looming into view, Democratic nominee Barack Obama told a Las Vegas crowd of 18,000 on Saturday not to stop fighting.
"In the final days of campaigns, the say-anything, do-anything politics takes over," Obama said. "The ugly phone calls, the misleading mail and TV ads, the careless, outrageous comments, all aimed at stopping change."
Speaking at the outdoor stadium at Las Vegas' Bonanza High School, Obama said Americans aren't interested in politicians' sniping in the midst of an economic crisis.
"What we need right now is a real debate about how to fix our economy and help middle-class families," the Illinois senator said. "But that's not what we're getting from the other side."
Obama said his Republican rival, John McCain, was attacking him to distract from economic problems brought on by Bush administration economic policies that McCain supported.
"Senator McCain has been throwing everything he's got at us, including the kitchen sink — all seven of those kitchen sinks," Obama said. "He's even called me a socialist for suggesting that we focus on tax cuts not for corporations and the wealthy, but for the middle class."
Obama ridiculed McCain for his suggestion last week that it was Obama who would continue the Bush legacy, while McCain would represent a new direction. "Loco," he said — Spanish for "crazy."
"That's right, John McCain has been really angry about George Bush's economic policies — except during the primaries, when he said we've made 'great progress economically' under George Bush," Obama said. "Or just last month, when he said that the 'fundamentals of our economy are strong.'"
McCain attacking Bush on economic policy, Obama said, "is like Dick Cheney attacking George Bush for his go-it-alone foreign policy. It's like Tonto attacking the Lone Ranger."
Obama noted that on Friday, President Bush filled out a Texas absentee ballot for McCain, according to the White House.
"That's no surprise," he said. "Because when it comes to the policies that matter most to middle-class families, there's not an inch of daylight between George Bush and John McCain."
Obama promised to "grow the economy from the bottom up" so that prosperity would help "not just the folks who own the casinos but the folks who are serving in the casinos," a line that drew a cheer from the crowd, which filled the stadium's bleachers and crammed the field.
A McCain spokesman responded to Obama's criticism of the Republican by calling the Bush-themed attacks "the same tired rhetoric from the candidate of change." Rick Gorka noted that McCain has frequently broken with his party and worked with Democrats on legislation in the Senate.
"Barack Obama brought to Southern Nevada his promise to raise taxes on small businesses and the Joe the Plumbers of Nevada," Gorka said. "Nevadans can't afford Barack Obama's dangerous economic policies."
Obama's visit to Nevada on Saturday, which began with a morning address to a Reno crowd that was estimated at 11,000, represented his return to the campaign trail after leaving it Thursday to be with his gravely ill grandmother in Hawaii.
It was his 19th trip to Nevada of the current campaign and his sixth visit since the January caucuses. McCain has not visited the state since early August, although his running mate, Sarah Palin, has been to Nevada twice since then.
McCain was campaigning in the West on Saturday, when he campaigned in New Mexico, after spending Friday in Colorado. But he didn't stop by Nevada, and campaign sources said he does not plan to campaign here in the 10 days that remain until Election Day, Nov. 4.
One campaign official, speaking on condition of anonymity, said the reason was that the McCain campaign believes he is doing better in Nevada than in the other two big Western swing states.
Obama gave essentially the same 30-minute speech in Reno as he did in Las Vegas, but the Reno speech, at the Peccole Park baseball field at the University of Nevada, Reno, was temporarily derailed by a power outage.
About 12 minutes into the speech, Obama's remarks came to an abrupt halt when his microphone became unplugged. About three minutes later, he continued with the mic back on, jokingly suggesting it was the work of the opposing campaign.
Las Vegas audience member Kariuki Zablon, 42, brought his 11-year-old son to the rally at Bonanza High School. Zablon, who wore a cowboy hat and boots, said he was laid off from a construction job and is still unemployed. He said he hopes Obama can help improve the economy so that jobs come back.
"Not everything is going to be OK" if Obama is elected, he said. "Rome was not built in a day. We still have a lot to do. But we can have hope."
Caroline King, a retired post office worker in her 60s who lives in Henderson, proudly wore her "I Voted" sticker on her chest. She was glad to hear Obama talk about education, her No. 1 issue.
"We need to educate our kids," she said. "They've got to compete in a world our education system isn't preparing them for."
As far as she can tell, she said, the McCain campaign is "just throwing rocks" rather than proposing constructive solutions.
"The only person acting presidential in this campaign in Obama," she said. "McCain gets flustered and angry, but Obama does not lose his cool. We need a president who can handle people like that."
Review-Journal writer Sean Whaley contributed to this report. Contact reporter Molly Ball at mball@reviewjournal.com or 702-387-2919.
Video Slide show MICHELLE OBAMA TO CAMPAIGN IN VALLEY Michelle Obama, wife of Democratic presidential nominee Barack Obama, will campaign for him Monday in Las Vegas, holding an evening rally at a downtown park to encourage supporters to vote early. Michelle Obama is scheduled to speak at 9 p.m. Monday at Doolittle Park, near the intersection of Martin Luther King and Lake Mead boulevards, the campaign announced Saturday. Doors open at 7 p.m. for the rally, which is free and open to the public. The campaign encourages RSVPs online at nv.barackobama.com. REVIEW-JOURNAL