November 28, 2008 - 10:00 pm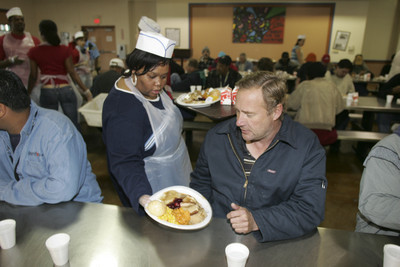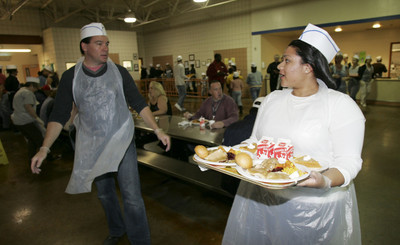 On a wet and cloudy Thanksgiving, the dining hall at the Catholic Charities campus in downtown Las Vegas was comfortable and dry, with cheerful volunteers streaming steadily out of the kitchen with plates of food heaped with turkey and fixings.
All in all, Jim Hussey, a sometimes homeless 78-year-old who spent Wednesday night in the hospital with lung problems, said he was pretty well set for the morning.
But because you asked, well, the turkey was a little tough, he said. And it was hard to attack it with a plastic knife and fork that tended to bend instead of pierce the cooked bird.
"But," he added, "my teeth aren't very sharp either."
He was one of the 2,500 people expected to walk through Catholic Charities' doors on Thursday for a free Thanksgiving meal that the organization has been serving every year since 1965.
Cooks started warming the food at 2:30 a.m. Thursday, but the meal had actually been in preparation since September. That's how long it takes to ready 6,000 pounds of turkey, 800 pounds of potatoes, 700 pounds of dressing, 2,200 ounces of cranberry sauce and 2,000 pieces of pie.
One man, who declined to give his name, relished the abundance. Once he cleaned his own plate, he gladly accepted the leftovers from another at the table, and tore into a thick chunk of turkey with his hands.
"I ain't eaten in four or five days," he explained.
The packed dining hall filled mostly with men — some from the streets or shelters, others from residential programs at Catholic Charities or the nearby Salvation Army or Las Vegas Mission complexes.
They were served by about 150 volunteers, among them first-timer Barb Norton of Las Vegas, a retiree who wants to "give back service to others."
"Thanksgiving is a day that can change their mind-set," she said. "They know that they can be off the streets and be served by others.
"Some of them even had smiles on their faces when they came in."
Across town, meanwhile, the members of Calvary Chapel Spring Valley were exceeding expectations at their inaugural homeless services event.
"We were praying for 500 people to minister to, and it's been just above and beyond," senior pastor Derek Neider said.
He estimated that buses had transported 800 to 1,000 people to the southwest suburbs from downtown Las Vegas.
Once there, they had access to food, donated clothing, showers, medical and dental checks, legal services, mental health services, haircuts, phone and computer access, and a place to pray.
People also left with backpacks stocked with toiletries and food.
The event is modeled after one held by an affiliate church in San Diego that serves 16,000 people a year.
About 600 church volunteers worked throughout the day, and Neider said that effort, like the services offered, was a mix of the spiritual and the practical.
"It's just the love of the Lord," he said. "In addition to that, we're going through an economic firestorm … the realization that at any time, any of us could be standing in line for a plate of food.
"It's really prompting people to reach out."
Contact reporter Alan Choate at achoate @reviewjournal.com or 702-229-6435.