Titus shifts to playing catch-up after victory
November 6, 2008 - 10:00 pm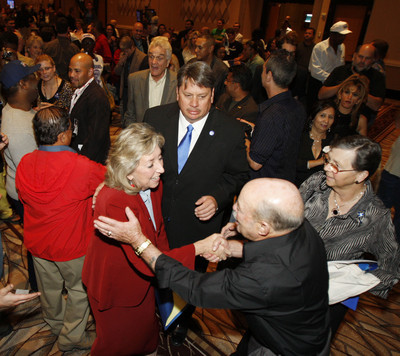 CARSON CITY — Democratic Congresswoman-elect Dina Titus said Wednesday she refused to think beyond Election Day as she campaigned to unseat Rep. Jon Porter, R-Nev., in the 3rd District race in Southern Nevada.
"I didn't allow myself to think past Tuesday, so I wouldn't jinx it," she said.
As a result, Titus, a member of the state Senate since 1989, now has her work cut out for her.
"I have to find a place to live, I have to go to an orientation, I have to figure out how everything works," she said. "But I'm not afraid of the job. It's very exciting."
The opportunity to serve in Congress as part of a strong Democratic majority and with a new, history-making administration with President-elect Barack Obama will be a tremendous experience, Titus said.
"I will represent District 3 to the best of my ability and be a voice for the residents, not just a vote," she said.
Titus, 58, said it was a "perfect storm" of events that led her to victory over Porter, the only representative ever to serve in the district, which was created after the 2000 census.
Titus defeated Porter with 47 percent of the vote compared with his 42 percent.
Factors in play in her victory include the fact that Porter was "part of the problem," she said.
"He's been part of the administration that has brought us the economic crisis and got us bogged down in war," Titus said. "The Obama get-out-the-vote effort in Nevada was tremendous. And the third thing was we tried to stay as positive as possible."
Voters got tired of the negative ads run by Porter in the last 10 weeks of the race, she said. Titus said she offered proposals on energy, transportation and assistance to veterans.
"I think voters were more interested in what a member of Congress would do as an advocate for them," she said.
Titus, who served as minority leader in the state Senate for 17 years, never winning enough seats to become majority leader, will leave the Legislature just as the state Senate turns Democratic for the first time since 1991.
Democrats picked up two seats Tuesday and now have a 12-9 majority.
But the chance to serve in Congress more than makes up for the missed opportunity at the state level, she said.
Titus' first order of business will be to attend an orientation for newly elected members of Congress on Nov. 16. She also will be putting together her staff, finding her office and looking for a place to live in Washington. She will be taking leave from her job as a political science professor at the University of Nevada, Las Vegas.
Titus said she will pursue committee assignments that could benefit her district. A couple of possibilities include a seat on the Select Committee on Renewable Energy and a spot on the Education and Labor Committee.
Contact Capital Bureau reporter Sean Whaley at swhaley@reviewjournal.com or 775-687-3900.