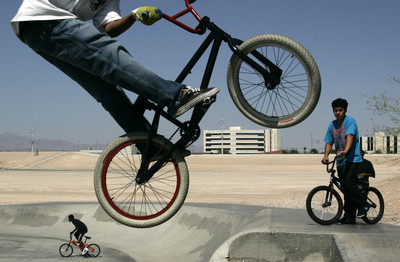 An off-duty Nevada Highway Patrol sergeant who caused a June 11 crash that killed a Las Vegas woman was arrested and charged with felony driving under the influence.
Prosecutors say Edward Lattin, a 22-year NHP veteran, smoked marijuana within four hours of the three-vehicle crash that claimed the life of Ying Warren, 49.
Lattin's attorney disagrees, arguing there is no credible way to determine when a person has smoked marijuana. He also says the drug may have gotten into his client's bloodstream through secondhand exposure.
Lattin supervises a team that investigates fatal crashes. He voluntarily submitted to the blood test that led to the charges against him.
The offense carries up to 20 years in prison.
MONDAY
TERM LIMITS ARGUED
A legislative lawyer who said voters didn't understand what they were doing when they approved term limits 12 years ago was peppered with questions as Nevada Supreme Court justices reviewed whether the limits are constitutional.
Kevin Powers of the Legislative Counsel Bureau was the only attorney at Monday's hearing in Carson City arguing that term limits are not allowed under the state constitution.
The high court's decision on the issue is pending.
TUESDAY
FINAL TABLE SET
Nine players advanced to the final table of the World Series of Poker, but they will have to wait four months for a shot at the $9.12 million jackpot.
The unprecedented delay is meant to increase promotional opportunities for the tournament and make the final table easier to televise.
The nine finalists emerged from a field of 6,844 players. When play resumes at the Rio in November, Dennis Phillips of St. Louis will be the man to beat with a chip lead of almost $2 million.
WEDNESDAY
SCHOOL BOND DELAYED
Citing slow growth and a sour economy, Clark County School Board members announced plans to pull a $7 billion bond question from the November ballot.
The initiative could have paid for 73 new schools over the next decade, but board members say they don't want to ask the public for more money when the need is not immediate.
The board plans to bring the measure back in 2010.
THURSDAY
LAKE GOES UNDER
Lake Las Vegas filed for Chapter 11 in what could turn out to be one of the largest bankruptcies in Nevada history.
"Extremely challenging real estate market conditions" is one reason cited for problems at the 3,592-acre residential and resort development built around an artificial lake in Henderson.
One of the companies involved reports debts of as much as $1 billion and assets of as little as $100 million.
FRIDAY
LOST ANGEL FOUND
Six years after a biker melee in Laughlin ended in three deaths — and long after gang members were tried, convicted and jailed for the violence — a missing Hells Angel accused of firing his gun that day has turned himself in.
It's not clear where Frederick Donohue, 43, has been since the 2002 biker battle, and he's not talking.
Prosecutors say Donohue was one of three shooters at the riot, but not a key shooter. He faces the same 32-count indictment the others faced.
Week In ReviewMore Information
QUOTES "I don't want to be a lonely governor." Jim Gibbons Governor, opening up about his divorce and his plans to start dating in an interview Wednesday with Reno television station KOLO. "I grabbed that knife, and I jammed it through my arm." Paul Maineri Husband of Assemblywoman Francis Allen, R-Las Vegas, recanting in court Thursday his original claim to police that Allen stabbed him with a steak knife during an argument. "He should have crafted a survey to measure whether we had dummies as voters in 1994 and 1996." Dominic Gentile Las Vegas attorney, arguing before the Nevada supreme court That Legislative Lawyer Kevin POwers needs a poll to support his argument that voters didn't understand the term limits they approved. BLOGS • vegas voice: Author introduces new Trader Joe's cookbook. • the complete las vegan: Life just got a little tougher with the closings of more Starbucks in town. • heavy pedal: Tips for attending NASCAR at Las Vegas Motor Speedway. • Nba summer league: Live coverage of the NBA Summer League. • the online guy — tidbits: Take an online test to see how "old" your brain is. • book nook: A call for your favorite horror novel. NUMBERS $334,534 Tiffany Michelle's payday for 17th place in the World Series of Poker's main event, the highest amount ever won by a woman in the event. 376 approximate number of days left until three Interstate 15 ramps that were closed for construction on Friday reopen at the Spaghetti Bowl. $1.8 billion cost of an expansion at McCarran International Airport that was approved Wednesday despite pleas from airlines to delay or cancel the project. 227 percent pay increase over five years for the now-retired CEO and chairman of Sierra Pacific Resources. Walter Higgins was paid $4.9 million last year. 141 number of calls this year to the Las Vegas Fire Department concerning a child left in a vehicle.