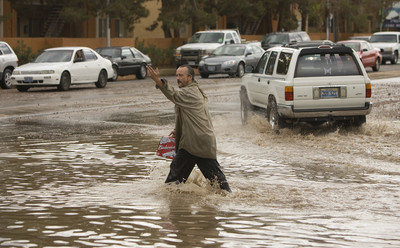 It was a courtroom drama without the courtroom last week as the state Judicial Discipline Commission heard the case against District Judge Elizabeth Halverson, who stands accused of improperly communicating with jurors, treating her bailiff like a personal slave and falling asleep on the bench.
The hearing at the Las Vegas Convention Center could decide whether Halverson is removed from the bench. Tuesday's primary election could decide that, too.
Halverson's hearing originally was expected to conclude before voters went to the polls, but the proceeding had to be delayed when she fell ill after four days of testimony.
The hearing is set to resume Thursday, regardless of the outcome of Tuesday's vote.
MONDAY
HUGHES' 'ALTER EGO'
Robert Maheu, who was Howard Hughes' right-hand man, spied on Germans in World War II and worked on a plot to assassinate Fidel Castro, died of an undisclosed illness. He was 90.
He's best known in Las Vegas as the man who was Hughes' public face — Hughes described him as his "alter ego" — and was central to the era when casinos began moving from shady, mob-controlled enterprises to thoroughly corporate entities.
TUESDAY
SUSPECT IN TEEN'S DEATH
A man arrested last Sunday in connection with the slaying of 17-year-old Nichole Yegge faced murder charges before, the Review-Journal learned. When he was 18, Gabriel Yates, now 31, was arrested in connection with the beating and drowning of a 13-year-old boy in Florida. He was acquitted.
Police say Yates and 21-year-old Anne Osburn killed Yegge, a runaway they were pimping, when she threatened to go to police.
WEDNESDAY
BEARD AND BADGE
A Las Vegas police detective has the constitutional right to wear a beard for religious reasons, a federal judge ruled Wednesday, but a jury will decide if he can wear a yarmulke on the job.
Detective Steve Riback, an Orthodox Jew, filed a religious discrimination lawsuit against the Metropolitan Police Department after officials denied his requests to wear a beard and head covering.
THURSDAY
PINK SLIPS FOR DRINKS
Three ironworkers observed by the Review-Journal drinking at bars before entering the CityCenter job site were fired. Project builder Perini Corp. was working to identify seven other workers spotted drinking before entering the work site.
FRIDAY
CLINTON RETURNS
Returning to a state that gave her a primary victory, Hillary Clinton urged supporters to get behind one-time rival and presumptive presidential nominee Barack Obama.
With her first solo campaign appearance for Obama, Clinton aimed to persuade her loyalists to rally to the greater Democratic cause.
Week In ReviewMore Information
NUMBERS 1.04 inches of rainfall in Las Vegas this year, including Thursday's thunderstorms. 2.92 inches of normal rainfall at this time of year. 50 number of employees who will be laid off at the Nevada Cancer Institute. 3,500 yuan, or about $516, being charged to every journalist who wants wireless access at the Beijing Olympics. $889 average monthly rent in the second quarter, up $9 from a year ago. It's the lowest rent growth since the first quarter of 2004. Blogs • Ed Graney: Olympics observations from Beijing. • Online guy — Tidbits: Some must-bookmark Olympic links. • Vegas Voice: Bread company looks to harvest '70s memories. Slide shows • 8/8/08 • McCain • Clinton • Rainy Day • Maheu remembered • Political Buttons • MICHAEL GRIMM • CITY CENTER • LA CAGE