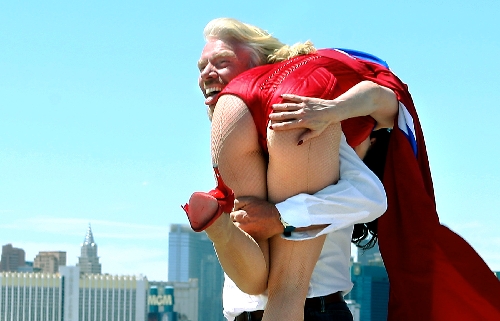 Grand jury transcripts released last week paint Dr. Dipak Desai as a man who came to Las Vegas with nothing but ended up building a lucrative medical empire thanks to an obsession with money.
Desai, criminally charged in a hepatitis C outbreak that was linked to his local clinics, put patients at risk and bilked insurance companies by falsifying records, according to transcripts that detailed testimony from his former partners and employees.
They described him as a controlling, intimidating, stingy micromanager who would berate fellow doctors and employees if they did anything that hurt the bottom line, from using too much K-Y Jelly to taking too much time performing colonoscopies.
Monday
Police Shootings
A Las Vegas police officer who shot and killed a man during a drug raid was involved in two previous shootings.
The dead man in the most recent shooting, Trevon Cole, 21, was said to have made a "furtive" movement while police held him at gunpoint. His fiancée, who was in the room when the shooting took place, said Cole was unarmed.
The officer, Bryan Yant, 34, is a 10-year department veteran. In 2001, Yant shot a robbery suspect while chasing him on foot. The suspect died. His gun was found 35 feet away from where he had been shot.
In 2003, Yant shot a suspected prowler. That man, who was armed with a bat and a knife, survived.
Yant was placed on routine administrative leave while the latest shooting is investigated.
Tuesday
Angle Goes to D.C.
Sharron Angle, the newly minted Republican nominee to the U.S. Senate, met with party leaders in Washington, D.C., as she prepared to campaign against the Senate's most powerful Democrat.
Angle, who has generally avoided the media, told senators she was having success raising money online after her victory in the Nevada Republican primary .
Sen. Harry Reid, the Democratic majority leader and Angle's opponent, did not comment on her presence in the Capitol, just a few hallways from his office.
Wednesday
Soldier Charged
A Las Vegas soldier was charged with shooting and killing an Afghan civilian.
Spc. Michael S. Wagnon II is accused of using his rifle to shoot and kill Marach Agha on or about Feb. 22 near Forward Operating Base Ramrod in Afghanistan.
The 29-year-old infantryman also is accused of trying to obstruct investigators "by obtaining a hard drive which contained evidence of murders and asking another soldier to erase" it, according to a Uniform Code of Military Justice charge sheet.
Thursday
Mortgage Fraud
Since March 1, 123 people have been charged, convicted or sentenced in a mortgage fraud investigation dubbed Operation Stolen Dreams.
The defendants are accused of engaging in hundreds of fraudulent transactions with straw buyers and causing a loss of more than $246 million.
Most of the defendants worked in local real estate, including loan officers, agents, loan processors, mortgage brokers, and appraisers.
Friday
Immigrant Crackdown
The ACLU of Nevada and a local business coalition filed legal challenges against an initiative to create an Arizona-type law cracking down on illegal immigrants.
Foes of the initiative, launched this year by Assemblyman Chad Christensen, R-Las Vegas, say it violates the state's single-subject rule, promotes racial profiling and would hurt an already stressed economy.
Christensen, who this month lost a bid for U.S. Senate, called the lawsuits "bogus."
Week In Review
More Information
NUMBERS
34
The number of Nevadans killed in the Korean War, which is approaching its 60th anniversary.
368 seconds
The amount of time it took a team of three people to completely strip a car in an insurance demonstration.
$3 million
The amount of money Gov. Jim Gibbons said wouldbe saved by closing the Nevada State Prison.
1,902,834
The estimate of Clark County's July 1, 2009, populationby the U.S. Census Bureau, released last week.
QUOTES
"It would be like the tower of Babel. It will be chaos if in fact something happens here."
Las Vegas Mayor
Oscar Goodman
pushing for local government consolidation in part because of communication issues if there is a terrorist attack.
"I just don't think the timing could be worse."
Clark County Commissioner Steve Sisolak
On proposals, ultimately defeated, to provide public funding for an arena.
"God and Gandhi might not be available, but Jim Rogers is."
School Board candidate Lorraine Alderman
in recommending the former higher education chancellor for Clark County school district superintendent.
MULTIMEDIA
• VIDEO AND SLIDE SHOW: Nellis Air Force Base honors fallen heros.
• SLIDE SHOW: Korean War veterans gather.
• VIDEO: Carol Cling's weekly movie minute.
• VIDEO: Richard Branson talks about Virgin Atlantic Airways and Las Vegas.
• VIDEO: Ringling Bros. circus elephant parade.
• VIDEO: Animal rights activists protest at circus.
• SLIDE SHOW: UFC finale.
• SLIDE SHOW: Father-son look-alike contest.