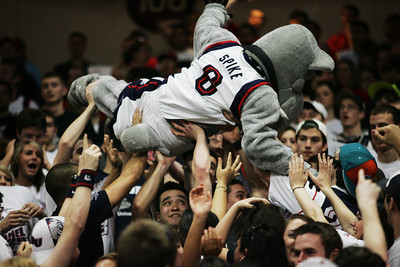 An armed man threatening suicide was shot and killed by Henderson police officers early Wednesday inside the emergency room of a hospital.
Police say Charles Bradley Campbell, 48, was shot after he pointed his handgun at officers.
No one else was injured in the incident.
Campbell's ex-wife in Washington state contacted Las Vegas police after she received a troubling e-mail from him. Two Las Vegas officers trained in crisis intervention were sent to Campbell's southeastern home, but he already was on his way to St. Rose Dominican Hospital's Siena campus.
MONDAY
BOGDEN COMING BACK?
Senate Majority Leader Harry Reid pressed the White House to give Daniel Bogden his old job back as U.S. attorney for Nevada.
Reid says current office-holder Greg Brower has done a fine job but Bogden deserves to be reappointed to the post. It was taken from him more than two years ago in a Bush administration firing that was never fully explained.
If the White House agrees with Reid, Bogden's nomination could move to the Senate within a month or so.
TUESDAY
STILL FIGHTING CITY HALL
Foes of plans to build a new City Hall in Las Vegas took their case to the Nevada Supreme Court.
The group backed by Culinary Local 226 wants the high court to force the City Council to put two measures on the ballot concerning the City Hall and redevelopment efforts overall.
One measure would repeal the existing redevelopment plan. The other would require voter approval for the type of financing being considered for the proposed City Hall.
WEDNESDAY
DOCTOR INDICTED
A federal grand jury indicted a spine surgeon in connection with what prosecutors say was a scheme to defraud clients involved in personal injury lawsuits.
Some believe the indictment of Dr. Mark Kabins could revive the government's problematic case against a handful of doctors and lawyers who saw charges against them dismissed last year.
Kabins' attorney, meanwhile, called the government's conduct "outrageous" and said he will prove the charges against his client are unwarranted.
THURSDAY
LIFE AFTER YUCCA
Nevada senators introduced a bill that would create an expert panel to overhaul nuclear waste policy and steer it away from a proposed repository at Yucca Mountain.
The blue ribbon commission proposed by Sens. Harry Reid and John Ensign would be given two years to decide how highly radioactive materials should be managed.
The bill does not say so specifically, but the commission would be instructed to disregard Yucca Mountain as it performs its work, Reid aides said.
FRIDAY
JAIL MAY STAND EMPTY
It's been finished for months, but a new 1,000-bed detention center for low-level offenders could stand empty for at least a year.
Clark County officials want to postpone hiring as many as 170 employees to save money, even though the county still would pay $11 million per year on the lease.
Sheriff Doug Gillespie has lambasted the idea and wants at least 250 of the beds available this fall.
Week In Review
More Information
BY THE NUMBERS
340
Las Vegas conventions and business meetings canceled in the past 90 days, according to the Convention and Visitors Authority.
$132 million
The estimated amount of money lost to the local economy because of those cancellations.
100
Approximate number of touring and local bands slated to play Neon Reverb, the four-day, downtown music festival that wraps up tonight.
13
Months in a row that gaming revenues have declined in Nevada, which saw a 14.6 percent drop in January.
106
The estimated number of hours it will take to build a new house for a Las Vegas family for an episode of "Extreme Makeover Home Edition."
QUOTES
"All we can do is hope for a miracle."
Rene Rougeau
UNLV Forward, on the Rebels' chances of making the NCAA tournament after losing in the first round of the Mountain West tourney on Thursday. The NCAA bracket will be unveiled today.
"Apparently that didn't work out so well."
Robert LaFleur
Gaming analyst, On the special committee set up to mediate disputes between Las Vegas Sands CEO Sheldon Adelson and company president Bill Weidner. Weidner resigned on Sunday after almost 14 years on the job.
"We helped him resign a little bit."
Sheldon Adelson
Explaining Weidner's departure Tuesday to an investment forum in New York.
MULTIMEDIA
North Las Vegas Library
Manhattan West
Gonzaga vs. St Mary's
Bill Weidner resigns
MOVIE MINUTE
Orthopedic surgeon indicted
Mountain West Conference:
• Lady Rebels Basketball vs. BYU
• Lady Rebels Basketball vs. TCU
• Rebels Basketball vs. SDSU
• Lady Rebels Basketball vs. SDSU