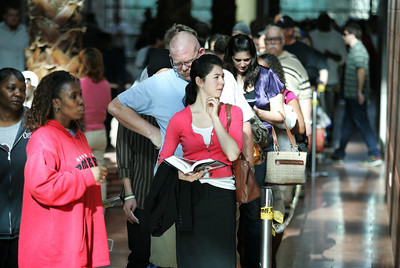 Jim Christenson planned to take advantage of Las Vegas Justice Court's first traffic warrant amnesty program on Wednesday.
But when he arrived at the Regional Justice Center and saw the crowded lobby, he knew the four quarters he had brought would not be enough to pay for his parking. So he left.
Christenson, a 40-year-old Las Vegas resident, was better prepared to feed his parking meter when he returned to the courthouse Thursday afternoon.
"I put in four hours' worth," he said as he waited in the lobby's long line.
Court officials said they have received an overwhelming response since they sent out postcards in early December to those who have outstanding traffic tickets. The demand has prompted officials to extend the program an additional week, through Feb. 13.
Edward Friedland, court executive officer, said workers have collected at least $4 million through the amnesty program since Dec. 9, when the warning postcards were mailed.
The program was originally scheduled to end today, and "final notice" postcards were mailed out about two weeks ago. Each day this week, as the original deadline approached, the court broke records for fines collected. Friedland said the court collected $300,000 or more each day this week — triple the previous record for a day.
"Certainly, it's been effective," Friedland said.
But increasing revenue is not the only goal of the program, he said.
"Some people don't owe money," Friedland said. "It's about getting them to take responsibility for their actions."
At the start of the program, court records showed that more than 195,000 traffic tickets were 30 days or more overdue. All but one had been issued within the past 15 years.
"There's one from 1970," Friedland said. "We're still trying to see if the person is even alive."
He said workers at the court's traffic counter helped 1,500 people Thursday, but officials would prefer people to pay their fines by phone or online.
The counter closes at 5 p.m. on weekdays, but the phone and online systems operate 24 hours a day. Those who need to provide proof of insurance must appear in person.
Court spokesman Michael Sommermeyer said Las Vegas Justice Court has not issued arrest warrants for unpaid traffic tickets since 2006, when it converted to a new computer system. But that will change when the amnesty program ends.
Postcards mailed through the program show a photo of an officer placing handcuffs on a person. Over the photo is the slogan, "Pay the Ticket. Avoid the Click-It."
Recipients are further warned that failure to respond may result in arrest, suspension of their driver's licenses, up to $300 in additional fines and penalties, issuance of a warrant fee, and the possibility of a negative entry on their credit reports.
"We're getting a lot of death certificates in the mail," Friedland said.
The court's traffic counter, normally open only on weekdays, will be open from 9 a.m. to noon on Saturday.
Sommermeyer said he has been hearing many hard-luck stories.
"A lot of people just thought that we were erasing the fine," the spokesman said.
While that's not the case, he said people can set up payment plans of $50 to $100 a month.
Christenson, a property manager, said he was cited in September for driving with suspended license plates. He said his insurance company had failed to send his proof of insurance to the Department of Motor Vehicles.
"I didn't know that they had been suspended until I was pulled over," he said.
When he received a "final notice" postcard informing him he owed $640, he decided he ought to take care of the matter. He said it had slipped his mind previously.
Christenson said he reached a window at the traffic counter at about 4:45 p.m. Thursday, after waiting in line for more than two hours.
"It took about a minute and a half, and she dismissed it for me," he said.
Contact reporter Carri Geer Thevenot at cgeer@reviewjournal.com or 702-380-8135.
HOW TO PAY Those who wish to pay overdue traffic tickets as part of Las Vegas Justice Court's traffic amnesty program can do so online atwww.clarkcounty courts.us/paythe fine.html. Fines can also be paid for by phone, 671-3444 or 877-455-1289.