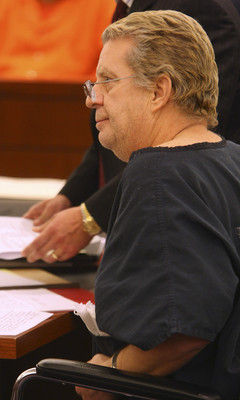 Douglas Hoffman cut down or poisoned more than 500 trees in the upscale Sun City Anthem community, authorities say, to preserve a view of the Strip. His view now, however, will be blocked by the walls of his cell.
District Judge Donald Mosley on Monday sentenced Hoffman to 18 months to five years in prison and ordered him to pay $246,085 in restitution.
"This man spent approximately 14 months wreaking havoc on this community," Mosley said, adding that in one night Hoffman killed more than 80 trees in the Henderson neighborhood.
A jury in November found Hoffman, 61, guilty of seven felony counts and three gross misdemeanor counts of malicious destruction of trees on the land of another. Authorities allege he killed 546 trees from October 2004 until his arrest in November 2005.
Prosecutor Josh Tomsheck said that Hoffman also sent threatening, rambling letters to Gov. Jim Gibbons, the president of Pulte Homes and several local media outlets in April, about seven months before his November trial.
The typed, unsigned letters said that they came from "USA Organized Militia, LLC," but they bore Hoffman's thumbprint, Tomsheck said.
"If no changes come soon — and soon means now immediately — the militia has many options … we can raze entire Pulte communities, we can conduct drive-bys, torch house after house, use IED (improvised explosive device) methods and or … chemical, biological, nuclear mass destruction or all of the above to make changes," the letters said, according to Tomsheck, who read one in court.
"Don't (expletive) with us," the letter warned.
Authorities said Hoffman might face additional charges related to the letters.
Speaking from a wheelchair, Hoffman, who has been in the county jail since Nov. 7, said he had never been convicted of any crimes and his health has been deteriorating in the Clark County Detention Center.
"Jail has been an exhaustingly formidable and extremely hard, insurmountable hardship challenge I cannot bear," he told Mosley before the sentencing.
He remained silent after Mosley delivered the sentence.
Christopher Oram, Hoffman's attorney, said the community would be better off with Hoffman on probation because his client's medical problems would make housing him behind bars a burden to taxpayers.
Oram also said Hoffman never physically harmed a human being.
"This is very serious. But he cut down trees," Oram said. "Although it is very irritating, I would ask the court to consider the fact that he did not actually physically hurt another human being."
Mosley said he thought Hoffman was faking his illness.
Tomsheck said that Hoffman was fully capable of cutting down the trees and that before Hoffman was caught, he used to take long walks.
Henderson police said that Hoffman was caught on Nov. 26, 2005, when a Sun City Anthem resident, William Edwards, spotted Hoffman acting suspiciously about 2:15 a.m.
Edwards saw Hoffman "with his left hand on the trunk of a tree and Hoffman was moving his right hand back and forth, in the manner in which a person cutting a tree would do," a Henderson police report said.
Edwards stopped Hoffman, patted him down and found he was carrying a large yellow wood saw, the report said.
Residents of Sun City Anthem who attended the hearing were pleased that the case is finally over.
Richard Cancellier, who has lived in a Sun City Anthem since 1999 and is chief of security for the community, said many residents were afraid for their safety when Hoffman was still on the loose.
People thought the tree cutter might also try to slice up people, he said.
Also, some people had a "vigilante mentality" and threatened to hurt whoever was responsible for cutting down the trees, said Cancellier, 73.
He suspected the case drew such a wide range of emotions within the community because it shattered the belief that Sun City Anthem was an idyllic place to live.
"People bought in to Sun City Anthem as a nice, quiet place to retire. And all of a sudden, someone comes in and tries to destroy that illusion. And that bothers people," he said.
Contact reporter David Kihara at dkihara@reviewjournal.com or (702) 380-1039.