Trent Carlini wins 'Next Best Thing'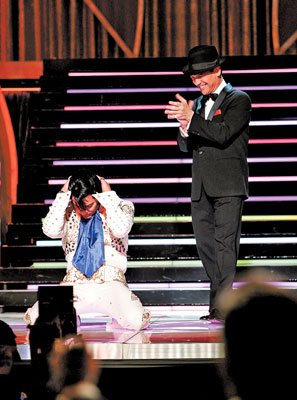 Las Vegas, usually known for the real deal in big-name entertainment, also proved its dominance of the celebrity impersonator market by sweeping ABC's "The Next Best Thing."
Las Vegas performers claimed the top three spots Wednesday on ABC's talent show for tribute acts. First prize and $100,000 went to Trent Carlini, who stars as Elvis Presley in "The Musical History of the King" at the Sahara.
The runner-up was Sebastian Anzaldo, who plays Frank Sinatra in "Barbra and Frank — The Concert That Never Was" at the Riviera.
Third-place finisher Donny Edwards, as the young Elvis, does not perform in a ticketed Las Vegas show but tours nationally.
Sharon Owens, who co-stars with Anzaldo as Barbra Streisand, made it to the show's Top 10 finalists. "Barbra and Frank" reopens Tuesday, after the duo performs in Mesquite this weekend.
About 5 million people watched the contest's final episode, which was broadcast live on the East Coast from the Orpheum Theatre in Los Angeles. The show enjoyed respectable ratings during the slow summer viewing season, edging into the Top 30 at No. 27 last week.
Carlini has won many Elvis competitions since he first buckled up a sequined jumpsuit in 1989. But this was his first time to take on other types of impersonators and the biggest achievement in his career "as far as media and money is concerned," he said Thursday.
"It was really difficult, because there was so much great talent," Carlini said of the finals. "It was probably the closest call I've ever gone through. I've never lost a competition. It would be kind of like my first knockout. I'm glad it didn't happen, especially on national television."
Carlini has performed at the Sahara since January. He moved to Las Vegas to perform in "Legends in Concert" in 1991. His show reopens on Monday after taking a break for the TV competition.