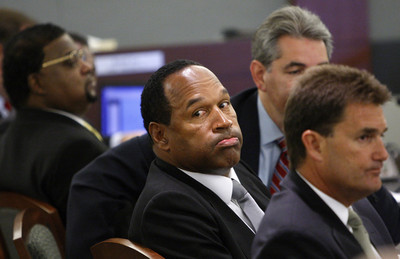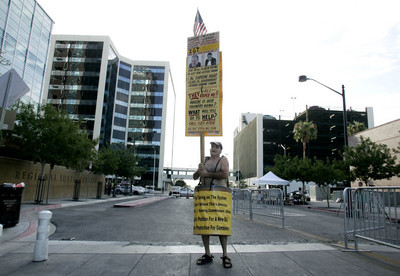 The O.J. Simpson circus came to town Monday, but nobody went.
Throngs of media, curiosity seekers and publicity hounds were expected to converge on the Regional Justice Center to take part in Las Vegas' most high-profile criminal trial.
Yet only a handful of media and even fewer spectators were on hand for the start of trial for the Hall of Fame running back and co-defendant Clarence "C.J." Stewart, who each face armed robbery and kidnapping charges in connection with a sports memorabilia heist at Palace Station.
As jury selection began inside the courthouse, the circus outside was barely one-ring material.
It included a woman dressed as Wonder Woman and Joe Pepitone, a holdover from last year's preliminary hearing who showed up wearing only a barrel and carrying a sign blasting his grievances with the judicial system.
"Power to the people! Power to the people!" he shouted.
His message was heard by a few bystanders and more than three times as many news media.
Court officials issued more than 585 media credentials for the Simpson trial, including more than 50 for NBC alone. But only a few dozen reporters, producers and anchors actually attended the trial's opening day, choosing to skip what is generally considered one of the least interesting aspects of a trial — jury selection.
The first day of jury selection was an often light-hearted affair in the courtroom of District Judge Jackie Glass, who said she hoped to limit the process to a week.
"I feel like I'm calling bingo," Glass joked to laughter as she read off the numbers assigned to potential jurors, whose names are being kept secret until the end of trial.
The jury selection process began more than a month ago when 500 potential jurors completed questionnaires with 116 questions.
Lawyers reviewed the questionnaires and whittled the pool down to 248.
Of that group, 86 entered the courtroom Monday morning. Jury selection is taking place in District Judge David Wall's courtroom because he has more room.
Also Monday, lawyer Don Campbell filed a motion on behalf of the Review-Journal and The Associated Press to make the questionnaires public.
Glass said she would release the sample questionnaire once a jury is picked, but she denied the request to release completed questionnaires until she researched the issue.
Glass told lawyers to avoid questioning potential jurors about Simpson's past, including his 1995 acquittal on double-murder charges in Los Angeles County.
"We are not here to relitigate that case," Glass told the lawyers. "A jury adjudicated that case. I realize a lot of people have really strong feelings about that case, but this case is about what happened in Las Vegas."
Glass also emphatically rejected another motion by Stewart's lawyers to separate his trial from Simpson's trial. She ordered them not to ask for a severance again.
Glass spent most of the day questioning the jury pool about personal conflicts and their ability to remain fair and impartial. Her questions included whether potential jurors watched the 1995 trial or had ever been victims of crime.
She also tried to ferret out what she called "stealth jurors" who might be lurking in the jury pool.
"If you're here looking to become famous for your participation in this case and write a book and be on TV, quite honestly folks, this is not the case for you," she said.
By the end of the day, Glass excused 17 potential jurors for various medical, personal and other reasons. They included a neurologist with upcoming surgeries, a University of Nevada, Las Vegas student, and a man who admitted he couldn't be impartial because of Simpson's past.
Between excusals and a mid-morning reduction of the group to 50 potential jurors, 46 were left when Monday's session came to a close. When they return to court this morning, prosecutors and defense lawyers will continue questioning each juror one at a time.
Opening statements will begin once a panel of 12 jurors and six alternates is picked.
Bill "Moondog" Wantland, a 54-year-old who came to the courthouse Monday wearing a bright red sequined suit, oversized U.S.-flag top hat and star-framed sunglasses, predicted the crowds outside the courthouse will pick up once opening statements start.
We might see a three-ring circus just yet.
Contact reporter Brian Haynes at bhaynes@reviewjournal.com or 702-383-0281.
O.J. TRIAL: DAY 1 • District Judge Jackie Glass rejected a motion to give co-defendant Clarence "C.J." Stewart a separate trial. Previous requests had been rejected by Glass and the Nevada Supreme Court. • Glass excused 17 potential jurors for a variety of reasons, including health problems and scheduling conflicts. Slideshow Video