Trial starts in Las Vegas over Harry Reid's exercise band injuries
Updated March 25, 2019 - 6:05 pm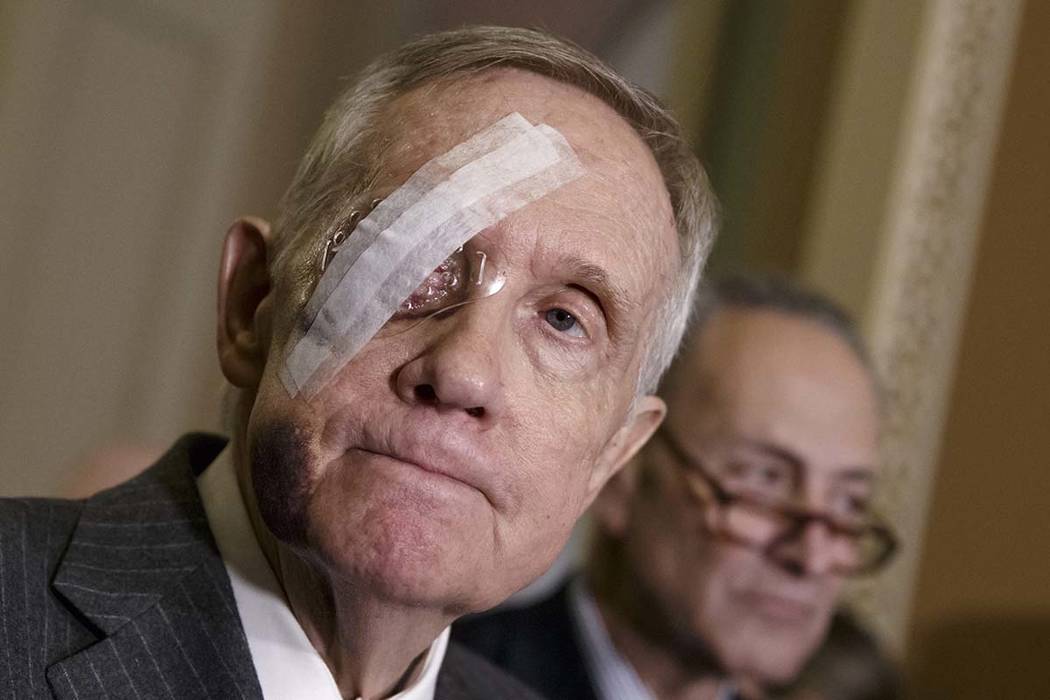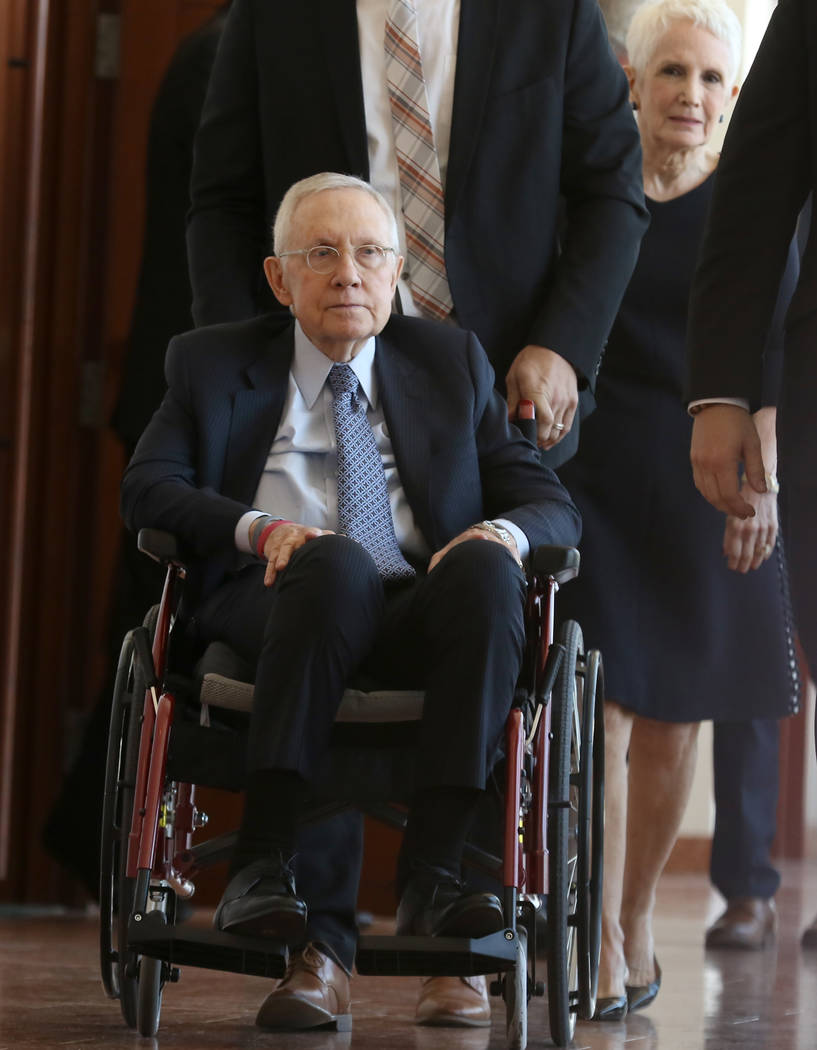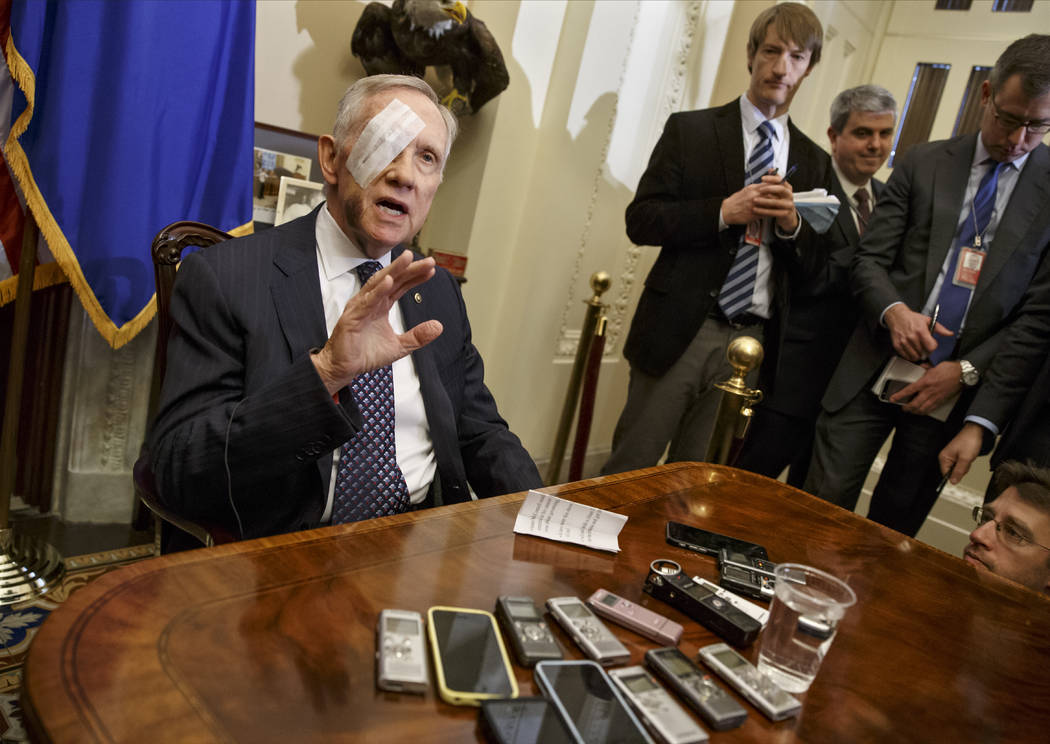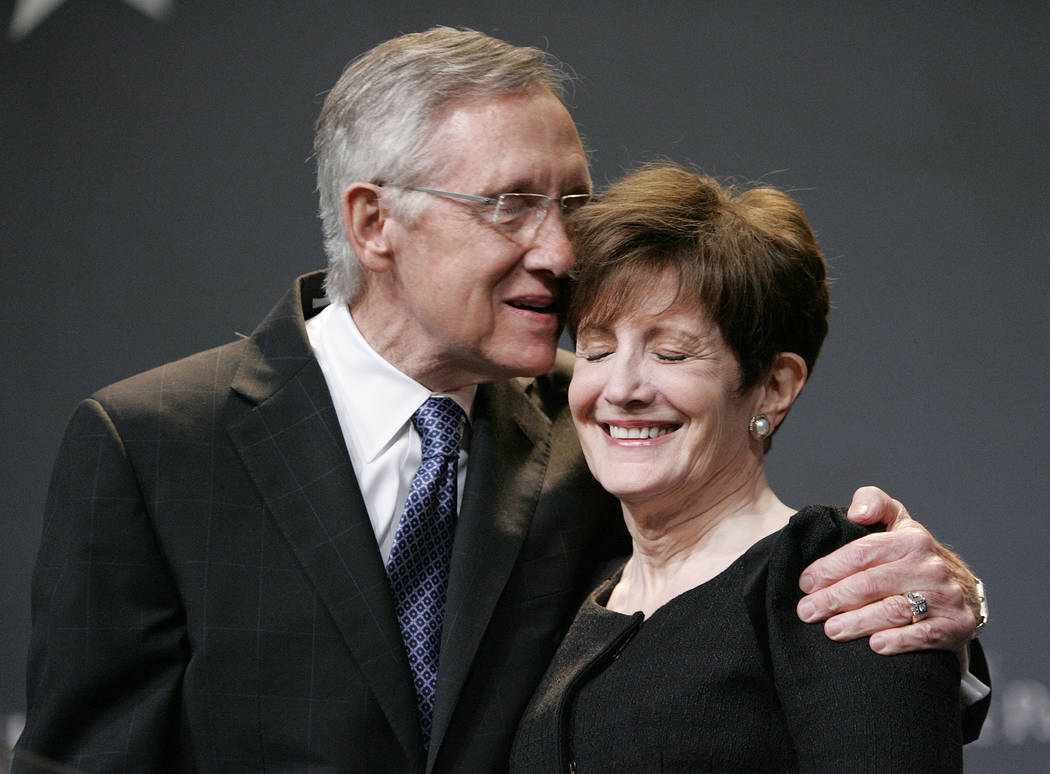 Former U.S. Sen. Harry Reid was seated in a wheelchair Monday when his lawyer paused to address the political views emanating from a group of potential jurors in a Las Vegas courtroom.
"Our country is about as split as it could be," said the attorney, Jim Wilkes. "We can't fix policy today. We're here about a civil lawsuit. This is about one person's litigation."
Reid, now 79, sued the makers of a resistance exercise band after an incident that blinded him in his right eye more than four years ago. But as the trial in the case opened, several jurors seemed more focused on Reid's political views.
"Do you question the senator's veracity?" Wilkes asked one man.
"Absolutely. He's stated under oath that he lied," the man said, adding that he had researched Reid online. "There's a whole lot of stuff I know. If I say it here, everybody might have a jaundiced view without any substantiation of what I'm saying."
Within a few moments, the man was excused from the panel.
Finding an impartial jury
Roughly 20 people in an opening panel of about 100 indicated a possible bias because they recognized Reid or knew of his injury.
"I've lived in Nevada a long time," one man said, "and I'm familiar with Sen. Harry Reid and his politicking."
Another potential juror could be heard saying: "That's a nice way to put it."
Wilkes asked one man directly about his views on Reid.
"I have issues personally with him," said the man, who was ultimately dismissed.
"You have a negative opinion of Sen. Reid?" Wilkes asked.
"It isn't positive," the man replied.
At one point, Wilkes joked: "Does everybody understand you don't have to become a Democrat if you serve on this case?"
Another man, who remained among the potential jurors as the trial recessed for the day, stated: "I have a very positive bias toward Senator Reid."
Several prospective jurors said they could set aside their political views and remain fair in their decision.
In late 2015, Reid and his wife of 60 years, Landra Gould, filed a product liability lawsuit against three defendants: Hygenic Intangible Property Holding Co., The Hygenic Corp. and Performance Health LLC.
The trial before District Judge Joe Hardy Jr. is scheduled to last into next week.
Reid told the Las Vegas Review-Journal in an interview last month that he was still blind in his right eye. When asked whether he was prepared to testify during the trial, Reid responded, "Whatever."
About two months after his injury, Reid, Senate minority leader at the time, announced that he would not seek re-election. He had served in the Senate since 1987.
Reid said his injury played a role in his decision not to seek re-election in 2016.
"It sure didn't help it," he said, then adding, "It was one of the things that entered into it."
He said that following the injury he had a problem with depth perception, particularly when he was speaking on a small stage. He said then-House Speaker John Boehner, R-Ohio, would help him.
"John Boehner, to his credit, would point me in the right direction," Reid said.
Jury selection is slated to continue into Tuesday afternoon.
Lawyers involved in the suit seemed to know the process might be a struggle. A proposed list of questions includes:
—What is your opinion about Harry Reid?
—What are your thoughts on politicians telling the truth?
—Do you think that politicians tell the truth all the time?
—Do you think that it is acceptable for politicians to not tell the truth at times?"
Reid, who was diagnosed with pancreatic cancer last year, arrived Monday wearing a dark blue suit and was accompanied by his wife, who was wearing a dark blue dress.
Negligence allegation
The suit alleges that the three defendants "combined to create, manufacture and market a defective product called TheraBand or Thera-Band exercise band."
Reid has said he was injured while exercising with the band, which was latched to a "sturdy object" in January 2015 in the bathroom of his Henderson home.
"While in use, the TheraBand broke or slipped out of Mr. Reid's hand," the lawsuit states, "causing him to spin around and strike his face on a cabinet."
As Wilkes asked jurors about Reid's litigation, some in the panel said they had concerns about whether Reid should have filed suit because of the health care benefits he received as a member of Congress.
"I feel that it is a user error," said one woman, who remained on the panel, referring to the exercise band. "I don't know the circumstances, but that's just my opinion."
Along with losing vision in his right eye, Reid suffered a concussion, broken orbital bones, severe disfigurement to his face, bruising and lacerations on his face, hand injuries, scarring and broken ribs.
The lawsuit accuses the defendants of negligence and failure to warn.
It alleges that the exercise band makers should have known of the "danger of injury to consumers, especially to the elderly, as a result of TheraBands breaking or slipping out of their hands while mounted to various sturdy objects."
Contact David Ferrara at dferrara@reviewjournal.com or 702-380-1039. Follow @randompoker on Twitter. Washington, D.C., correspondent Gary Martin contributed to this story.