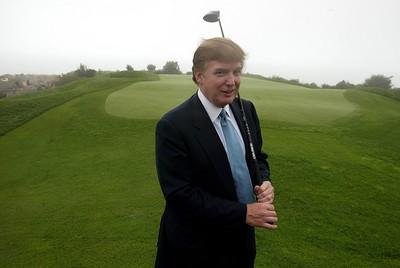 Donald Trump, looking to add to his string of world-class golf courses, scouted Las Vegas National Golf Club last month but came away convinced the site wasn't up to par.
"I did look at it, but it's got such problems it's not worth the effort. It's not big enough," Trump said by telephone Monday.
Trump took a golf-cart tour of the course last month during a visit for a topping-off ceremony/media event at his $600 million Trump International Hotel and tower residents.
Trump said he's moved on to "something else" unrelated to golf, another Las Vegas project.
The New York billionaire has golf courses in Palm Beach, Fla., Los Angeles, Grenadines, New Jersey, New York and one planned for Scotland.
At 1911 E. Desert Inn Road, the course was originally named the Stardust Country Club in 1961. It was known as the Sahara-Nevada Country Club from 1968 to 1982, when Nevada was dropped from the title. From 1994 until 1998, it was the Las Vegas Hilton Country Club, before it went by its current name.
Frank Sinatra and the Rat Pack spent quality time in the lounge, often around the piano, and "Casino" scenes were shot in the house left of the No. 1 tee box between the first and 18th fairways.
ANCHOR'S AWAY
KTNV-TV, Channel 13, announced to staff on Monday the signing of Nina Radetich, a well-respected evening anchor at KVBC-TV, Channel 3, for almost 10 years, sources confirmed.
Radetich, who left KVBC last week, will anchor the 6 p.m., 6:30 p.m. and 11 p.m. newscasts.
Her one-year non-compete clause will keep her off the air until June 2008.
It is unclear whether she will replace Tricia Kean or Steve Wolford, whose contract is up for renewal this year.
Also in the anchor mix is former KLAS-TV, Channel 8 morning anchor Casey Smith, who left KLAS last summer. His non-compete is up in August.
Sources said a stumbling block in Radetich's negotiations with KVBC was the extra evening broadcast she and co-anchor Jim Snyder were asked to do. She sought compensation; management balked.
THE SCENE AND HEARD
Former Las Vegas headliner Della Reese, a gospel singer before becoming an actress and ordained minister, will receive a lifetime achievement award at next week's convention of the International Metaphysical Ministry along with the University of Metaphysics and University of Sedona. The six-day event is at the Sahara, starting Sunday. Among those graduating with a bachelor of metaphysics degree on June 21 will be 101-year-old Winnie Beauchamp of Grand Junction, Co. Metaphysics refers to subjects that are beyond the physical world.
SIGHTINGS
Husband and wife Grammy-winning artists Elvis Costello and Diana Krall, having lunch at Joe's Seafood, Prime Steak & Stone Crab at the Forum Shops at Caesars on Monday. … The group Hootie and the Blowfish, ABC and ESPN reporter Jamie Little and UNLV men's basketball coach Lon Kruger at the Speedway Children's Charities golf tournament at The Falls at Lake Las Vegas on Monday. … Actor/comedian Drew Carey, checking out "Bodies: The Exhibition" on Sunday at the Tropicana. … Vanilla Ice, stopping in to see "Titanic: The Artifact Exhibition" on Saturday at the Tropicana. … Magician David Blaine, partying Sunday at the Rehab pool party at the Hard Rock Hotel. Blaine capped off his day at the Hard Rock with a visit to Body English nightclub. … Actors Larenz Tate and Bill Bellamy, at the Hard Rock Hotel & Casino on Saturday with separate parties. … Hootie & The Blowfish guitarist Mark Bryan, dining Sunday with friends at Fix restaurant (Bellagio).
THE PUNCH LINE
"You'll be happy to know that Paris Hilton is back in jail. If this is an episode of 'Punk'd,' it's the best episode ever." — Jimmy Kimmel
Norm Clarke can be reached at 383-0244 or norm@reviewjournal.com. Find additional sightings and more online at www.normclarke.com.
NORM CLARKEMORE COLUMNS