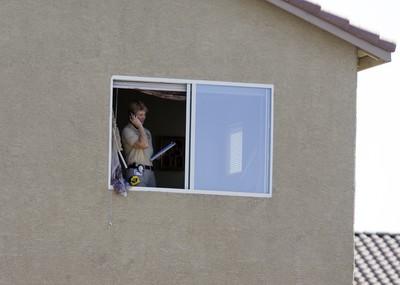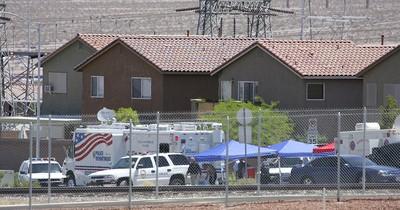 Two people were dead and a police officer was recovering with a leg wound after a shootout Wednesday morning at a cul-de-sac home in Henderson.
Police said they were called to 608 Breezy Sage Court, near Boulder Highway and College Drive, about 7:15 a.m. by a woman in her 40s. She and her 11-year-old son had run out of the house and told police that shots had been fired inside, police said.
Six officers rushed inside to search the house. When one of them tried to kick in a locked bedroom door on the second floor of the house, shots were fired at them through the door, police said. All the officers returned fire and then pulled the wounded officer out of the house.
The police radio broadcasts of "shots fired" followed by the news that an officer had been hit brought dozens more officers flooding into the neighborhood. Soon, many of them were ordering neighbors to leave their homes.
Justin Sanchez said officers pounded on his door a little after 7 a.m. and told him and his girlfriend to leave the area. Sanchez said when he looked out his window, he saw about 50 officers. It looked like a parade on his street, he said.
Some of the evacuees from 18 homes in the area were not allowed to return until more than eight hours later.
Martin Miron said he had been in the shower when his wife shouted that a police officer with a gun was banging on the door, so Miron rushed out of his bathroom wet and naked. He was shocked to see police swarming his street.
"We came here from the ghetto, and I've never seen something like this. This is supposed to be suburbia," said Miron, who moved to the neighborhood from Long Beach, Calif., two years ago.
As Miron killed time by wandering alongside the nearby Black Mountain Golf and Country Club course with his 18-year-old son, police blocked off streets surrounding the neighborhood.
Officers were unable to contact the 21-year-old man and his 21-year-old estranged wife, who police had been told were inside the 1,511-square-foot house where the shots had been fired. The woman was believed to be the daughter of the 911-caller, who had fled from the house, police said.
Nicholas Kydd, a slot machine technician who lives across from the house where the shooting occurred, said two Henderson officers carrying semiautomatic rifles came into his house about 9 a.m. and asked to use his upstairs bedroom because it offered a good view of the shooting scene.
The officers then set up a sniper post in the bedroom, Kydd said. "That made me a little nervous," he added.
About four hours after receiving the first 911 call, police went back inside the house and found the couple dead.
"Preliminarily, we believe that he killed the young lady and then took his own life," Henderson Police Chief Richard Perkins said.
"We don't know when the young lady was killed," he said. "It could have happened before or after" the exchange of gunfire with police.
Police said that officers heard no shots after the six officers fired through the closed bedroom door.
When asked whether an officer might have accidentally shot the woman through the door, Perkins replied: "That is highly unlikely."
The wounded officer is 47 years old and has been with the department for 18 years. He was treated at Sunrise Hospital and Medical Center and released Wednesday afternoon. Department policy calls for the names of officers involved in a shooting to be withheld for 48 hours.
Henderson authorities could not recall another case in which a Henderson officer had been wounded by gunfire.
Wednesday's incident was the first shooting involving Henderson police this year. Police were involved in one shooting last year and two in 2005.
The a trail of the wounded officer's blood — dime-size drops to baseball-size smears — stretched at least 50 yards down Van Wagenen Street past Greenway Road, apparently marking the path of the officers' initial retreat.
Karen Riseling stood on the street Wednesday afternoon after checking on family members who live in the area, which was built up about three years ago.
She said her 17-year-old daughter knew the 21-year-old man who had died, but she didn't know his name or any details of the shooting.
Riseling said she was standing outside because she "just wanted to pray" for the people who had been shot.
Lonnie Tofstad, who lives across the street from where the shooting occurred, said the neighborhood always had been tranquil.
He said the people who lived at 608 Breezy Sage Court had been renting the house for several months and were generally quiet.
Tofstad said he just couldn't get over the fact that a homicide had occurred in his middle-class neighborhood.
"What's the matter with these people?" he wondered aloud.