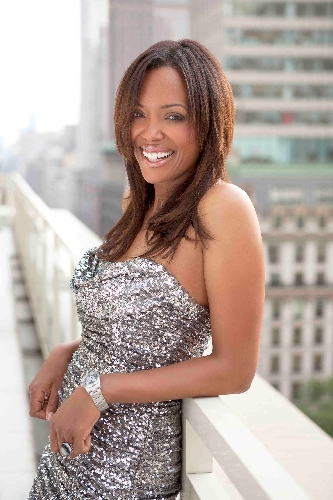 Some people can stay married forever. Look at Aisha Tyler, star of "Archer" and "The Talk." She has been with her husband, attorney Jeffrey Tietjens, for 22 years.
"Yeah, it's nuts, right?" says Tyler, 41, who performs stand-up Thursday-Saturday at Empire Comedy in Paris Las Vegas.
"Marriage is hard. I'm not gonna lie," she says. "Marriage is a blood sport. Marriage is jousting. It's disembowelment. It's just terrible, terrible visceral injuries. It's not for everybody."
But she really loves her husband. And they can never get divorced because – if you look at their relationship as a Hollywood video game – 22 years is like a high score, she says: "Now I can never get out. It's just staying in the game to protect the high score at all costs."
Tyler stars in my favorite TV show, the animated spy comedy "Archer" on FX, boasting an all-star quality cast: H. Jon Benjamin, Jessica Walter, Chris Parnell, Judy Greer, Amber Nash, Lucky Yates, George Coe and show creator Adam Reed.
Weirdly, the cast never meets in a studio. The actors record their parts separately. They see each other a few times a year when the show wins awards or when they go to Comic-Con.
"We only see each other a little bit. It's like one of those relationships where you meet in a foreign city and have crazy sex in a hotel room. You don't have time to get sick of each other," Tyler says. "It's wild-eyed drinking and odd behavior. It's really wonderful."
I ask her why FX is better than everything else on TV. She doesn't hesitate to answer.
"They let creative people be creative. That's exactly what it is. They pick great, talented people. Then they don't assume they know more than the talented people they hired," Tyler says.
She says FX never makes them tone anything down.
"They never say, 'Can you soften this here?' They say, 'You should go harder here,' " she says.
"One thing about creativity is: When you feel confident and respected, you're more likely to pitch more interesting stuff because you're not as precious with it. You feel like, 'This is going to land, and I'm going to be supported in this.' "
Tyler says she also was given a wide berth to be open and honest on the daytime chat show "The Talk" when she joined last year.
Producers promised her, "We want you to feel free to speak as freely as possible."
"And that has really been true in every way, absolutely," she says.
Tyler just started starring in another spy show, "XIII," on Reelz. And she hosts her own free audio podcast, "Girl on Guy" – interviewing people such as comedian Bill Burr, Wayne Brady, musician Questlove and chef Anthony Bourdain.
If you've listened to her podcast, you know what her sense of humor will be like during her Empire Comedy shows.
"It's stories about my life, and about the world, and a lot of dirty words, and quite a lot of meditation on sex and booze."
Sex: "It's all I think about. I'm like an 11-year-old boy."
I told her: "That's what you get for being married."
"It IS what I get for being married," she says. "Adam Carolla told me … 'You have the highest testosterone of any women I've ever met.' "
LEBRON DOING VEGAS
LeBron James hosts his NBA championship party at Tao nightclub Saturday, while DJ Vice performs. His buddy Dwyane Wade was supposed to celebrate Saturday at Tao Beach and Lavo nightclub, but he canceled because of knee surgery issues.
Doug Elfman's column appears Tuesdays, Thursdays and Fridays. Email him at delfman@reviewjournal.com. He blogs at reviewjournal.com/elfman.